Since the
first
thread is reaching the limit please continue on here in this thread.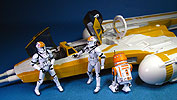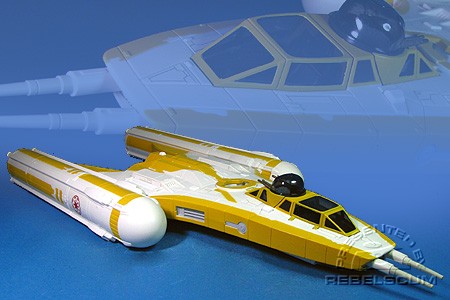 Source:
The Clone Wars
Year:
2009
Retail:
$64.99
Assortment Number:
91378/91350
UPC Number:
6 56569 43597 6
Weapons and Accessories:
Firing Missile Launchers
6 Proton Torpedoes
2 Proton Bombs
Folding Landing Gear
Opening Canopy
Opening Turret Station
Opening Droid Socket
Removable Engines
Diorama Insert
For more wonderful images of this vehicle please click the image to the left!
Armed with cannons, long-range missiles, torpedoes and bombs, the Y-Wing Bomber is one of the Republic's primary combat vessels. Clone Troopers and Jedi both pilot this vessel on assault and reconnaissance missions. A gunner sitting in the bubble-domed turret can blast attacking ships approaching from behind, while the pilot can fire forward-mounted cannons and torpedoes at enemy vessels up ahead. Y-Wing Bombers see action fromt he first days of the Clone Wars and help destroy the deadly new Separatist vessel Malevolence.
The Y-Wing Bomber is a whopping 27" long, includes room for 3 action figures, study landing gear, and comes armed with 6 missiles and 2 bombs that are all activated with various buttons hidden on the surface of the ship.
So thoughts on the Y-Wing Bomber? If you've picked it up please let us know all about of it.