Joined

Feb 17, 2021
Messages

2
Reaction score

0
Location
Greetings to all of you awesome vintage Star Wars collectors! Though I've not yet posted here on rebelscum, I've referenced this site many times over the years and realize that there are so many of you with more knowledge and experience than I. In fact, it never ceases to amaze me at just how much there is to learn in this area. It's quite fascinating. As one who lives and collects here in Colorado, I've been selling vintage Star Wars (primarily on eBay) for several years. During that time, I've come across some nice items (DT Vader, broken DT Obi saber, and a handful of DT Luke sabers) in addition to the large collection I amassed when I was younger (starting in the late 80s).
Today I was analyzing a recent purchase that included several nice vintage items, with everything being original. There were a few dozen figures and accessories, including a mix of 1977/1978 release figures and some 1980 ESB figures. There were two Luke Skywalker figures (one with a truly legit "HH" hilt with tip), and one Obi-Wan figure. The "second" Luke had Obi-Wan's blue saber, and Obi-Wan had a yellow DT Luke saber. After carefully pulling Luke's saber from Obi's arm, I started investigating. This one has a dot on the end of one side of the hilt, a darker yellow plastic, and a rougher texture. I've included pictures below. Based on these points, I was struggling to find definitive information confirming legitimacy of this item, yet my gut tells me that it is authentic (e.g. everything in the lot checks out, the "HH" Luke is an earlier version). I did find a recent sale on eBay for a similar looking DT Luke saber here: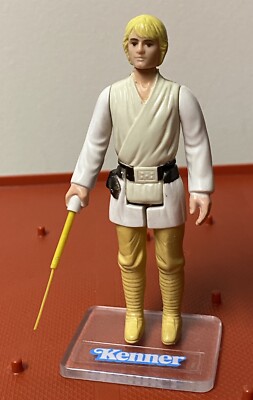 <p>Vintage Star Wars original DOUBLE TELESCOPING Luke Skywalker figure, 100% original. 1978 Kenner. Both outer portion and inner filament are straight as shown. Inner portion is missing the somewhat typical 3mm or so from the tip. This is the brighter yellow/dotted hilt version. Figure has nice...
na01.safelinks.protection.outlook.com
I've reviewed quite a bit here and also on imperial gunnery, without getting full confidence that this is an authentic piece. I would value feedback from any of you with more extensive experience with these DT sabers. My other DT sabers didn't have this rougher texture (or circular markings down the side), so that's my primary hesitation. Thanks in advance for any feedback!