Joined

Jan 22, 2021
Messages

17
Reaction score

1
Location
Migrating this thread into the Classified section, original trade thread here:
Hello, longtime viewer and first time poster. Looking to offload some of my collection. I figured I'd start off in trading before I go to selling.

I have a few vintage collection figures as pictured:

ROTJ Weequay
AOTC Super Battle Droid
AOTC Senate Guard
AOTC Kit Fisto
TPM Qui-Gon Jinn
TPM Darth Sidious
AOTC Obi-Wan Kenobi
AOTC Fi-Ek Sirch
TPM Battle Droid
AOTC Padmé Amidala
AOTC Mace Windu
AOTC Zam Wesell

View attachment 375822 View attachment 375830

Not vintage, but also have a Grievous' Starfighter Transformer from the Clone Wars:

View attachment 375831

Also, not super sure on value with this one, I have one of those AOL promo disks in promotion of Revenge of the Sith. Never used to my knowledge.

View attachment 375823View attachment 375824View attachment 375825

As for my wants at the moment, if anyone here is a collector of old school video games (i.e. NES, SNES, N64) or Yu-Gi-Oh! TCG, I'd be looking for that primarily. Thanks for looking.
Only price guide I could find on the Vintage Collection was from ActionFigure 411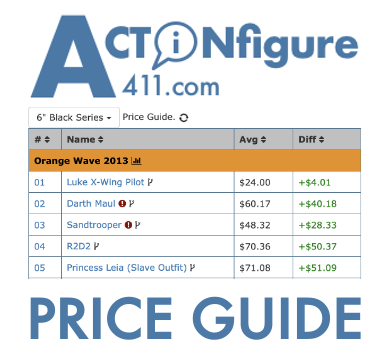 Star Wars 3.75" Vintage Collection including figures and vehicles Price Guide

www.actionfigure411.com
The lower end estimates put the VC figures at $678 for the bunch. Can split up the bunch.
Grievous Transformer is $40
AOL CD $3
For trading, hit up the other thread
Last edited: