These are all the premiums that were put out during 1999 at Taco bell, KFC and Pizza Hut for Episode 1. Each restaurant had it's own set of toys based on the 3 planets in the movie (Naboo, Tatooine, Coruscant)
Taco Bell had Tattooine based toys and included the following:
Joking Jar Jar, Racing Podracers (Anakin,Sebulba), Ripcord Sith Speeder, Planet Tatooine, Floating Royal Starship, Puzzle Bank, Floating Watto and Walking Sebulba
Pizza Hut had toys based on Coruscant. They included: Walking Lott Dodd, launching Royal Starship, Anakin Viewer, Yoda's wisdom (Magic 8 Ball), Planet of Coruscant, Sith Vision, Talking R2-D2, Squishy Jar Jar, Sith Probe Droid, and firing Sith Infiltraitor (Not Pictured).
KFC had toys based on Naboo. They included:
Squirting Bongo, Firing Vulture Droid, Squirting Boss Nass, Swimming Jar Jar, Planet of Naboo, Oopee Sea Killer, Squirting Jar Jar, Captain Tarpals Vs Battle Droid (Rock-em Sock-em), firing Naboo Fighter, and Queen Amidala 2 pack (Not Pictured)
Each resturaunt also released a set of 4 collectible cups. KFC (R2-D2, Queen Amidala, Boss Nass, Captain Tarpals) Pizza Hut (Mace Windu, Jar Jar, Nute Gunray, Yoda) Taco Bell (Anakin, Darth Maul, Watto, Sebulba)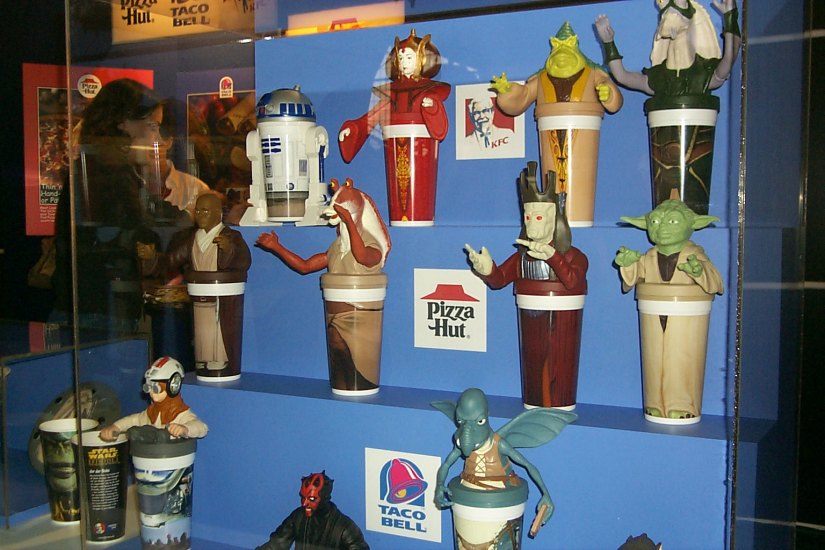 Please feel free to comment about these below
Last edited: