In 1997, Applause made eight Star Wars toy for Taco Bell to coincide with the Special Editions. The toys included Balancing Boba Fett,
Bespin's Cloud City, R2-D2 Playscape, Millennium Falcon Gyro, Magic Cube,
Puzzle Cube, Yoda, and Exploding Death Star.

Taco Bell also released a set of 4 collectors cups outside of the U.S.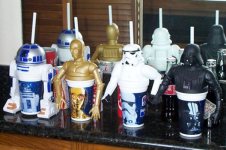 Please feel free to talk about these items