On the 15th October 2013 James (Fuzzybuzzytoys) instigated the collection you see below.
In listing a nice Luke FB Popy he started me on the road to Popy that I never anticipated being able to complete so quickly.
When I checked back the PayPal payment I was surprised to see it was only 9 months ago, its felt like at least double that
Anyway enough talking for now!
Box Front
Box Back
Box Side
Box Angle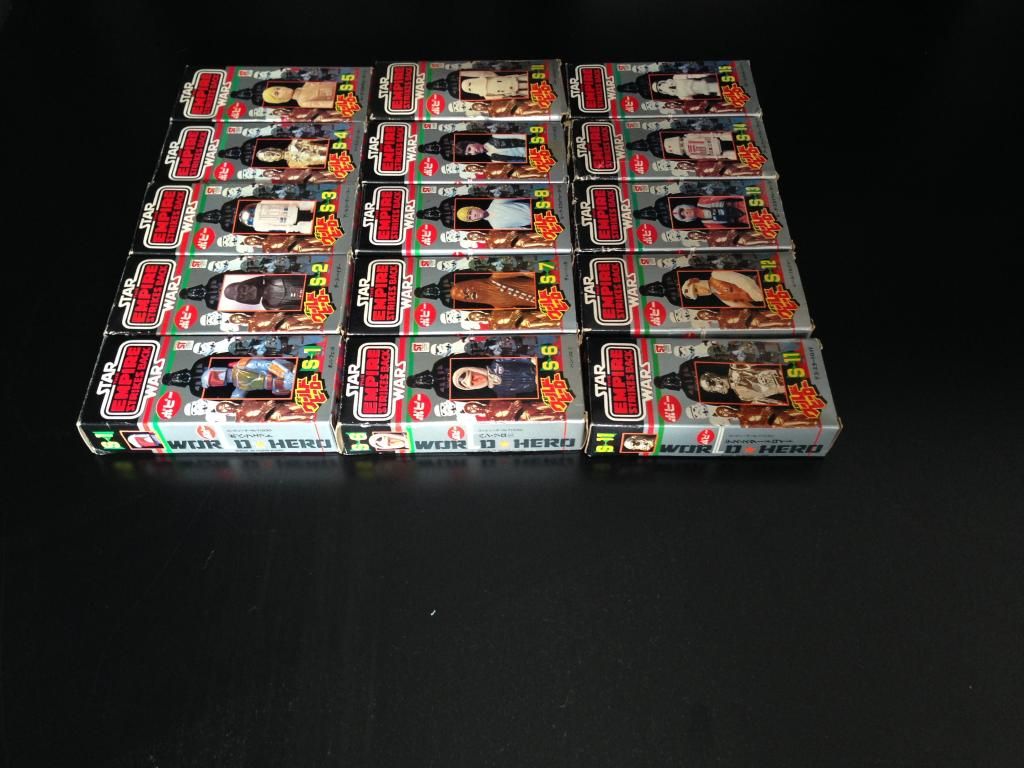 Box Angle
Group Shot with baggies and catalogues
Individual Pics
S1 Boba
S2 Vader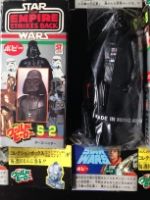 S3 R2D2
S4 C3PO
S5 Luke Bespin
S6 Han Hoth
S7 Chewie
S8 Luke FB
S9 Han
S10 Hoth Stormie
S11 DSD
S12 Hoth Soldier
S13 Luke Xwing
S14 R5D4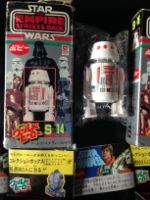 S15 Stormie
I think I have been lucky to be able to complete this run in the time that I have done it in. The overall condition of the Popys is excellent. The only one in real need of an upgrade is the R5D4. Apart from him Im very happy with the rest of the set.
The eagle eyed Popy enthusiast amongst you will notice 2 of SW catalogues are missing and the message that comes with the R5D4. I have one of the SW catalogues on the way and I am always looking for an upgrade for the R5 so If anyone sees one please let me know
In relation to the baggies all are sealed with the exception of Vader (seal came undone when I was first looking at him :wtf:, Luke and Han (seal came away in transit to me). The Boba baggie could do with an upgrade as it has a few slits and Boba has some discolouration. As far as Im aware all the baggies are correct for the Popy release, however Im open to correction.... Frank
As you can guess I absolutely LOVE popys, the packaging, baggies, little catalogues, the presentation as a whole really appeals to me. You really have to wonder though about the selection of what characters they decided to release; No Leia or Yoda?, 3 x Lukes, 2 x Han. I would also question the inclusion of the Hoth Rebel Soldier???
I know there are a few other Popy addicts out there so I hope you enjoy, along with anyone else who happens to take a look.
A BIG special thanks goes to Jeff (CorporateSlave) for not only being an absolute gent to deal with but also for giving me the most ridiculously favorable trade in history
part of which is the fantastic C-3PO pictured above.
As some of you may know my focus is on all Japanese SW released items. However I only want to display them as I complete them. So I will probably use this thread for other runs as I complete them, keep an eye out for Takara, Zetca and Tsukuda to come..... in time
Thanks for looking!
Last edited: