Everything is proceeding as I have foreseen it,
Rebelscum
. The newest issue of
Star Wars Insider
goes on sale in the US and Canada on September 26, in the UK October 26.
You can check out more about the issue here!
US/Canada subscriptions
UK subscriptions
Rest of the world subscriptions
Digital subscriptions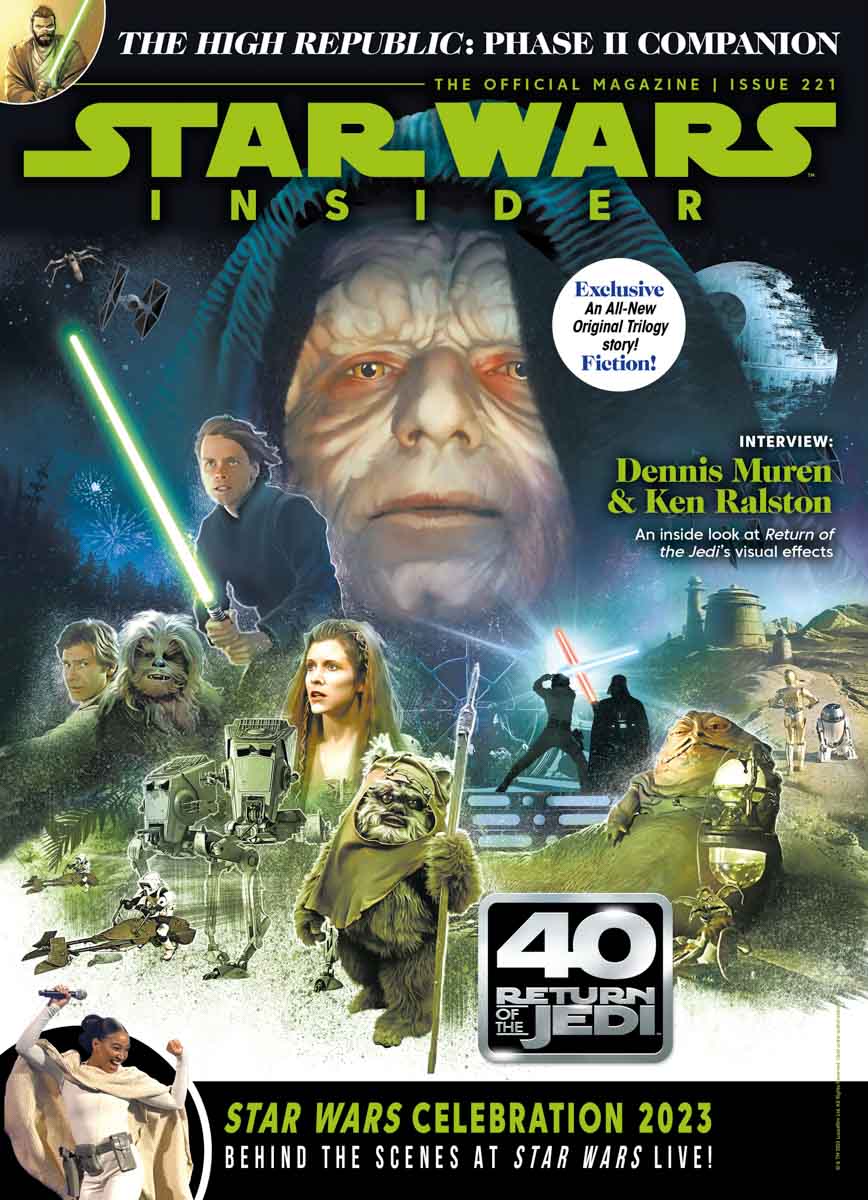 ​
In this issue of
Insider
, we celebrate the space moms and mother figures of
Star Wars
by exploring the trials, tribulations, and sacrifices they made for their (sometimes ungrateful – we're looking at you, Ben Solo!) younglings.
Insider
went behind the scenes of
Star Wars
Celebration Europe 2023's LIVE! Stream to discover how the Lucasfilm Online team put on such an entertaining show. We also talk to designers of Kenner's original toy line and its revival in the form of Hasbro's Retro Collection. But that's not all: Industrial Light & Magic legends Dennis Muren and Ken Ralston tell us about their work on
Return of the Jedi
, while Skywalker Sound's David Collins talks about galactic soundscapes of the modern era, and
The High Republic
author Tessa Gratton reveals her Star Wars story.
Plus, "Lost in the Woods," an all-new and exclusive original trilogy story from S.T. Bende!
In this issue:
•
DENNIS MUREN & KEN RALSTON INTERVIEW: PART ONE
The Industrial Light & Magic legends discuss the making of
Return of the Jedi
.
•
SPACE MOMS
From Leia Organa to Hera Syndulla,
Insider
celebrates the exceptional mother figures of the
Star Wars
saga.
•
LIVE! and Unleashed
Backstage at the
Star Wars
Celebration Europe 2023 LIVE! stage and stream.
•
The High Republic
Insider's
companion to Phase II of the popular publishing initiative.
•
RETRO OF THE JEDI
How Hasbro's Retro Collection honors the original Kenner action-figure line.
•
TESSA GRATTON INTERVIEW
The co-author of
The High Republic: Path of Deceit
, on reflecting the real world in her
Star Wars
stories.
•
EXCLUSIVE FICTION
"Lost in the Woods" – an original trilogy story by S.T. Bende.
Discuss this upcoming issue below!
Check out Rebelscum.com merch!
https://www.rebelscumshop.com
Upgrade your collector's toolkit with our app that's designed with collectors in mind!
https://www.collectorsoracle.com
Did you know Rebelscum readers get 10% off in-stock orders at Entertainment Earth, plus free shipping on orders over $39?
Just follow our link (discount appears at checkout):
EE.toys/Rebelscum
For news and updates about all your other fan obsessions, visit:
https://www.cooltoyreview.com