Joined

Apr 24, 2005
Messages

4,417
Reaction score

3
Location
Skorr - \"The Bounty Hunter of Ord Mantell\"
Who else would like to see
Skorr
, the bounty hunter Solo "ran into on Ord Mantell" (SW comic strip), get a figure? I know EU stuff is not a Hasbro priority right now, but I thought I'd try to build some support for this character for the next time a poll comes up. I don't think he's ever made the ballot?
I've wanted a fig of him for a while. I think he's a pretty neat looking guy. Vaguely alien; part cyborg. I think he'd be fun. Here's his background...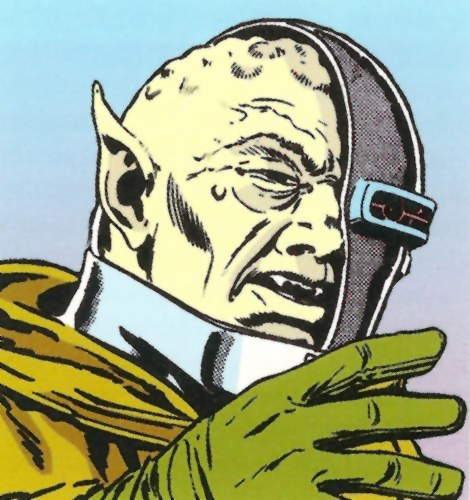 </font><blockquote><font class="small">Quote:</font>
"In a strip where the Emperor and Darth Vader were the main villains, we couldn't have them doing much—we had to preserve their mystery. I thought a bounty hunter like Skorr would be a good character to turn into a villain."
-Archie Goodwin
Han Solo's reference to "the bounty hunter we ran into on Ord Mantell" in The Empire Strikes Back spawned many stories that attempted to document the incident. The first of these was a comic strip written by Archie Goodwin and Al Williamson in 1981, named The Bounty Hunter of Ord Mantell, which gave the previously unnamed character the identity of Skorr. However, numerous other sources have also tried to document the story, and so the hunters Cypher Bos, Alfreda Goot, Boba Fett, and Czethros have also been said to be that bounty hunter. The official StarWars.com Databank establishes that Skorr, whose story was told first, is the bounty hunter to whom Han Solo is referring.[11]
Archie Goodwin originally created Skorr for use as a recurring villain in his Star Wars daily comic strip. He felt that overexposing Emperor Palpatine and Darth Vader in the series would cause them to lose their mystique, and so Skorr was created to serve as an antagonist to the strip's main characters instead.[12]
[/QUOTE]
http://starwars.wikia.com/wiki/Skorr