It's a good bet the Empire knows we're here
Rebelscum
! Check out the latest from Sideshow!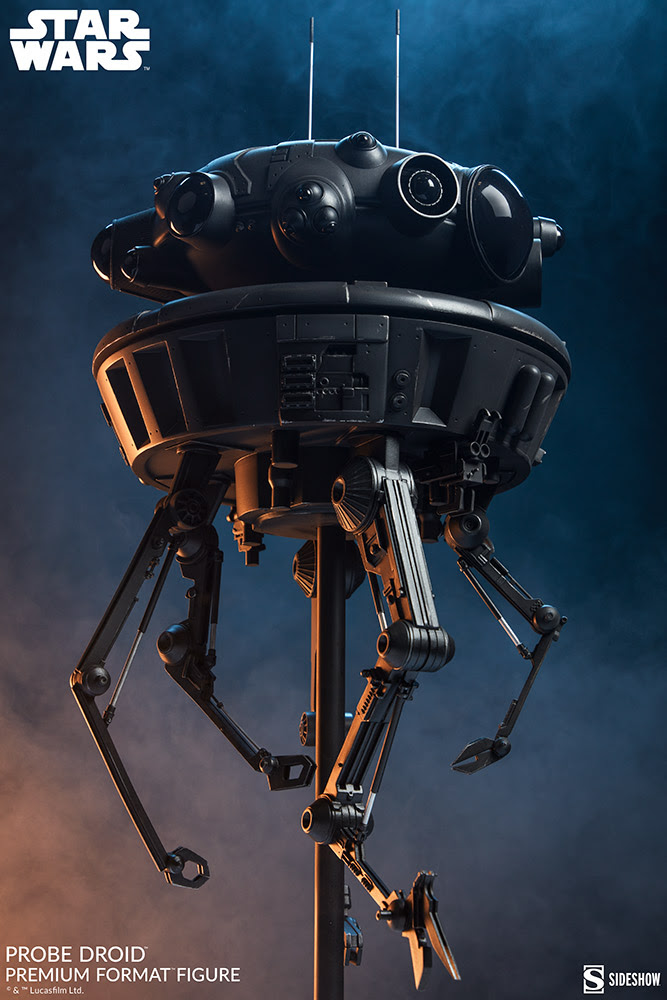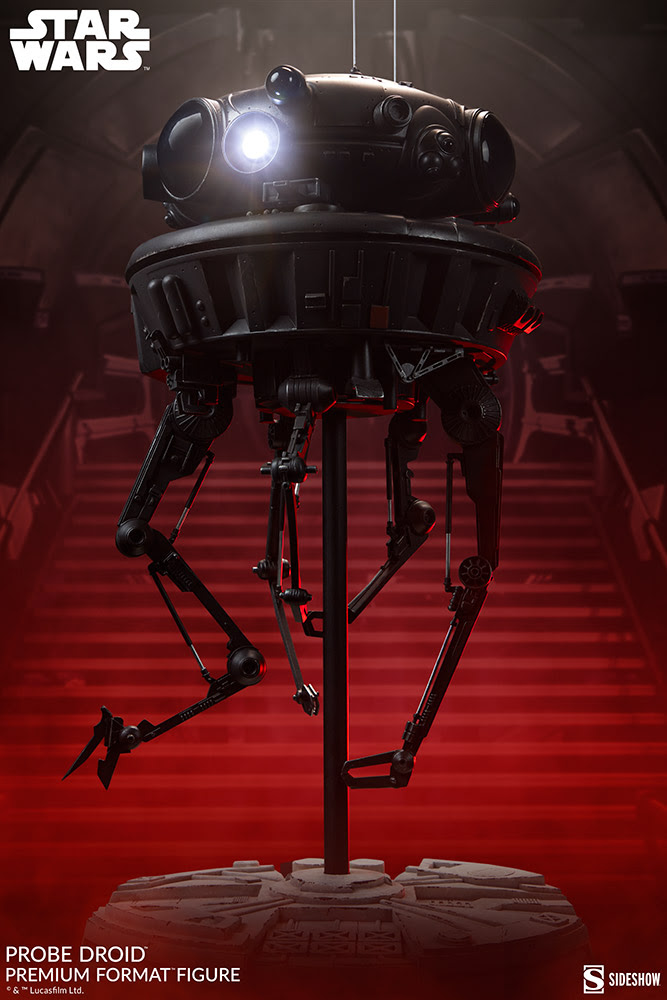 Probe Droid Premium Format™ Figure
Sideshow Collectibles
MSRP: $875
Pre-order Link
Expected to Ship: Jun 2023 - Sep 2023
From deep space to the snowy plains of Hoth™, probe droids™ are vital to the Empire's long range reconnaissance missions. Armed with visual and infrared sensors, a laser cannon, and a self-destruct function, these sneaky droids are fully equipped for sniffing out Rebel bases. With its arachnid-like features, the probe droid's unique design is instantly recognizable to Star Wars™ fans in any galaxy.
Sideshow's new Probe Droid Premium Format™ Figure is a stunningly sculpted tribute to this fan-favorite droid. Standing at an impressive 27", this piece allows you to really see all the beautiful detail of the iconic design.
The Probe Droid's domed head includes light-up visual sensors and an extendable broadcast antenna. Rotatable manipulator arms extend from its central pod, dangling menacingly above the custom base. Expertly hand-painted with carefully applied weathering effects, the Probe Droid also comes loaded with audio which allows you to play sounds from the film, adding a cinematic atmosphere to your display.
Spy on the rebels with the Probe Droid Premium Format Figure,
available to pre-order from Sideshow
.
The Probe Droid Premium Format Figure measures 27" tall and 13" wide as the dark, spindly probot™ patrols an industrial corridor. Its domed head is equipped with numerous antennas and sensors in order to aid its reconnaissance mission. Every detail, from the powerful blasters in its body to the pincer-like apertures protruding from its sides, showcases the stealth and danger for which this droid is infamous.
Inspired by the appearance of the Imperial Probe Droid in Star Wars Episode V: The Empire Strikes Back™, the Probe Droid Premium Format Figure includes light-up eyes* and rotating legs that increase the scope of its sinister espionage activities. This Star Wars figure additionally features a speaker box that plays transmission sound effects from the film, making it a fully immersive addition to your display.
Bring the Probe Droid Premium Format Figure home today — and act fast, as these models are known to self-destruct to avoid Rebel capture!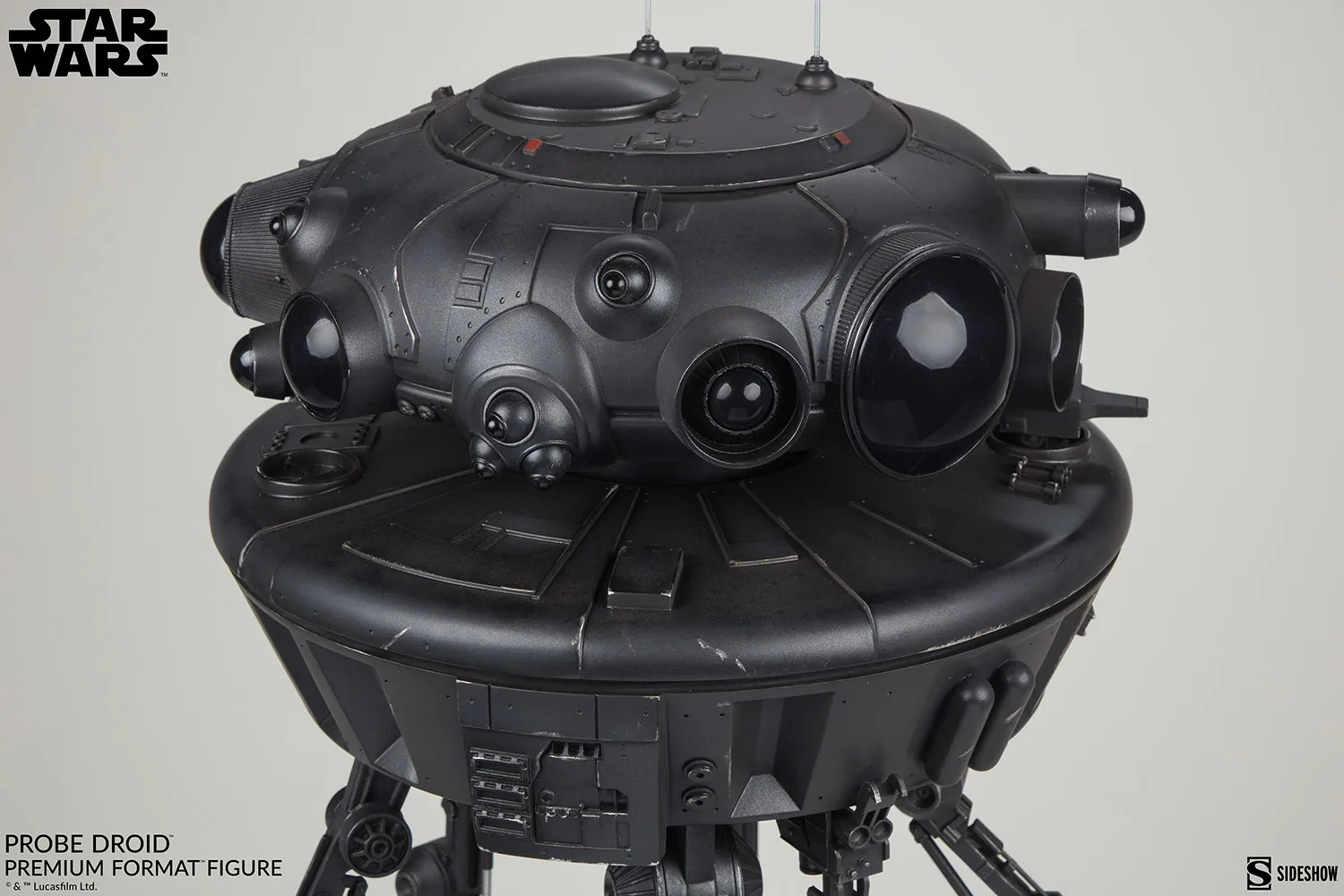 What are your thoughts on this impressive piece
Rebelscum
? Does this appear to be the ultimate probe droid collectible, or is there another that you think takes the cake? Let us know below!
Check out Rebelscum.com merch!
https://www.RebelscumShop.com