How can they be jamming us if they don't know that we're coming,
Rebelscum
? Check out the latest concept maquette replica from Regal Robot!
$399​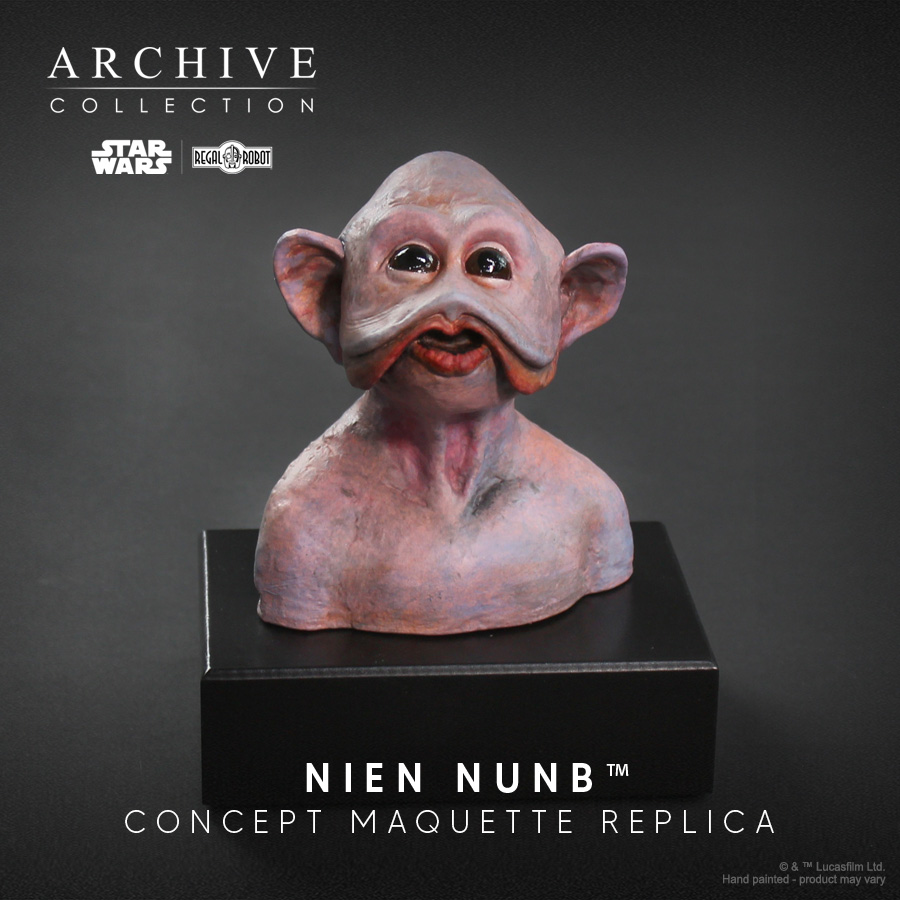 Celebrate the 40th anniversary of
Star Wars: Return of the Jedi™
!
This special, limited edition concept maquette will be available for only 40 hours, starting on Thursday, May 25th, 2023 at 4 PM EST and ending Saturday, May 27th at 8 AM EST.
We'll honor all orders placed within that 40 hour window.
This signature edition Nien Nunb™ bust maquette replica is part of our
Star Wars
™ Archive Collection, a continuation and expansion of our work creating authentic replicas with impeccable lineage. Nunb is known as a hero of the Rebellion and co-pilot to Lando Calrissian™ during the attack on the second Death Star™.
With hands-on access to the original film artifact and high resolution 3D scanning, our team crafted a faithful recreation of the Dave Carson-sculpted concept maquette for this fan-favorite alien character from
Star Wars: Return of the Jedi™.
This maquette was the first step in designing the classic character.
Each approximately 6″ tall (including the wood display base) bust is made from solid, heavy resin. 100% made in the U.S.A., every replica in this edition is meticulously hand painted by the artists in our New York studio, in the multi-layered style of the original. This makes each a unique tribute to the artistry involved behind the scenes of our favorite films!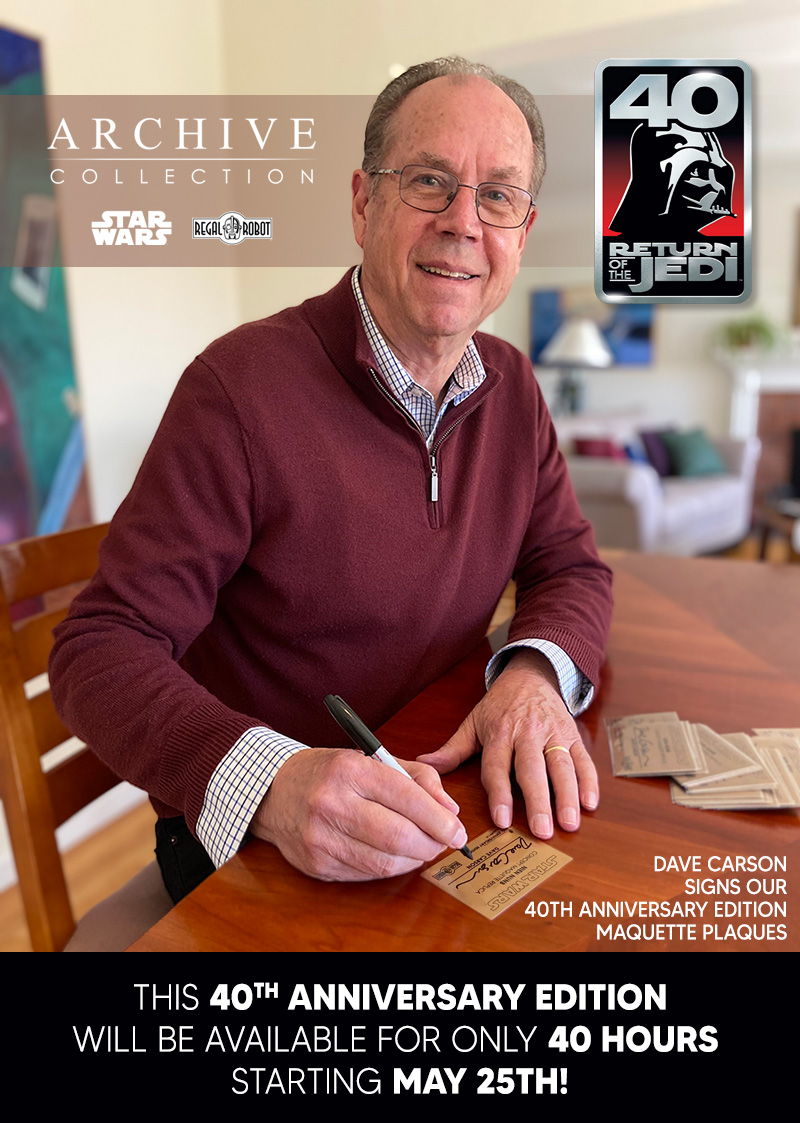 Each statue in this limited edition includes a special "40th Anniversary Edition" gold-toned metal plaque and is hand packed in a gloss black box with die-cut foam insert and COA. The plaques for the signature edition were hand-signed by the original sculptor, FX artist, Dave Carson.
-Limited Edition – available for only 40 hours, starting May 25th!
-Includes display base and gold-toned 40th Anniversary Edition aluminum plaque
-Plaques are hand-signed by sculptor Dave Carson and hand numbered.
-1:1 scale to the original maquette
-Part of our Archive Collection, mastered from a high-resolution 3D scan of the original artifact
-Hand painted, making each a unique work of art.
-Made in the U.S.A.
-Includes Regal Robot COA
-Special up-to-6-Month Payment Plan (with adjustable down payment and length options) available! See here for full payment plan details.
-Maquette numbers will be allocated based on the order checkout is completed.
-Orders placed today are expected to ship in about 12-16 weeks if paid in full at time of order.
Continental US shipping is $24.99. A signature will be required for delivery. Additional shipping fees may be due after checkout when shipping to AK, HI, Military bases outside of the continental US, Puerto Rico or Guam. Please feel free to contact us before ordering for a shipping estimate.

At this time, Star Wars™ products may only be shipped to addresses within the US and US Territories.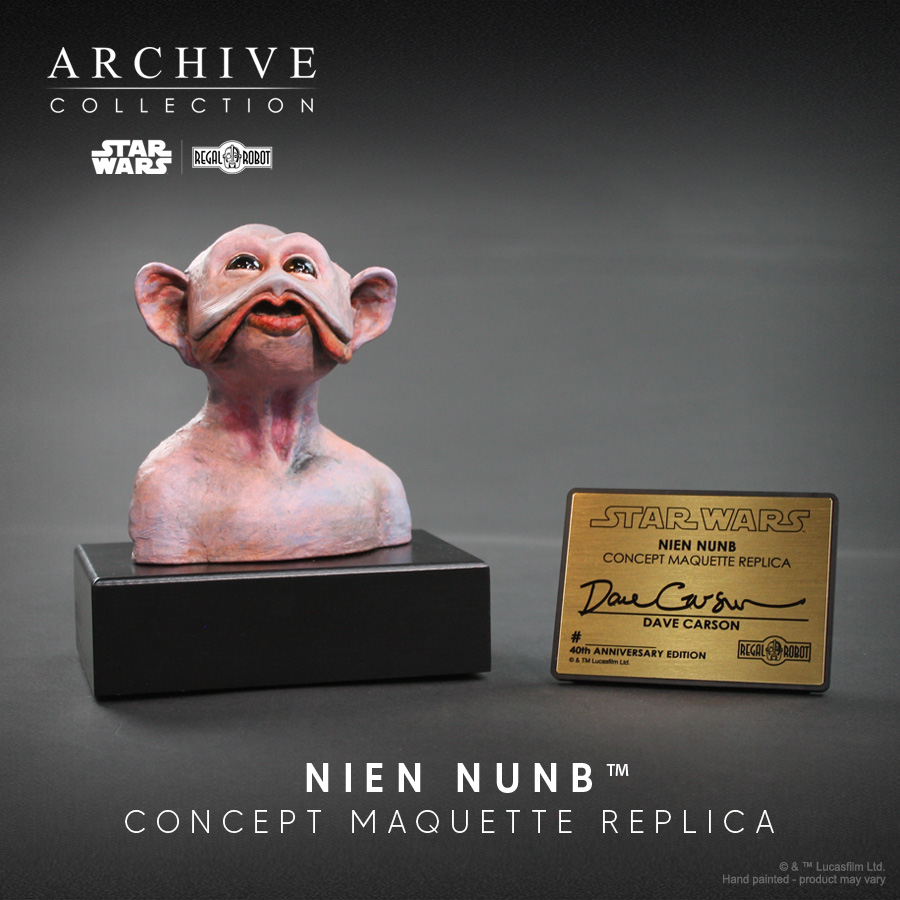 The Archive Collection - Recreating an Artifact​
"Dave Carson was a part of the creature shop at ILM for Star Wars: Return of the Jedi, where he worked extensively on the development of maquettes to help design the aliens for the film. While many were for the court of Jabba the Hutt™, this alien, known only as 'Number 9' at the time, would become Nien Nunb, a massively popular character who would endure even decades later, in the sequel trilogy.

Ever since I was a kid, I've marveled at the incredible concept sculptures which were part of the process in creating the creatures for that film. Watching early making-of specials, it was always a treat to catch a glimpse at the early designs and see how those translated to full scale. I remember seeing video of Dave sculpting those documentaries and to now have the chance to connect with him and learn more about his craft and approach to monster-making is something very special to me.

It's been very exciting here to work with these original artists and to handle the original artifacts and develop this line of maquettes that pays tribute to that artistry involved in creating some of our favorite characters and the artists who inspire us every day!"
– Tom Spina (Regal Robot founder).

During the production of films, the creature effects team will often dream up new and fantastic aliens and beasts by creating small scaled sculptures, called "maquettes," to showcase their ideas. From this menagerie of maquettes, the film's director and producer choose which characters will be brought to life for the film as costumes or puppets and what roles they will play in the story.

This particular design was chosen to become Nien Nunb. The character was brought to life on screen as a full scale rubber mask and a puppet for close-ups.

We are excited to share this new Archive Collection and look forward to sharing our latest art and characters with you. Be sure to follow @RegalRobot on social media to keep up with all of the new collectibles we have in the works.
What do you think
Rebelscum
? Do these concept maquette replicas pique your interest? Whats another character/creature that you'd like to see an early concept piece for? Let us know below!
Check out Rebelscum.com merch!
https://www.RebelscumShop.com
Upgrade your collector's toolkit with our app that's designed with collectors in mind!
https://www.CollectorsOracle.com
Did you know Rebelscum readers get 10% off in-stock orders at Entertainment Earth, plus free shipping on orders over $39?
Just follow our link (discount appears at checkout):
EE.toys/Rebelscum
For news and updates about all your other fan obsessions, visit:
https://www.CoolToyReview.com