Wherever I go, he goes,
Rebelscum
. The latest offering from Regal Robot is a replica of the first concept sculpture of everyone's favorite pint-sized bounty. Other companies have done statues of Grogu, but this is an actual production artifact, something that Regal Robot has a proven track record in. They typically have a limited edition run on these, but for this item they're accepting all initial pre-orders and set the editing size on March 15th. Don't sleep on this one folks, it WILL sell out.
From Regal Robot:
$549.00​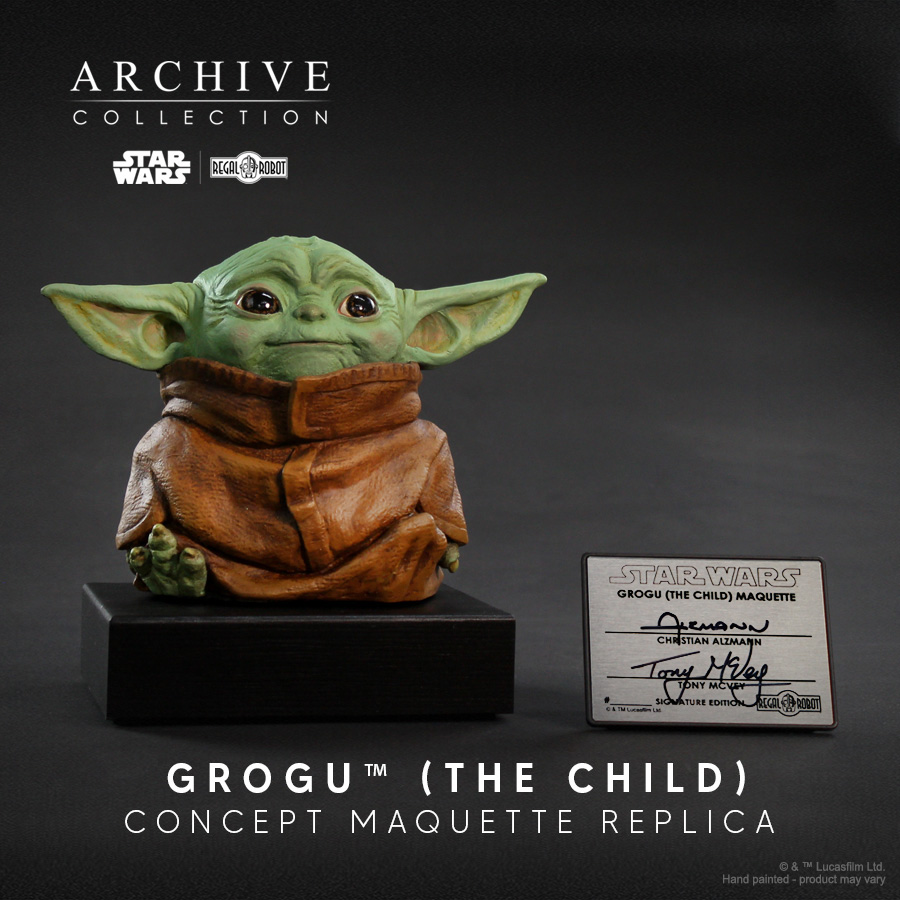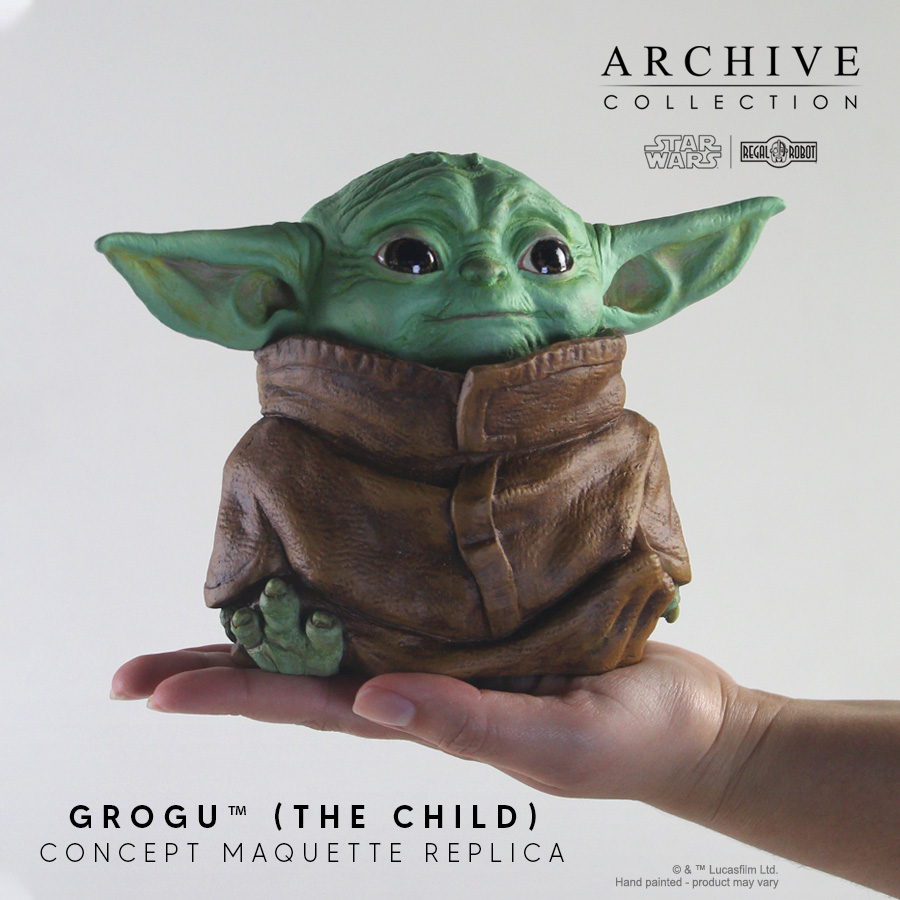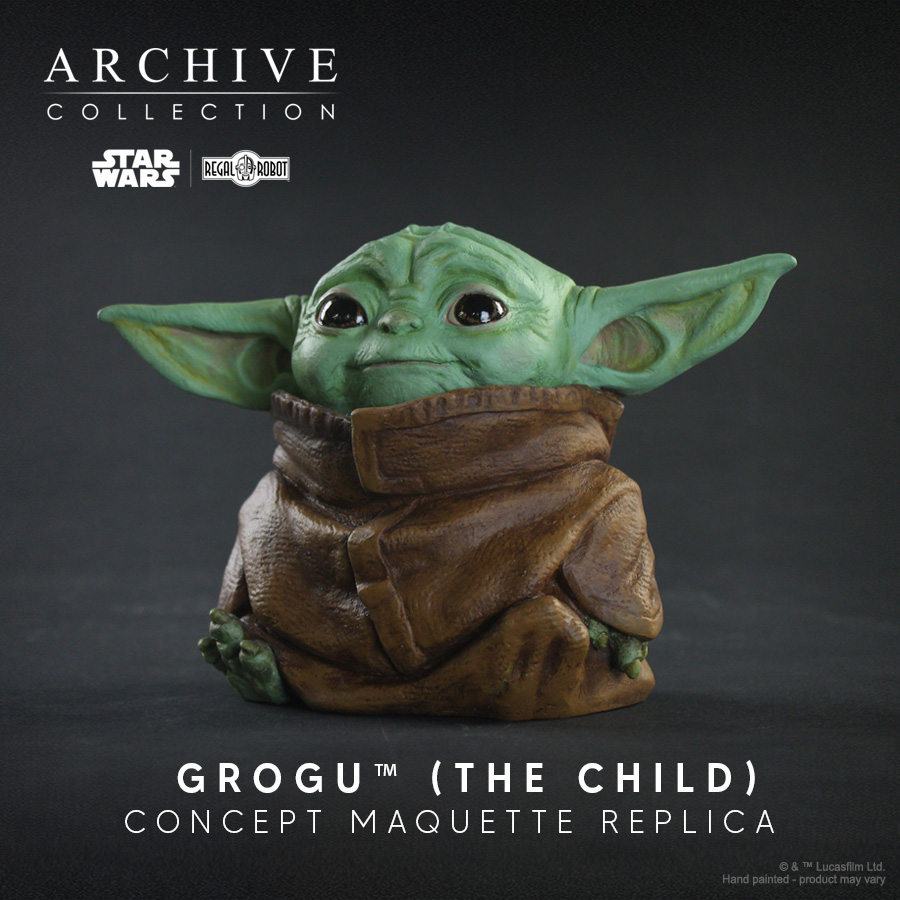 REGAL ROBOT ANNOUNCES REPLICA OF THE FIRST CONCEPT SCULPTURE THE LED TO THE CREATION OF BABY YODA!
Our dual signature edition Grogu™ (The Child) concept maquette is part of our Star Wars™ Archive Collection, a continuation and expansion of our work creating authentic replicas with impeccable lineage.
Lovingly referred to by audiences as 'Baby Yoda', the mysterious alien originally known as The Child and eventually revealed to be named, Grogu™, has quickly become the fan-favorite character from the hit series, The Mandalorian™.
The first steps in creating that character included both 2D concept art by Lucasfilm Concept Design Supervisor, Christian Alzmann, and a beautiful hand-sculpted maquette by legendary FX artist and sculptor, Tony McVey, whose work Star Wars fans know from The Mandalorian and films like Star Wars: Return of the Jedi™ and more!
We feel very fortunate to have those two amazing artists from the show's production as a part of this very special limited edition and every statue in this edition includes a hand-numbered metal plaque with original signatures by Alzmann and McVey and a 2D print of the original concept art for the character.
Our Grogu concept maquette was mastered with McVey, from the original molds, giving it outstanding lineage and a direct connection to the production artifact and show.
Each approximately 7.5″ tall (including the wood display base) by 8.25" wide (ear tip to ear tip) maquette is cast in heavy polyurethane resin. They're hand packed in a gloss black box with die-cut foam insert and COA.
100% made in the U.S.A., every replica in this edition is meticulously hand painted, making each a unique tribute to the artistry involved behind the scenes of this extremely popular character!
Additionally, because of that popularity, we want to be sure all fans have a stress-free opportunity to acquire this particular artifact. To that end, we will accept all orders for a short time, then set the edition size on March 15th at which point, orders will continue only until the edition is sold out.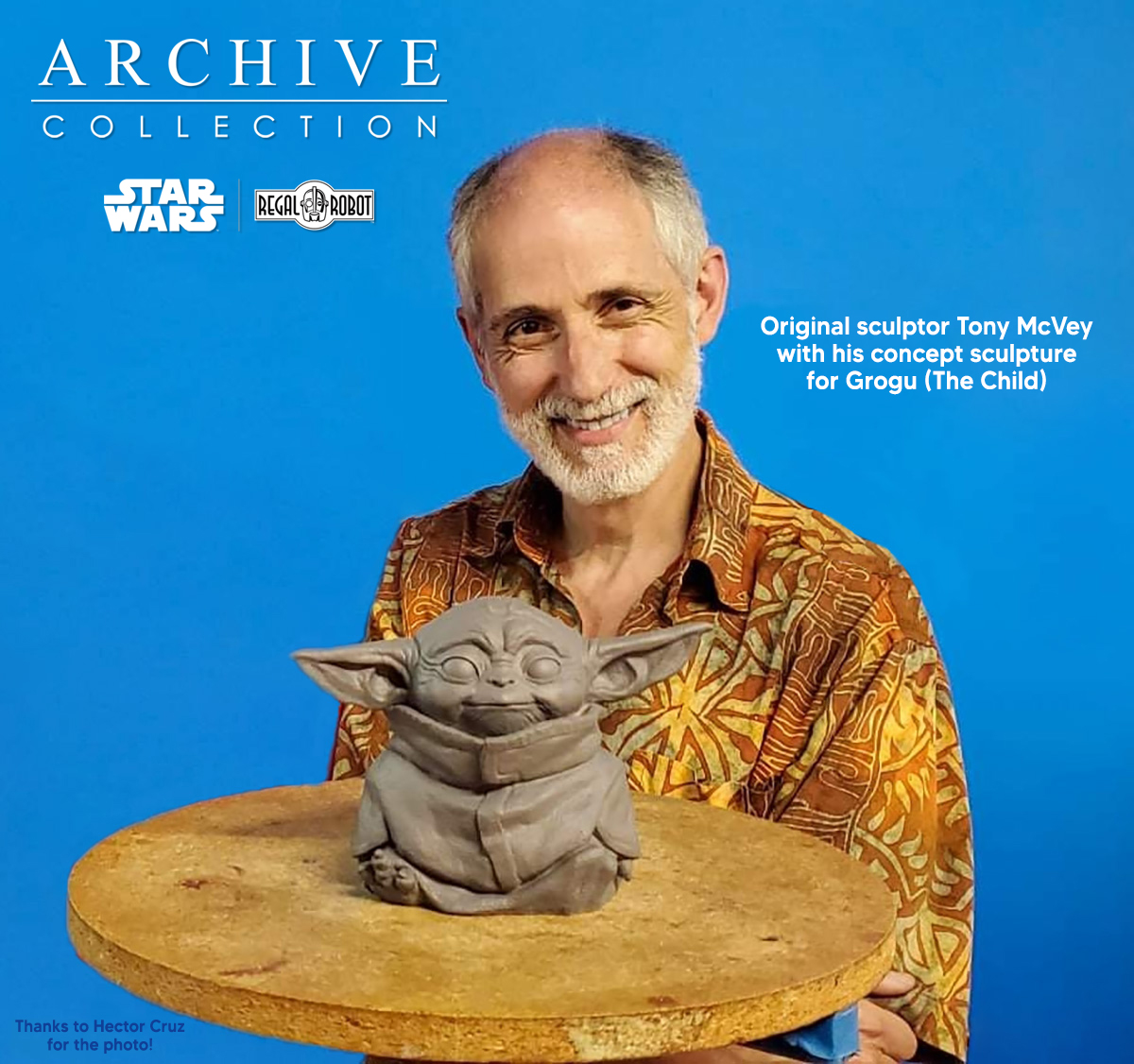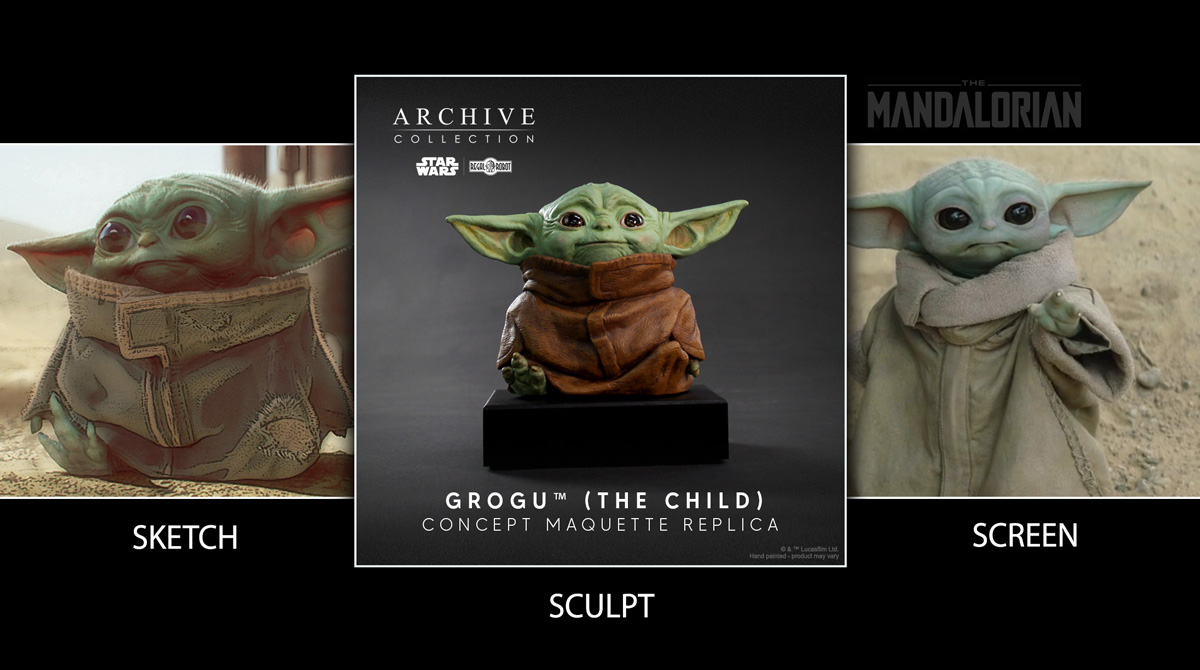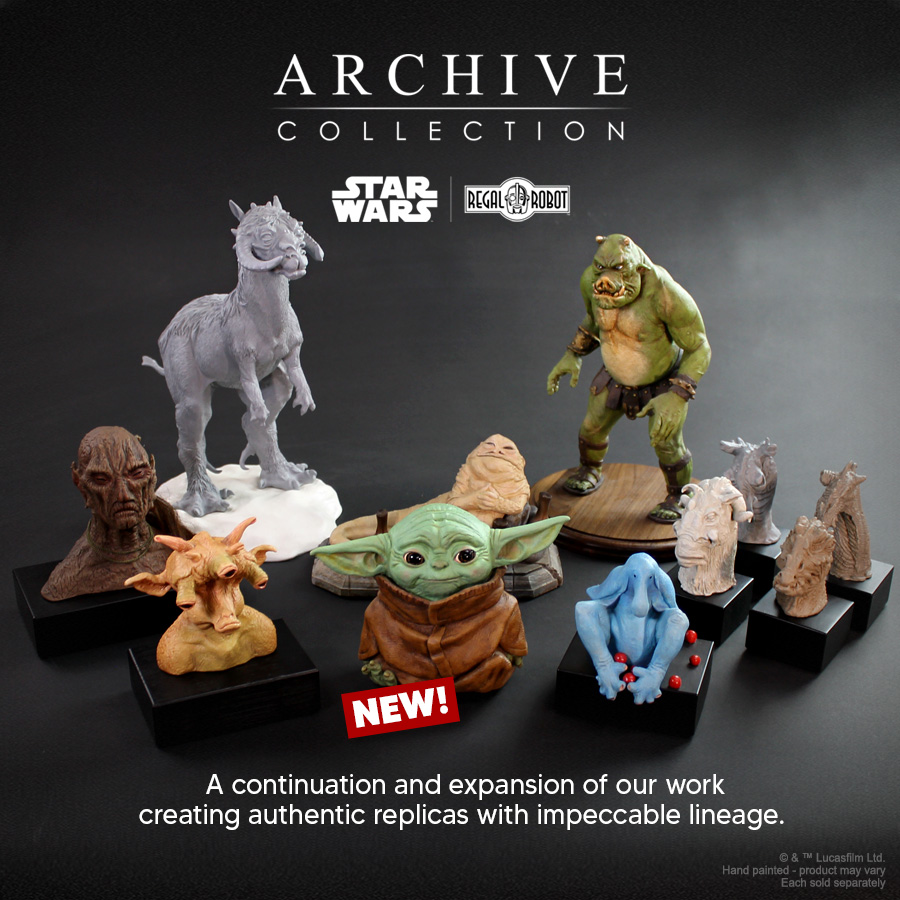 -Limited Edition (edition size will be announced on March 15th)
-1:1 scale to the original maquette
-Part of our Archive Collection, mastered from original molds
-Plaques hand-signed signed by concept artist, Christian Alzmann & sculptor Tony Mcvey
-Includes 2D print based on the original concept art
-Includes black wood display base
-Hand painted, making each a unique work of art
-Made in the U.S.A.
-Includes Regal Robot COA
-Special up-to-6-Month Payment Plan (with adjustable down payment and length options) available! See here for full payment plan details
-Maquette numbers will be allocated based on the order checkout is completed
-Orders placed today are expected to ship in about 8-12 weeks if paid in full at time of order
Continental US shipping is $24.99. Additional shipping fees may be due after checkout when shipping to AK, HI, Military bases outside of the continental US, Puerto Rico or Guam. Please feel free to contact us before ordering for a shipping estimate.

At this time, Star Wars™ products may only be shipped to addresses within the US and US Territories.
What's the consensus on this little nugget? Does he belong on your Mando shelf? Let us know below!
Check out Rebelscum.com merch!
https://www.RebelscumShop.com
Upgrade your collector's toolkit with our app that's designed with collectors in mind!
https://www.CollectorsOracle.com
Did you know Rebelscum readers get 10% off in-stock orders at Entertainment Earth, plus free shipping on orders over $39?
Just follow our link (discount appears at checkout):
EE.toys/Rebelscum
For news and updates about all your other fan obsessions, visit:
https://www.CoolToyReview.com