Regal Robot
has a new option for their Life-Sized Chewbacca bust! Get yours while you can!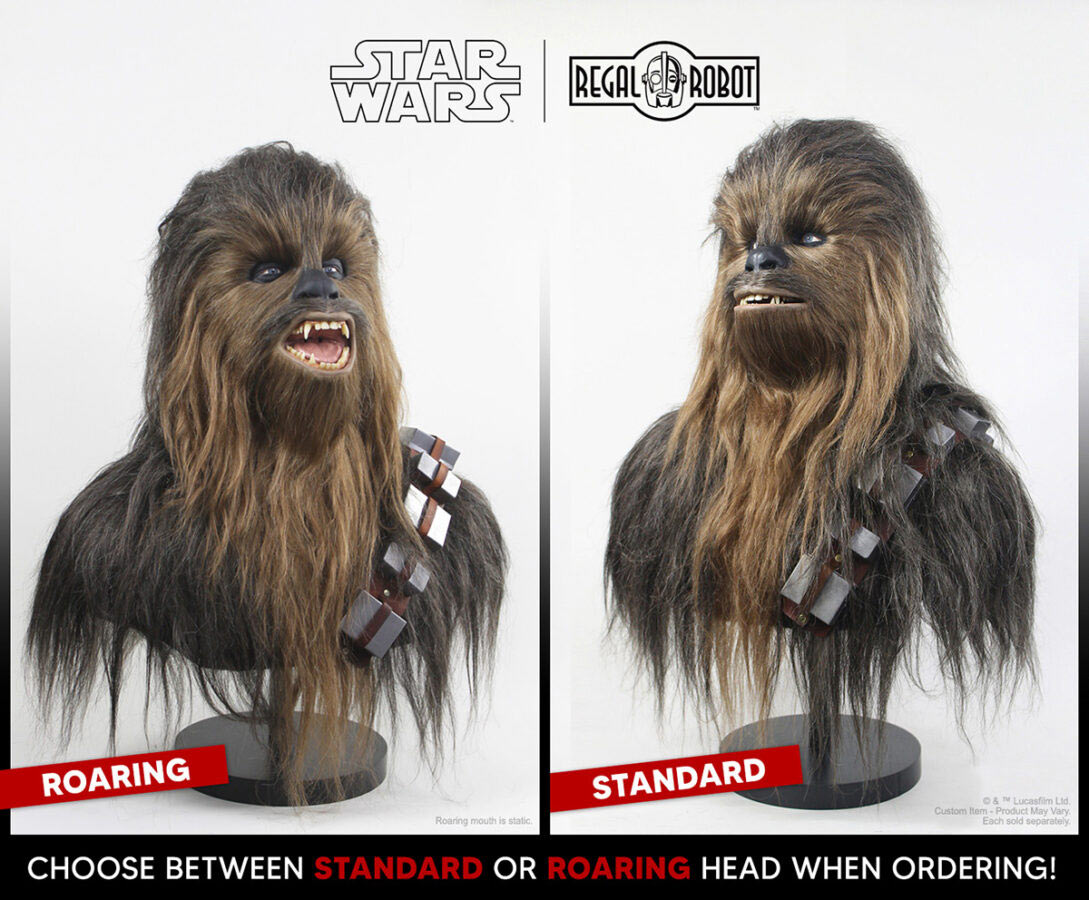 Life-sized Chewbacca™ Bust – Custom Edition
Price:$4,500 (standard head style) or $5,500 (roaring head style + shipping
Today Regal Robot updated the product page for their life-sized Chewbacca bust Custom Edition to reveal the new ROARING version of this great bust! This new option features a dynamic, roaring sculpt with fierce eyes and a film-mask-accurate snarl. Both styles of our authentic 1:1 recreations of everyone's favorite Wookiee™ stand a giant 36″ tall and include head and shoulders as well as a portion of hand-made and distressed leather and metal bandolier.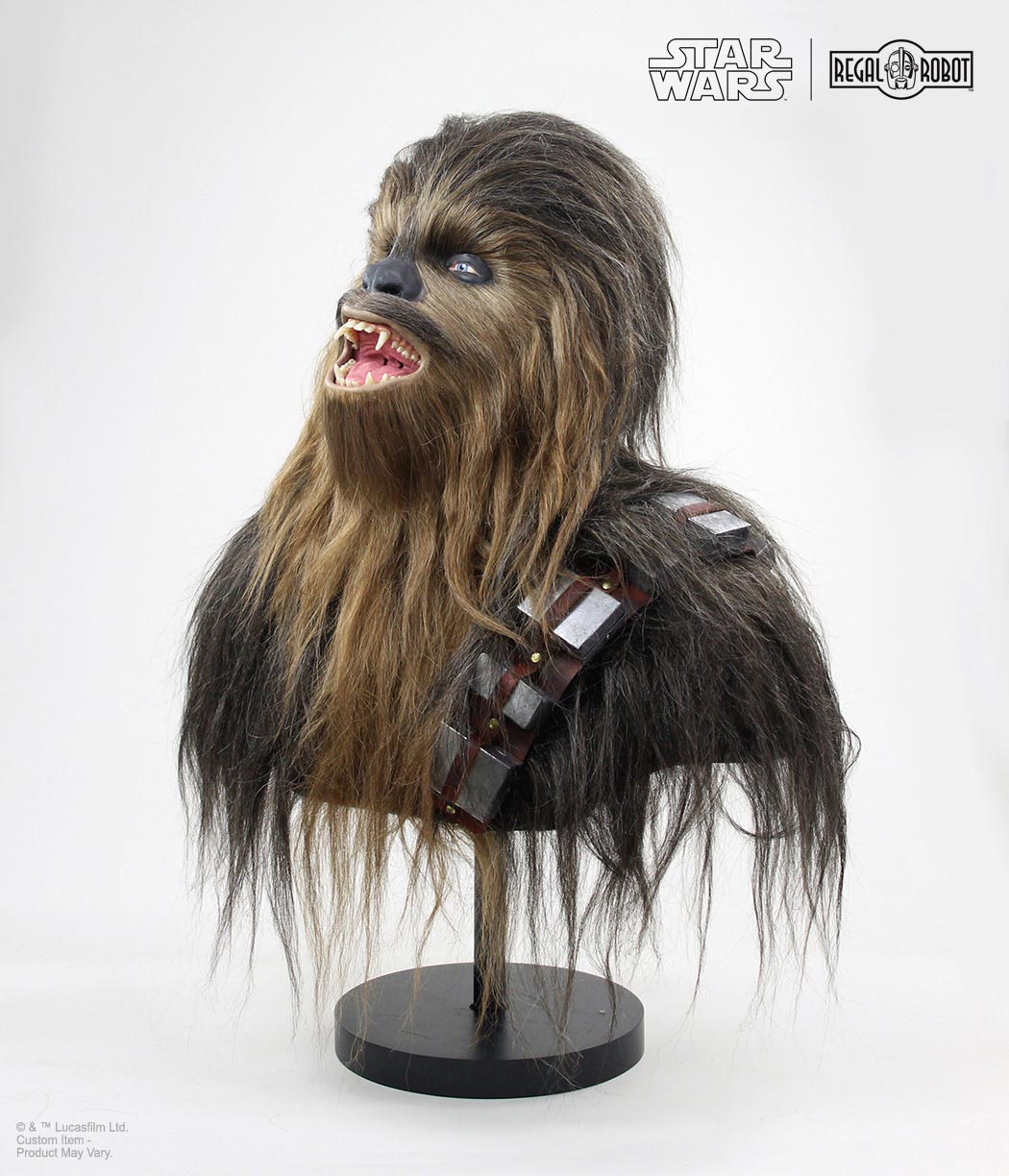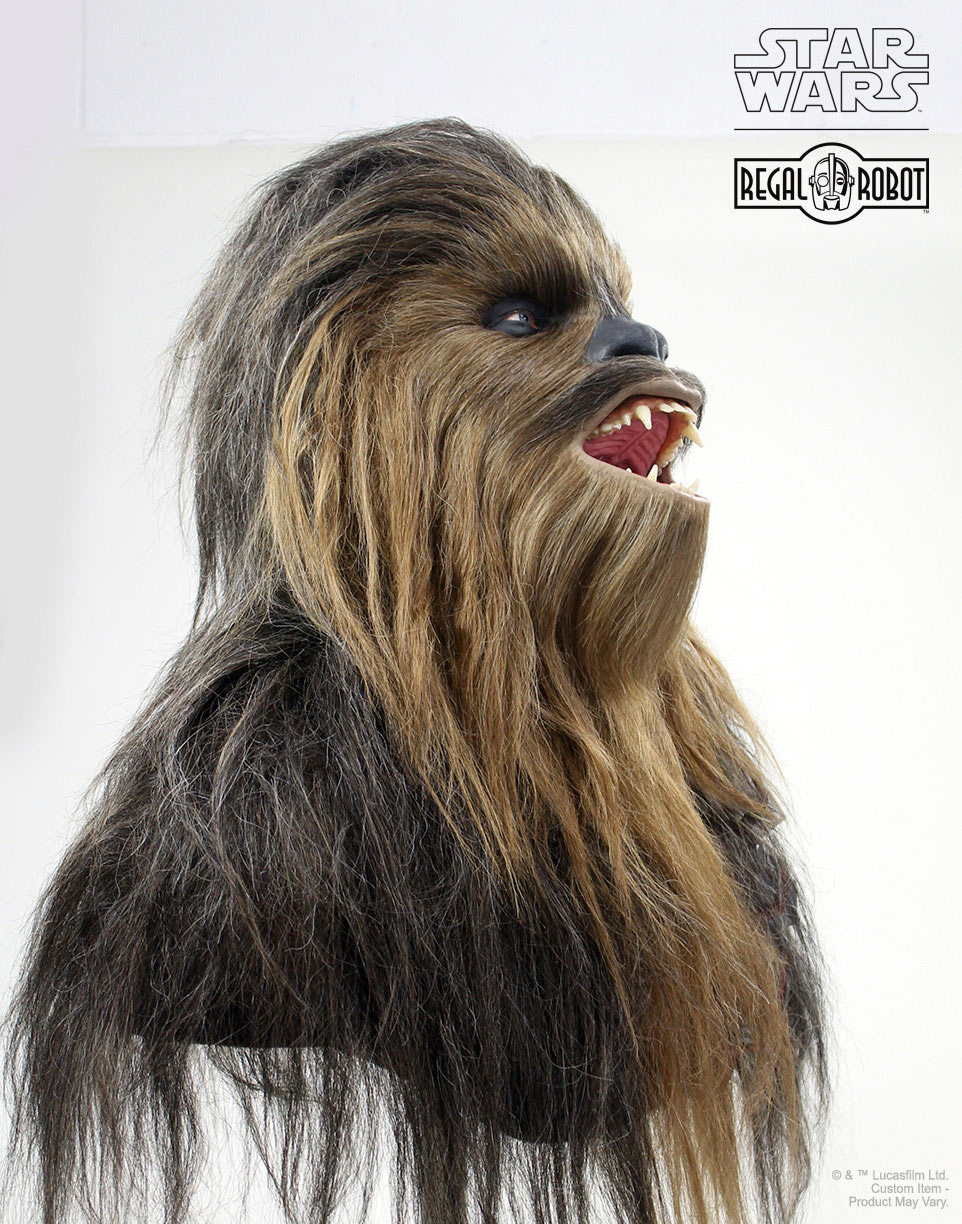 Each bust is produced in the Regal Robot New York studios, with hours of hands-on work by professional FX artists. The head is hand painted prior to hand-glued FX style hair, applied in small sections at a time, just like Stuart Freeborn did on the original movie masks. Custom acrylic prosthetic eyes and translucent resin teeth with a silicone tongue give this bust added realism and depth.
Like all of Regal Robot's Wookiee creations, this bust was developed with access to an original production-made face skin and teeth castings, along with hands-on examination of the original costume, mask and hair used in the original trilogy films.
CHOOSE from two static sculpts – "Standard" or "Roaring" (each sold separately) from the drop-down when ordering
1:1 to the original prop. Includes a stand as shown for a Wookiee-sized height of 36″
Officially licensed, includes hand-signed Certificate of Authenticity and elegant metal plaque
Poseable neck for tilt, turn and lean options
Custom-made FX grade hair and acrylic eyes
Hand-crafted and distressed leather and metal bandolier
Developed with extensive, first-hand examination of the original costume
Hand made by our New York FX team, making each a true work of art
Made in the U.S.A.
Special Extended 10-Month Payment Plan available!
Made-to-order, usually ships in approximately 12-16 weeks, dependent upon our custom build schedule at time of order and if using the payment plan.
Do you have any Regal Robot creature items? What other creature busts would you like to see? Let us know below!
Check out Rebelscum.com merch!
https://www.RebelscumShop.com
Be sure to follow us on all of our social media platforms:
https://www.YouTube.com/RebelscumPage
http://www.Twitter.com/RebelScumNews
http://www.Facebook.com/RebelScumcom
http://www.Instagram.com/RebelScum.Official