Well hello there
Rebelscum
! The dust has barely settled in the streets of Mos Espa after the season finale of
The Book of Boba Fett
, but Lucasfilm has dropped the next tidbit for another highly-anticipated show as well as the premiere date.
Behold!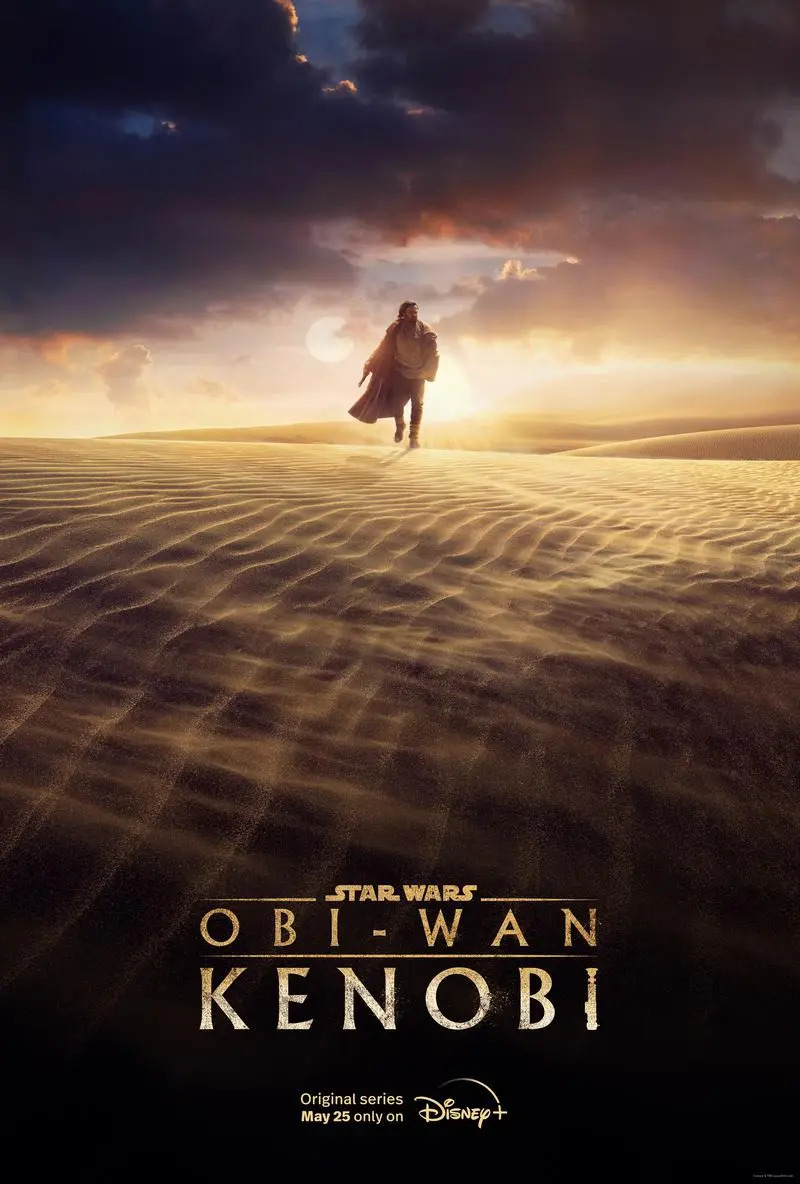 The
Obi-Wan Kenobi
poster doesn't offer us much. We've got Ewan McGregor once again donning his jedi robes as Jedi Master Obi-Wan Kenobi and wandering the arid, unforgiving sands of our favorite desert planet with the twin suns setting behind him. I suppose the suns could be rising, but I'm having difficulty pinpointing the exact location of those particular dunes to determine what direction we're facing. Sorry, my Tatooine geography is a little rusty.
We do have a date to look forward to -
May 25, 2022
! You may notice that that premiere date has some significance. May 25th was also the opening date for
A New Hope
(1977) and
Return of the Jedi
(1983). It's also the day before the first day of Star Wars Celebration in Anaheim this year, so you'll probably want to watch the premiere before attending Celebration. You'll be walking into a spoiler minefield otherwise.
From
StarWars.com
:
One of the greatest Jedi ever is back for a new mission.

Obi-Wan Kenobi, the new limited series from Lucasfilm, will debut May 25, exclusively on Disney+. The series stars Ewan McGregor, reprising his role as the iconic Jedi Master. You can get a first look at the striking Obi-Wan Kenobi teaser poster below, featuring the titular hero traversing a barren desert.

Obi-Wan Kenobi teaser poster, featuring Obi-Wan walking in a desert.

The story begins 10 years after the dramatic events of Star Wars: Revenge of the Sith, in which Obi-Wan Kenobi faced his greatest defeat — the downfall and corruption of his best friend and Jedi apprentice, Anakin Skywalker, who turned to the dark side and became the evil Sith Lord, Darth Vader.

The series also marks the return of Hayden Christensen in the role of Darth Vader. Joining the cast are Moses Ingram, Joel Edgerton, Bonnie Piesse, Kumail Nanjiani, Indira Varma, Rupert Friend, O'Shea Jackson Jr., Sung Kang, Simone Kessell, and Benny Safdie.

Obi-Wan Kenobi is executive-produced by Kathleen Kennedy, Michelle Rejwan, Deborah Chow, Ewan McGregor, and Joby Harold.
What do you think Rebelscum? Are you excited for all the familiar faces returning to this series? Are you planning on attending Celebration this year? Let us know below!
Check out Rebelscum.com merch!
https://www.RebelscumShop.com
Be sure to follow us on all of our social media platforms:
https://www.YouTube.com/RebelscumPage
http://www.Twitter.com/RebelScumNews
http://www.Facebook.com/RebelScumcom