Welcome back
Rebelscum
! Regal Robot is announcing their next group of all-new Indiana Jones decor creations developed as part of their continuing partnership with Lucasfilm and Disney!
From Regal Robot:
These will all be available to order on Tuesday, 8/15/2023 at 12 noon EST. In the below images you'll find a first look at each of the three new products we're adding to our
Indiana Jones
line. Full details for each will be coming soon…
This release builds on
our previous waves of Indiana Jones creations
with two great new magnets inspired by
Indiana Jones and the Raiders of the Lost Ark™
and a large, highly detailed new piece of sculptural wall decor… a 1:1 recreation of the Grail Tablet from
Indiana Jones and the Last Crusade™.
These are all made-in-the-USA, hand painted and distressed to look like they've lived a life of adventure!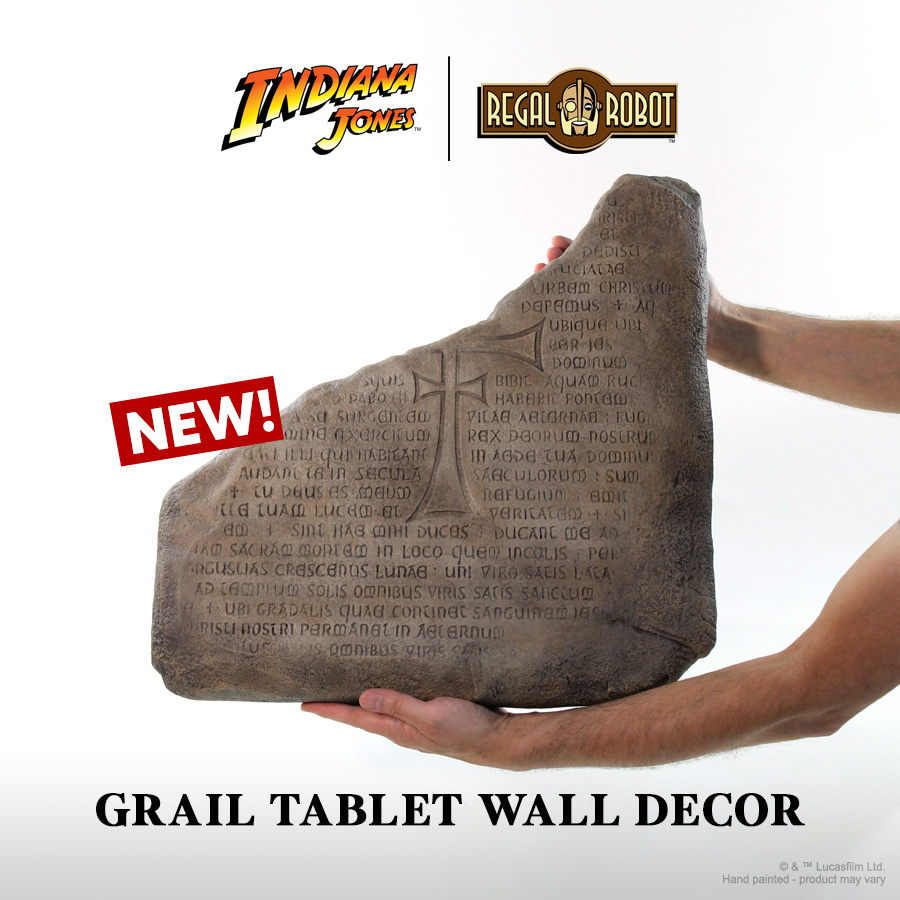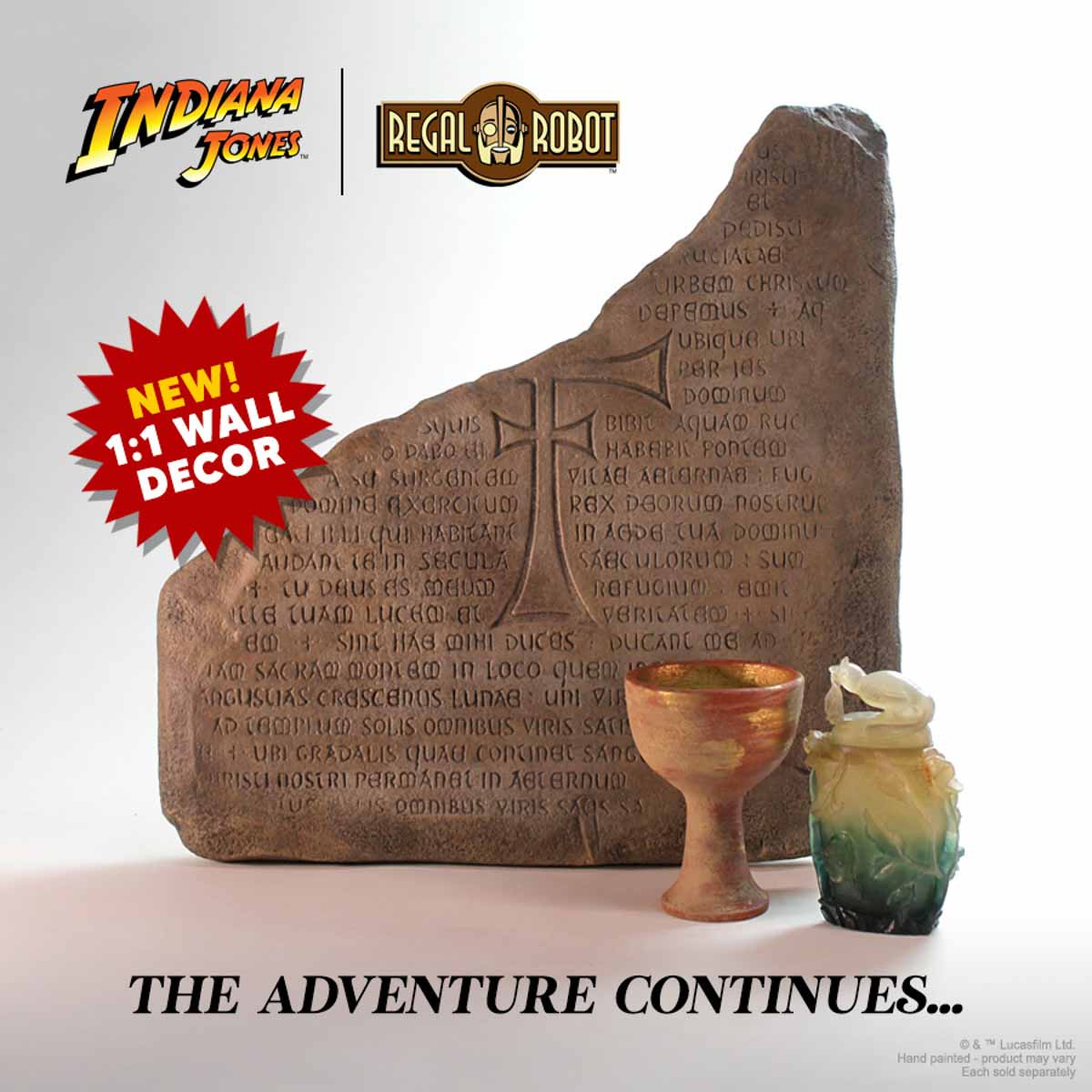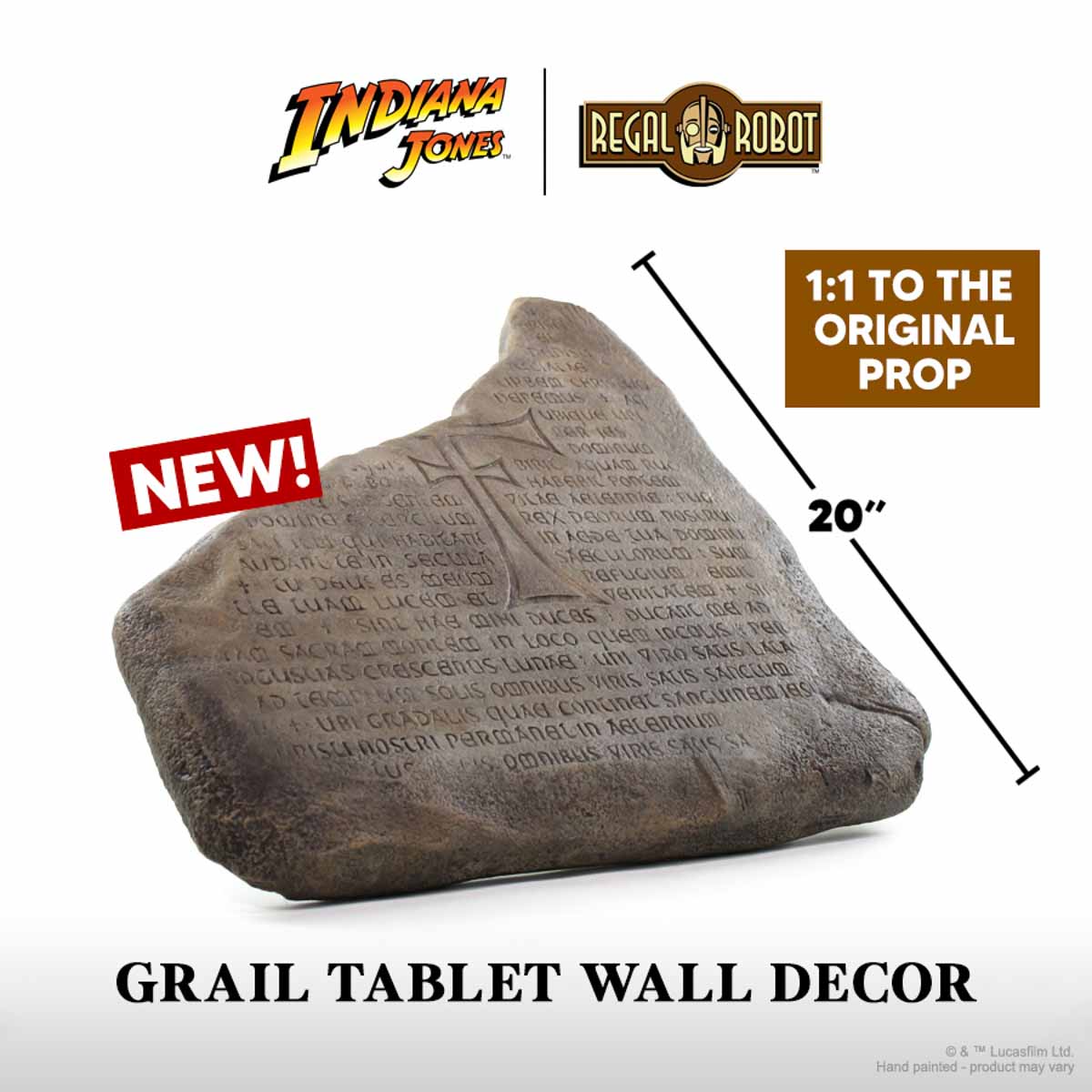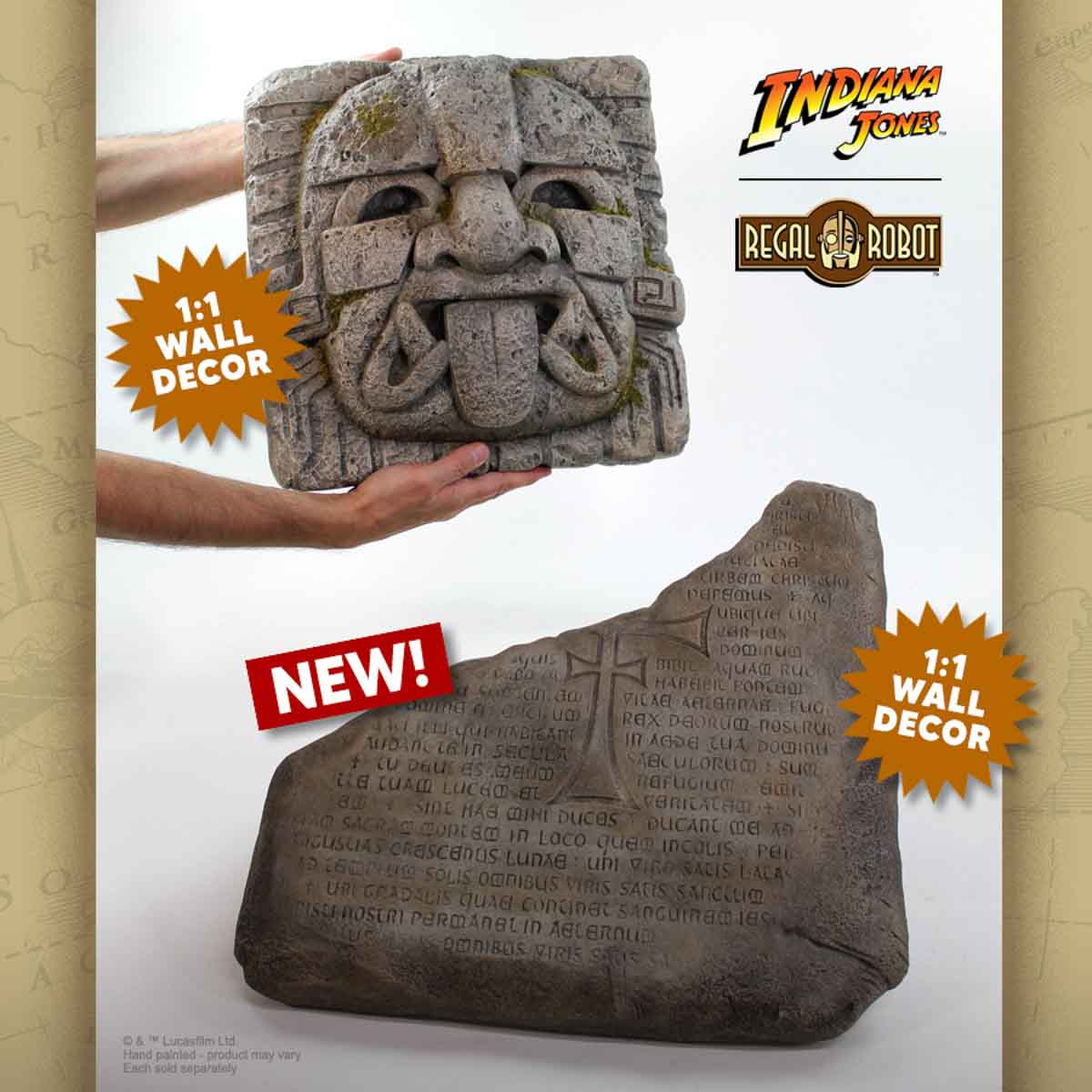 A companion to our Temple Trap Wall Decor, this new Grail Tablet is highly detailed, hand painted, and made in the U.S.A. Developed from a scan of one of the original film props, it's 1:1 sized at about 20″ wide and over 5 pounds of polyurethane resin. $399 plus s/h
Order the Grail Tablet 1:1 Wall Decor
In
Indiana Jones and the Last Crusade™,
American businessman Walter Donovan shows Indiana Jones™ the mysterious Grail Tablet, one of two markers left by the three knights who discovered the Holy Grail. He also gives Indy some more ominous news about his father, setting off an adventure to the Canyon of the Crescent Moon…
This large, three-dimensional sculptural wall decor is inspired by the tablet seen in the film. It's an impressive 20" wide, the same size as the original prop, and was developed using a 3D scan of one of the tablets used in the production of the film.
Each made in the U.S.A. wall decor creation is cast in over 5 pounds of polyurethane resin and then hand-painted in many layers for realistic stone accents and aging. With a truly realistic, ancient finish, it feels like it came right out of the movie!
"Choose wisely…"
and bring some Indiana Jones adventure and style to your home theater, living room or office!
This item is eligible for easy payments via Partial.ly. See here for full payment plan details.
Continental US shipping is $24.99. A signature will be required for delivery. Additional shipping fees may be due after checkout when shipping to AK, HI, Military bases outside of the continental US, Puerto Rico or Guam. Please feel free to contact us before ordering for a shipping estimate.

At this time, Indiana Jones™ products may only be shipped to addresses within the US and US Territories.
These are currently in production and we expect them to begin shipping in 10-12 weeks, shipping in small waves for several months after that.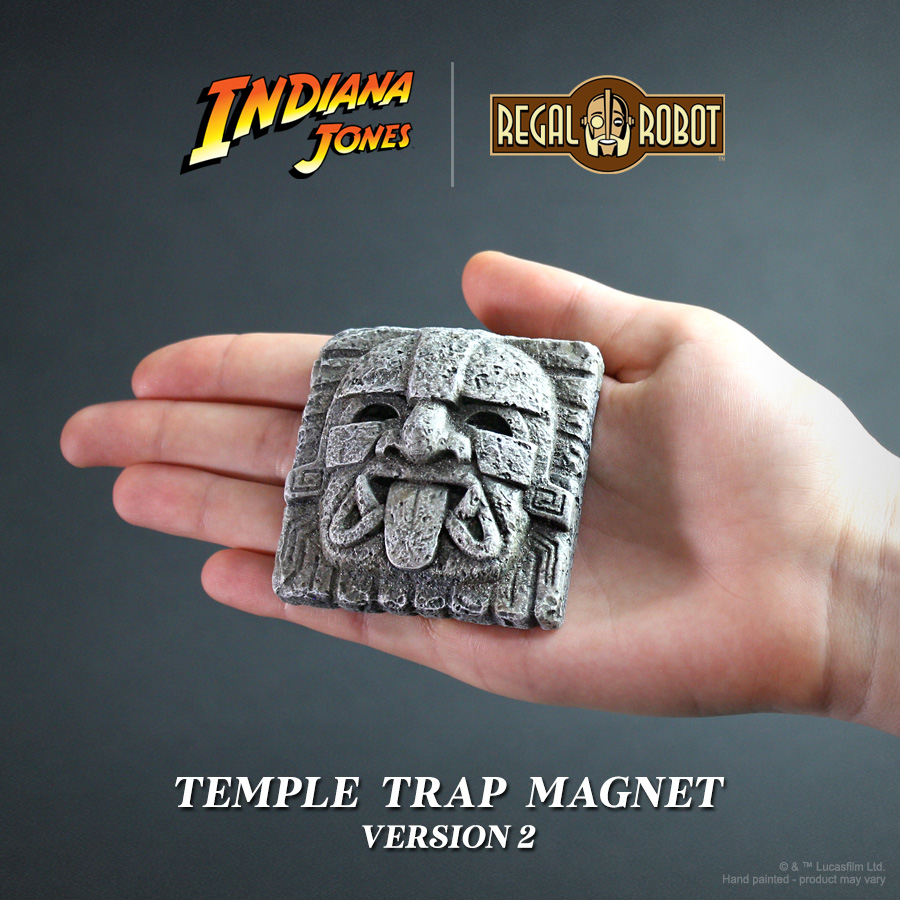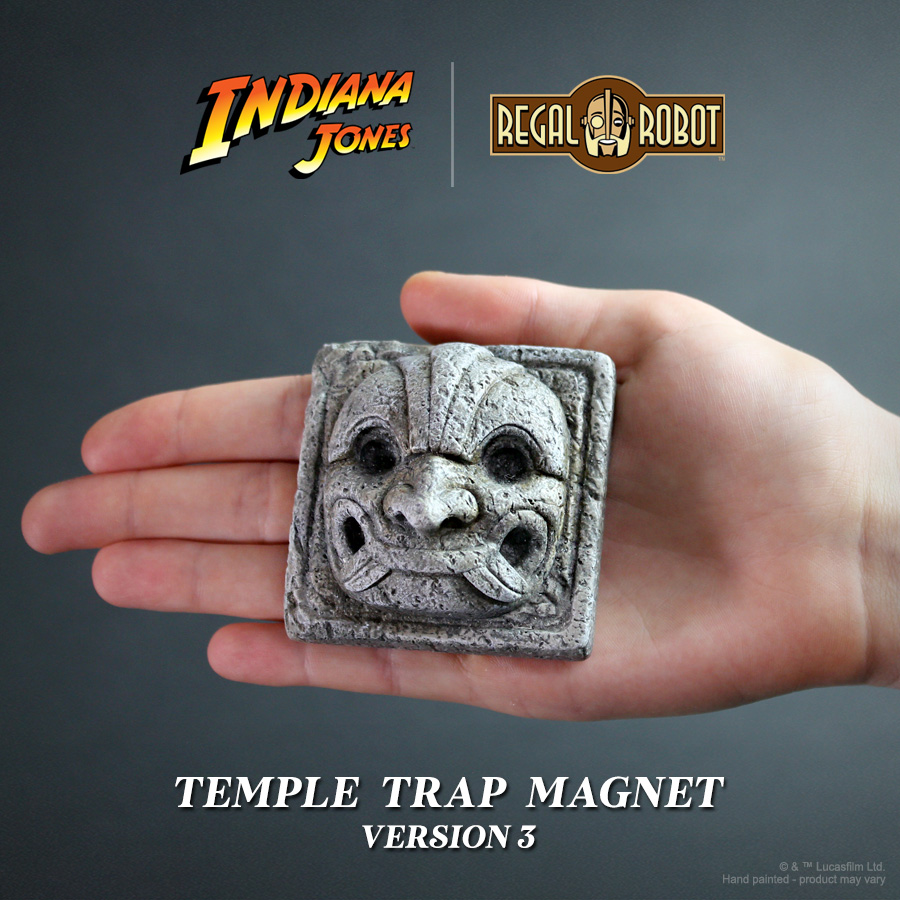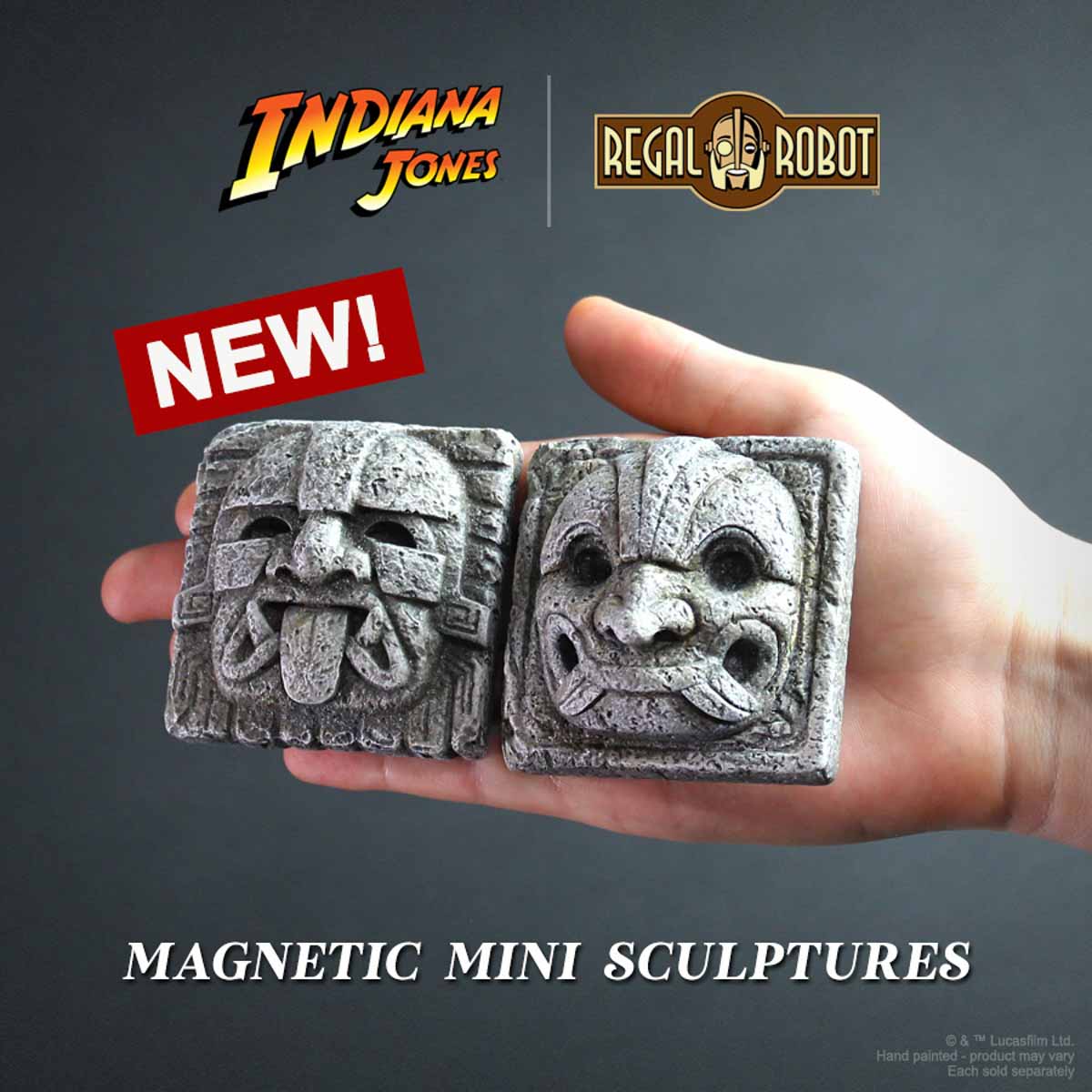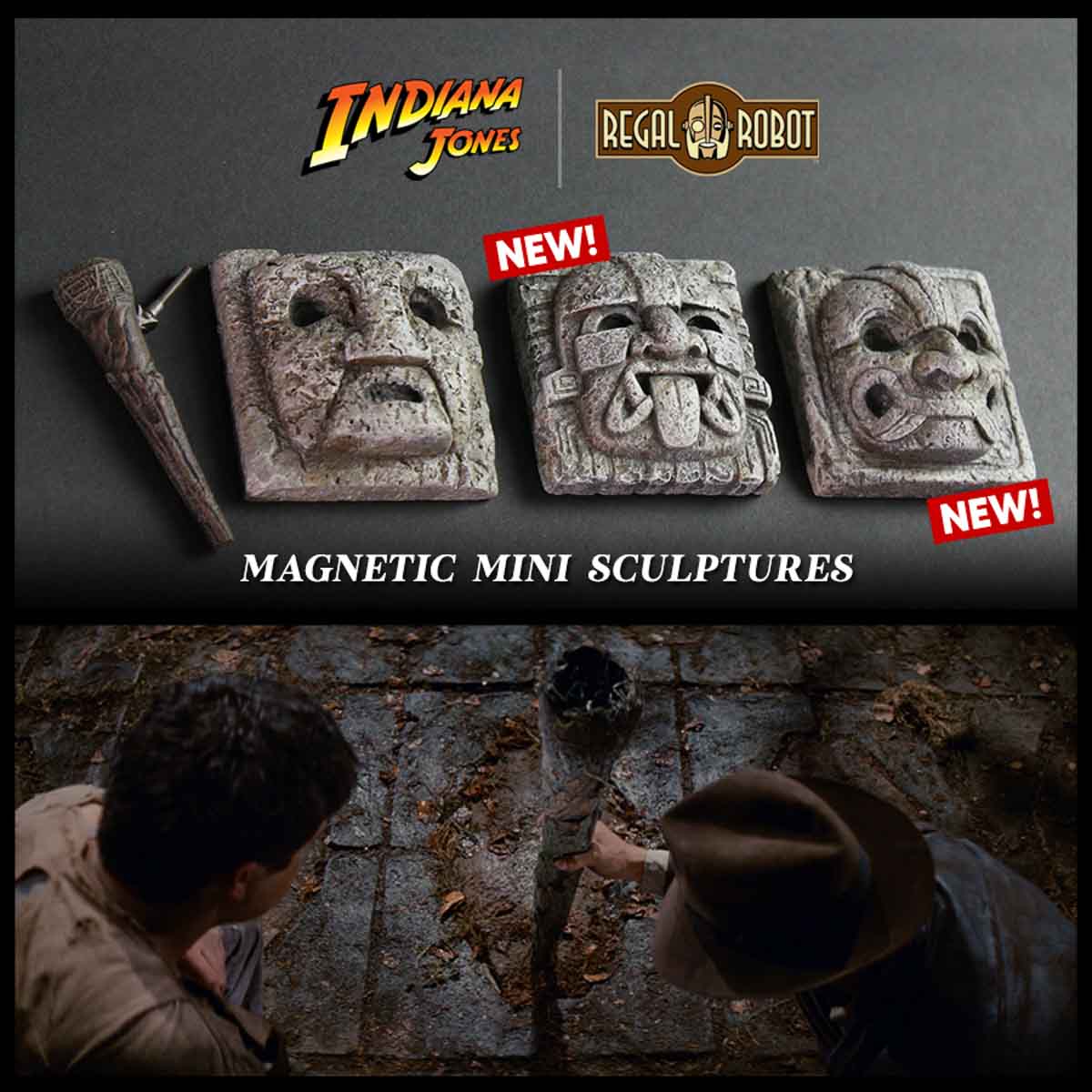 We're expanding our line of Indiana Jones magnetic mini-sculptures with TWO new Temple Trap magnets! Each sold separately, the new magnets will be $29.99 each, plus s/h
Order the Temple Trap Magnet (Version 2)
Order the Temple Trap Magnet (Version 3)
Peru 1936 – Indiana Jones™ and his guide, Satipo, enter the mysterious Chachapoyan Temple where the walls are lined with mysterious sculpted stone faces, each of which is actually an ancient trap!
Designed, prototyped and produced in the USA, each magnet is made from solid resin and hand painted by our artists in our New York studio with distinctive faux finishes. They ship ready to display.
Add this great new magnet to your collection, home, office, man-cave or fridge!
Get discounted shipping when ordering more than one magnet!
US shipping is $6 for the first magnet set, $2 each additional. Please contact us before ordering for a quote for shipping to military bases outside of the continental US, Puerto Rico or Guam . This item will incur additional shipping cost to those locations.

We are only permitted to ship Indiana Jones products to addresses within the US, US military bases, Puerto Rico and Guam.
We have a limited supply in-stock and we expect orders to ship in 1-2 weeks
What do you think about these latest items
Rebelscum
? What's something else from
Indiana Jones
that you'd like to see Regal Robot take a stab at producing? Sound off below!
Check out Rebelscum.com merch!
https://www.RebelscumShop.com
Upgrade your collector's toolkit with our app that's designed with collectors in mind!
https://www.CollectorsOracle.com
Did you know Rebelscum readers get 10% off in-stock orders at Entertainment Earth, plus free shipping on orders over $39?
Just follow our link (discount appears at checkout):
EE.toys/Rebelscum
For news and updates about all your other fan obsessions, visit:
https://www.CoolToyReview.com
Last edited: