OK so check it out. Every Garrison has to have troops, and the Cheesehead Garrison is no different. So now it's time to have ours.
This is a poll to name the Trooper for the Cheesehead Garrison. Depending on what is the winning name is. That will determine the story and background of the Trooper.
This is how the poll will work. There will be some options of the possible Trooper's name. Cheesehead Garrison members post your vote. By doing the polling this way. It keeps bogus voting from happening from a traditional click a button poll. Which everyone knows that online those are all tainted. Back to the rules. The voting will run for a week ending Friday September 21 11:59 p.m. There is a list of options to chose from and a write in option. At the end of the week. The top two from the list and the best write in option(if there is one). Will go to a second round of voting. Which will end the following Friday September 28th 11:59 p.m. Then the Troopers name will be reviled.
This poll is made to give the Cheesehead Garrison members the ability to determine the direction of how the group goes. Because as it was stated from the beginning that the CHG is of the fans and by the fans of Wisconsin.
Here are some pictures of our mystery Trooper.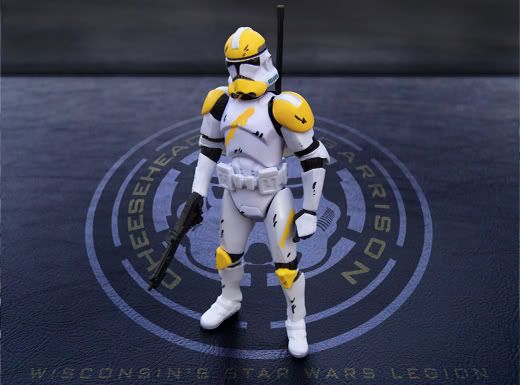 Here are the voting options and brief description. The full background and story will be developed once the name has been chosen.
1. Garrison Supply Trooper - Trooper who brings out supplies to the battle field
2. Multi-Environment Trooper - Trooper able to do battle in any environment on any planet
3. Public Service Announcement Trooper(PSA Trooper) - Trooper who is a propaganda tool for the empire. For example they would promote the Empire. By saying things like join the Empire it is good for you.
4. Cargo Hold Guard Trooper(CHG Trooper) - Troopers responsible for guarding supplies for the battle field troops.
5. Clone Cook - Trooper who works the kitchen for the troopers out in the field.
6. Write in suggestion for Cheesehead Garrison members if you have another name that works.
Please post in this thread. Once again this first round of voting ends next Friday September 21st 11:59 p.m.
More details about the mystery Trooper will be reviled once the voting is over and he has been named.
Thanks for participating and let the voting begin.