Joined

Sep 11, 2015
Messages

960
Reaction score

79
Location
After my last project which I -mostly- finished, I was reluctant to enter into such a huge undertaking and time commitment again, so took a long hiatus. Well, as the announcement for the next TVC Haslab project draws near and is expected to come this month, the odds of us getting a proper Mos Eisley Cantina are seeming less likely in favor of other projects *cough Razor Crest cough*. I could be wrong, but either way I won't be disappointed.
In any case I decided it's time to at least bring the cantina a bit closer to becoming a reality. This will be a very basic project. I'm only going to do the floor and walls at this time, with no furnishings or accessories, aside from the possible exception of the bar (but no distillery). The idea is to make it easy to reproduce so I can have something to offer to others who also want a cantina of their own and aren't afraid of doing a little work.
I'll be taking what I learned from working on my Death Star and avoiding some of the mistakes I made the first time around. Which also means I'll be planning it from the get-go to be easy to reproduce.
Here's the floor plan, an older one, that I used for the scale.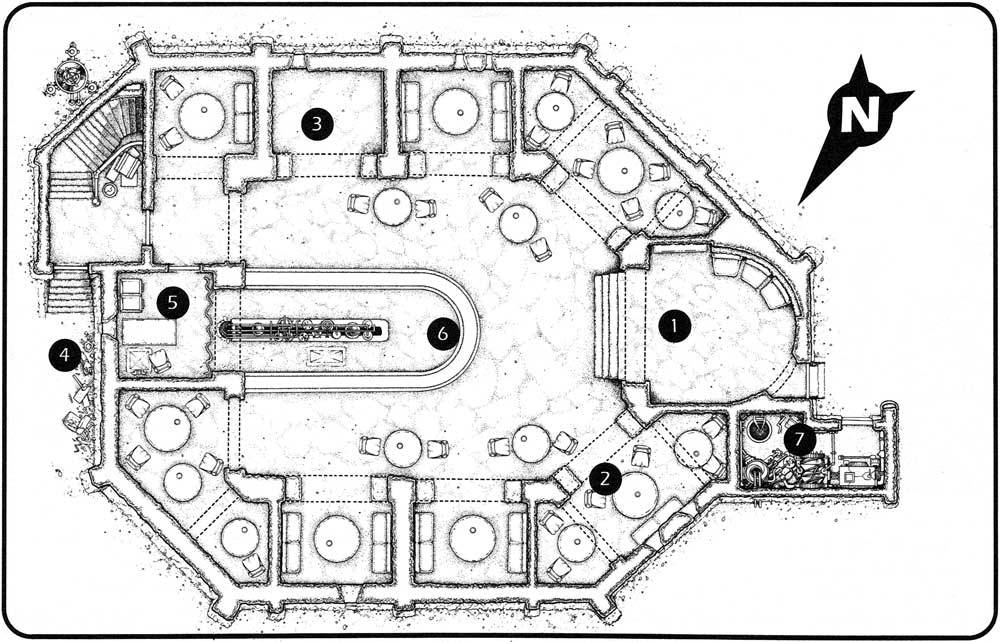 Rather than go crazy on accurate scaling, I opted to go for a minimum amount of space, basing it on the size of the alcoves, leaving enough space for the benches and a small table with a little leg room. I also eliminated a couple of the outside and background rooms to keep it a little more compact and avoid the dreaded sunken floor plan paradox that I'm sure others have thought about. So it won't have the 'power room' or the room containing the stairs to the cellar.
Without further ado, here are a couple shots of my base floor plan, with Han and Greedo thrown in to get an idea of scale. Try to ignore the piece of cardboard underneath if you can.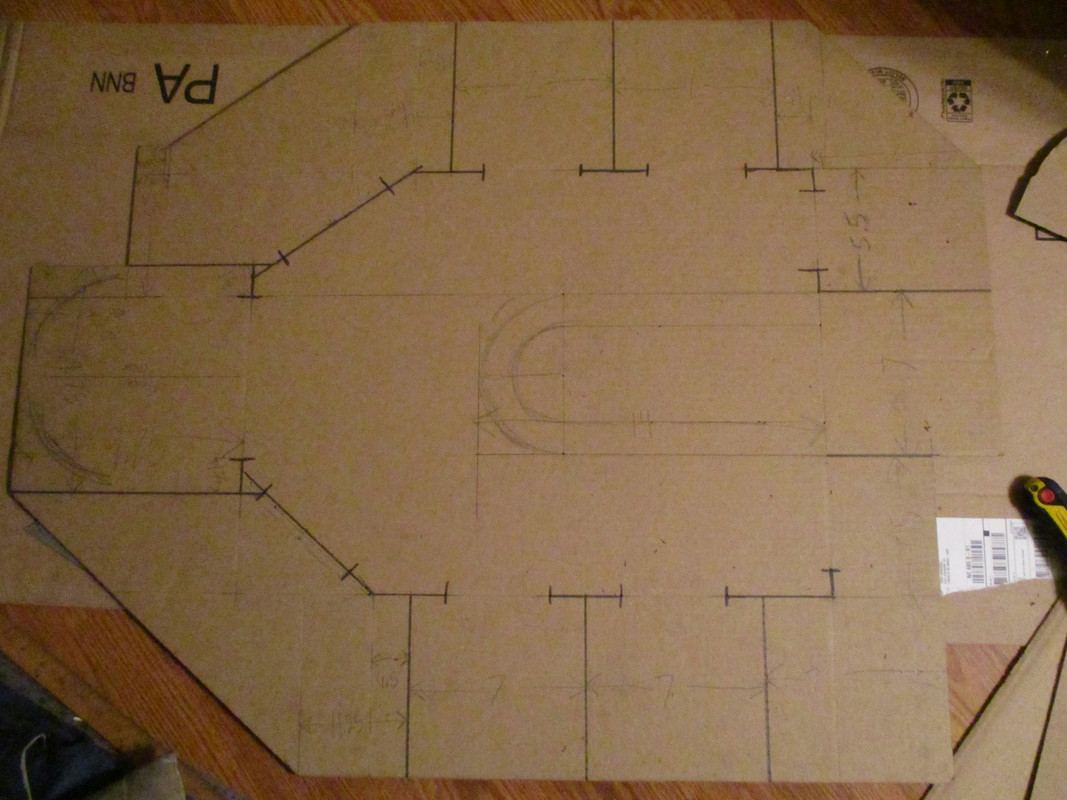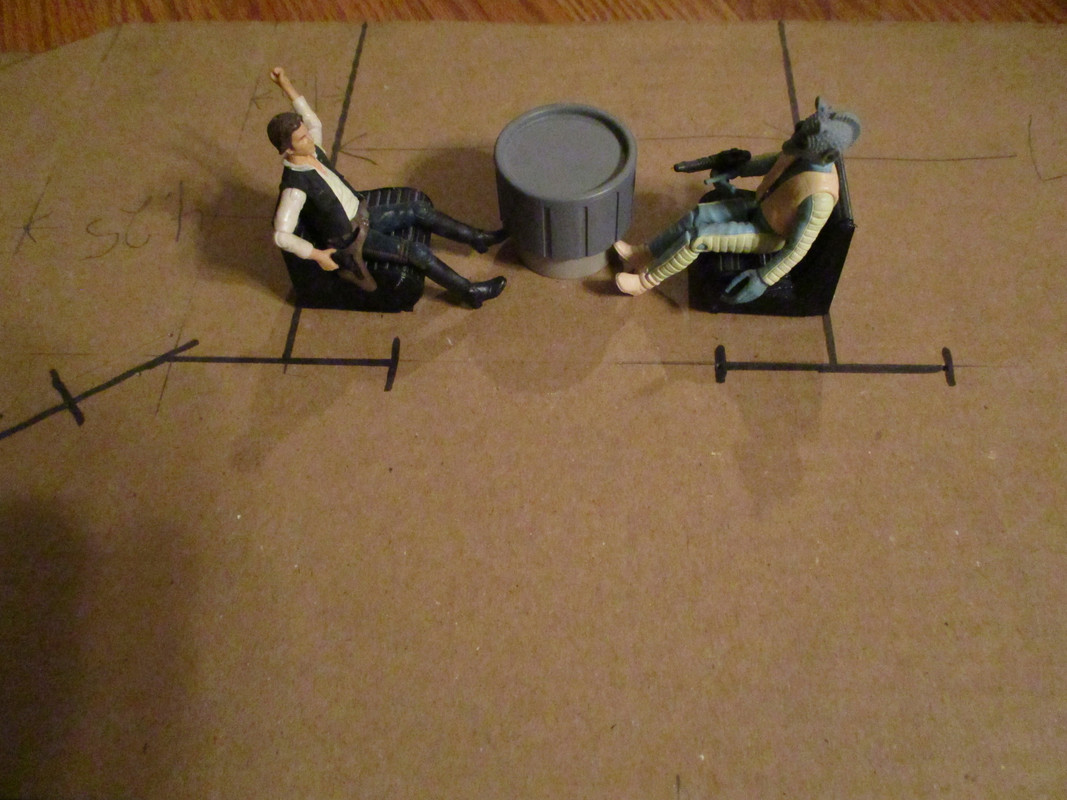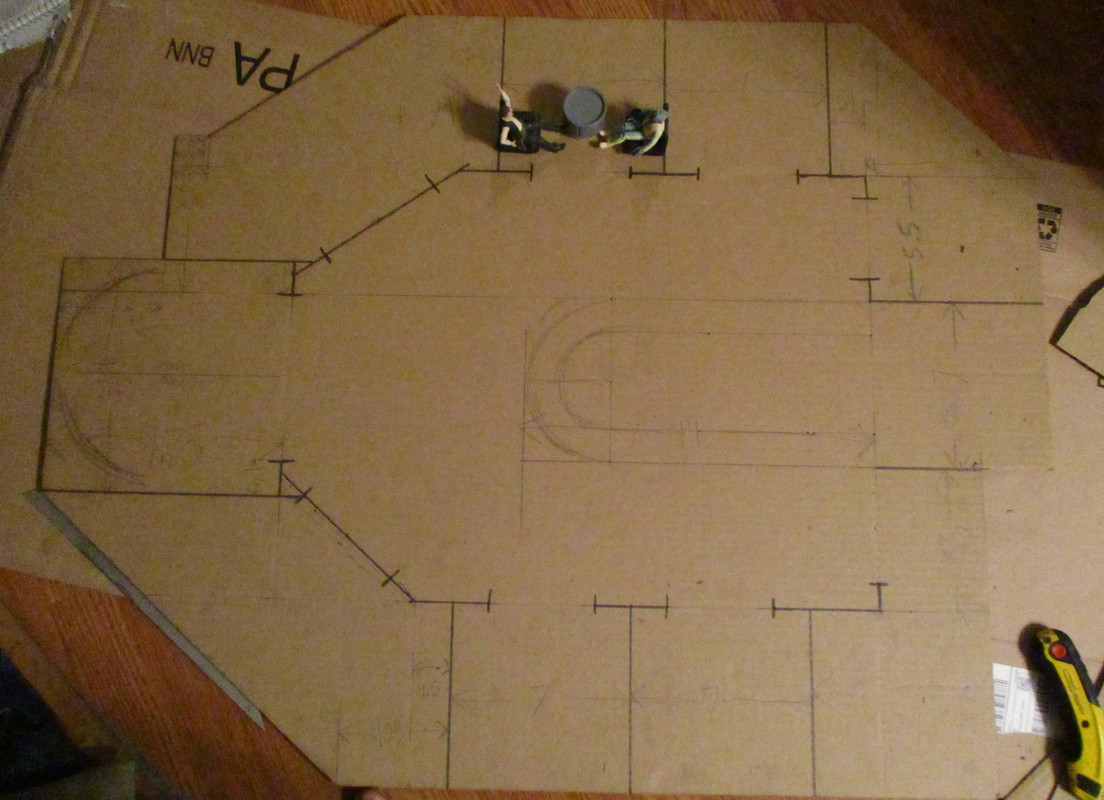 So as you can see the thing is still going to be BIG, like Haslab big, but keeping the set to a very minimum in order to limit space, time and materials. The size is 32" wide by 40-1/2" long. The cardboard floor plan you see is just a pattern. Later today I'll be going to get some foam board, making the actual floor and hopefully starting on the walls. The walls and floors will all be two layers of foam board, so about 3/8" thick total. I will make patterns for the walls before I make the actual walls, that way I can easily reproduce them later.
Once I get the walls and floors made for this one, I'll just be using paint for the most part. I want to avoid all the printing of textures that I did with the Death Star.
This could change, but what I would like to do is offer the wall and floor pieces, unpainted, together as a kit with assembly instructions. I may or may not pre-cut them, depending on how that affects price and time. If they aren't pre-cut, the patterns will have to be printed, and that can get expensive (about $150 for a 6-foot piece of foam board, of which I'd need two). I'll work all that out later.
Again these are tentative plans, but I really would like to do that in such a way that this could serve as a base for those who have a little skill and like working on projects like this, but want to save a little time on the planning and layout phases.
I hope to have an update tonight. Oh and it's great to be back and to see so many of you still here doing what you do, which has been an inspiration to me since I first started popping in to these forums.
Take care!
Last edited: