Joined

Jun 29, 2000
Messages

5,541
Reaction score

6
Location
Hey everyone! I have a really good friend who asked me to sell their collection for them, so I thought I'd bring it here and see what happens! I've researched prices on things and have tried to make all the prices fair on these items.
If you see something you want and don't like the price, please feel free to
make an offer
! I'll be happy to try to work something out. I'd like to sell most of this stuff in larger lots (ie, the more figures the better) since I am a ridiculously busy student and don't have time to mail out billions of parcels. I live in Canada and will do my best to keep shipping rates down.
Its been quite a while since I sold/bought/traded anything here but rest assured that I've completed literally thousands of SW related transactions on here and on E-Bay, so you can trust that I'll do my very best to make you happy!
All prices are listed under each photo, shipping is extra, oh and.. Although most of these figures are pictured without their weapons, I do have a HUGE bag of weapons and am of course pretty familiar of what goes with what. That said, most of these figures will come with their complete weapons, but I can't guarantee they'll all be complete. If there's an item you want complete, let me know and I will check. These aren't from my personal collection (I have thousands of my own figures!) but they average c9 or so, some are fresh right out of the packaging. Also, since this is such a massive collection, I'll be adding other items as I get more time. Lots of carded figures, loose vehicles, beasts, playsets, micro machines, unleashed, etc.
Please email me at
tjr82@hotmail.com
and I'll get back to you asap!!!
Everything in the above photo
$4.50
each
Everything in the above photo
$4.50
each
Everything in the above photo
$4.50
each
Yellow Evolutions Clone Commander (top row, 2nd from the left) $
13.00
ROTS Commander Bly
$11.00
Order 66 Commander Vill
PENDING
2x Felucia Clones (the 2 complete ones) are $
9.50ea
Everything in the above Photo
$4.00
each
Felucia Bly (top row, 4th from the right)
$11.00
Vader on Operating Table (missing chest cover)
$5.00
Firespeeder Pilot head broken off (Just needs a little glue)
$3.50
Everything in the above Photo
$4.00
each
Massiffs are
$2.00
ea
AOTC Tusken Raider is missing his head
$3.00
Holographic Table is
$15.00
Sora Bulq is missing a hand
$2.50
Yodas are
$2.00
ea
Padawans are
$2.00
ea
Everything in the above photo
$2.00
each
C-3PO is missing his head :wtf:
Figrin Dan Wal Mart Exclusive Cantina Band set loose complete
$30.00
/set
Cantina Band Member (4 complete, 1 incomplete)
$4.50
each
Everything in the above photo
$3.50
each
Rebel Fleet Troopers
PENDING
Saga R5-D4 missing antenna
Cantina Bar Ponda Baba missing his arm
Everything in the above picture
$2.50
ea
Jawas are individually $
1.50
ea
R2's are POTF2, POTF2, ROTS, POTF2/Tatooine Playset, POTJ Holo Leia (w/o Holo Leia)
Everything in the above photo
$4.00
ea
Ozzel is
$6.00
Taun Taun from Battle Pack with split belly
$10.00
Saga Hoth Luke w/ Hoth Diorama
$12.00
C-3PO w/ escape pod
$9.00
TAC Stormtrooper
$7.00
ea
Battle Pack AT-ST Driver
$7.00
Han Solo AT-ST Driver
$9.00
POTJ Imperial Officers
$6.00
ea (3 Brown Hair, 1 blonde)
Saga AT-AT Driver
$8.00
ea
Saga Death Star Gunner
$8.00
ea
Saga Moff Jerjerrod
$8.00
TAC Death Star Trooper
$8.00
ea
TAC Sandtroopers
$5.50
ea
Snowtrooper lot, 8 figures, 6 guns
$35.00
Everything in the above photo
$3.00
ea
Probe Droid
$5.00
(possibly missing one of the missiles)
2x Luke Bespin comes with Bespin Antenna
Chewbacca is the Saga Battle of Hoth Version
FX-7 is missing his arm :'(
Cloud Car Pilot's helmet is missing
Vader is the 500th version
Poggle the Lesser (missing walking stick) $4.00
Saga Aayla Secura $3.00ea
ROTS R4-G9 (with Holograph) $7.00
ROTS 2-1B Medical Droid $7.00
TAC Mustafar Panning Droid $7.00
ROTS Coruscant Senate Security $7.00
ROTJ Emperor's Royal Guard $7.00
TAC Pyro R2 $6.00
ROTS Holographic Aayla Secura $5.00
POTF2 Wuher $10.00
POTJ Chewbacca Dejarik $5.00
TAC Jawa $4.00
TAC Miiyoom Onith $6.00 (no bar piece)
POTF2 Admiral Motti $7.00
POTF2 Flashback C-3PO $5.00
OTC C-3PO (Clean) $7.00
Saga Cantina Bar Greedo $5.00
POTJ Luke X-Wing $5.00ea
Saga Trash Compactor/Disco Chewbacca $5.00
OTC Dagobah Luke $4.00
OTC Dagobah Yoda $3.00
OTC Dagobah r2 $6.00
OTC Dagobah Ghost of Obi Wan $6.00
OTC Hoth Vader $4.00
POTJ K-3PO $7.00
OTC Bossk $5.00
Saga Hoth EG-6 Power Droid $5.00
Saga Bren Derlin
SOLD
POTJ Chewbacca Mechanic $6.00
POTJ Dagobah Vader $5.00
Saga Bag 'o C-3PO Parts $4.00
Saga Coleman Trebor $10.00
Saga Mynock Hunt Chewbacca (no bowcaster or Mynock) $4.00
POTJ 25th Anniversary Chewbacca (wrong bocaster) $3.00
VOTC or TAC Vader (w/ dead Obi Wan) $6.50 (I gotta doublecheck which Vader it is)
Saga R-3PO $7.00
Saga Dengar $5.00
TAC Coin Album Vader $4.00
POTJ Sandtrooper $4.00
Saga Cantina Bar Greedo $5.00
Saga Hem Dazon (no gun) $7.50
Saga Hoth Trooper $5.00
...Clean R2 $6.00
TAC Y-Wing Pilot Exclusive Lt. Lepira $12
Saga Dutch Vander (chin strap broken) $4.00
OTC Exclusive Wedge Antilles $7.00
Legacy Kashyyyk Trooper $9.00
Saga Trash Compactor Dianoga $20.00
Episode I R2-B1 $5.00
Saga McQuarrie Stormtrooper (Rare!) $8.00
Star Tours R3-D3
SOLD
Legacy Scuba Trooper $8.00
10x Battle Droids Exclusive $20.00 for all 10
Other stuff in this photo.. $12.00 for all?
Durge on Speeder (missing spear) $15.00
Legacy Quarren Warrior (missing spear, but with Mon Cal Weapons) $4.00
Junland & Deena Shan $10.00
TAC Juno Eclipse $7.00
Clone Wars Durge $10.00
Clone Wars SaeSee Tiin $4.00
SOTE Luke Coruscant $3.00
SOTE Xixor $1.00
SOTE Dash Rendar $1.00
SOTE Snoova $2.00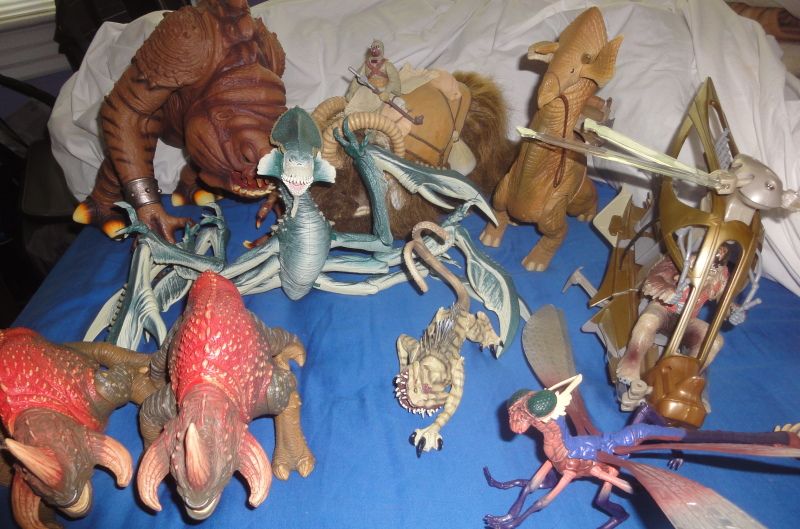 POTF2 Rancor $20
POTF2 Bantha $30
POTF2 Ronto $12.00
AOTC Acklay $25
ROTS Wookie Flyer $10.00
AOTC Reek $10.00 each
AOTC NEXU $6.00
ROTS Can-Cell $4.00
Infinities Comic Pack $16
Heir to the Empire Comic Pack $12
VOTC Chewbacca $30
VOTC Snowtrooper $16
VOTC Darth Vader $15
VTSC Biker Scout $10
VOTC R2-D2 $18
ROTS Lava Vader $12
These are all in c7-c8 shape :disgusted:
Clonetrooper $7
Hawkbat $8
McQuarrie Han Solo $8
Pre Cyborg Grievous Canadian $18 (card has seen better days)
Shocktrooper $6.00
McQuarrie Vader Canadian $7
These are all c6-c7ish :'(
Bail Organa $5
SP-4 & JN-66 $4.50
Han Endor Bunker $5
Jan Dodonna $6.00
Luminara Unduli $6
McQuarrie McQuarrie $12
C8 condition
Saga sandtrooper $8
Saga Cody (Canadian) $8.00
OTC Imperial Scanning Crew $9
ROTS Royal Guard $6
ROTS Clone Pilot $6
ROTS Plo Koon Holo $5
Celebration Vader c-7 package $8
E1 Nute Gunray $5
Clone Gunner $16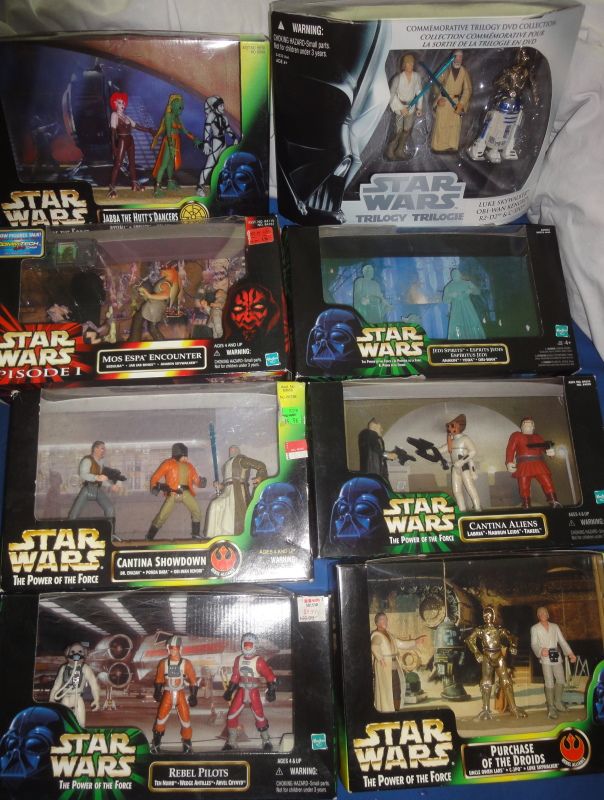 All Cinema Scenes are c7 or so.. not mint boxes, all sealed
Jabba's Dancers $9
DVD Trilogy 4 Pack $12
Mos Espa Encounter
Jedi Spirits $6
Cantina Showdown $4
Cantina Aliens $10
Rebel Pilots $7
Purchase of the Droids $5
OK, that was a lot.. There's a TON more coming. As I said, carded figures, vehicles, unleashed, micro machines and action fleet, etc! I you're interested and want something you don't see, let me know, I may very well have it from my own collection! E-mail me at
tjr82@hotmail.com
and lets make a deal!!!
Last edited: