I am not your failure,
Rebelscum
. In the latest offering from Iron Studios, behold the ravaged Darth Vader releasing all of his hate as seen in
Obi-Wan Kenobi
.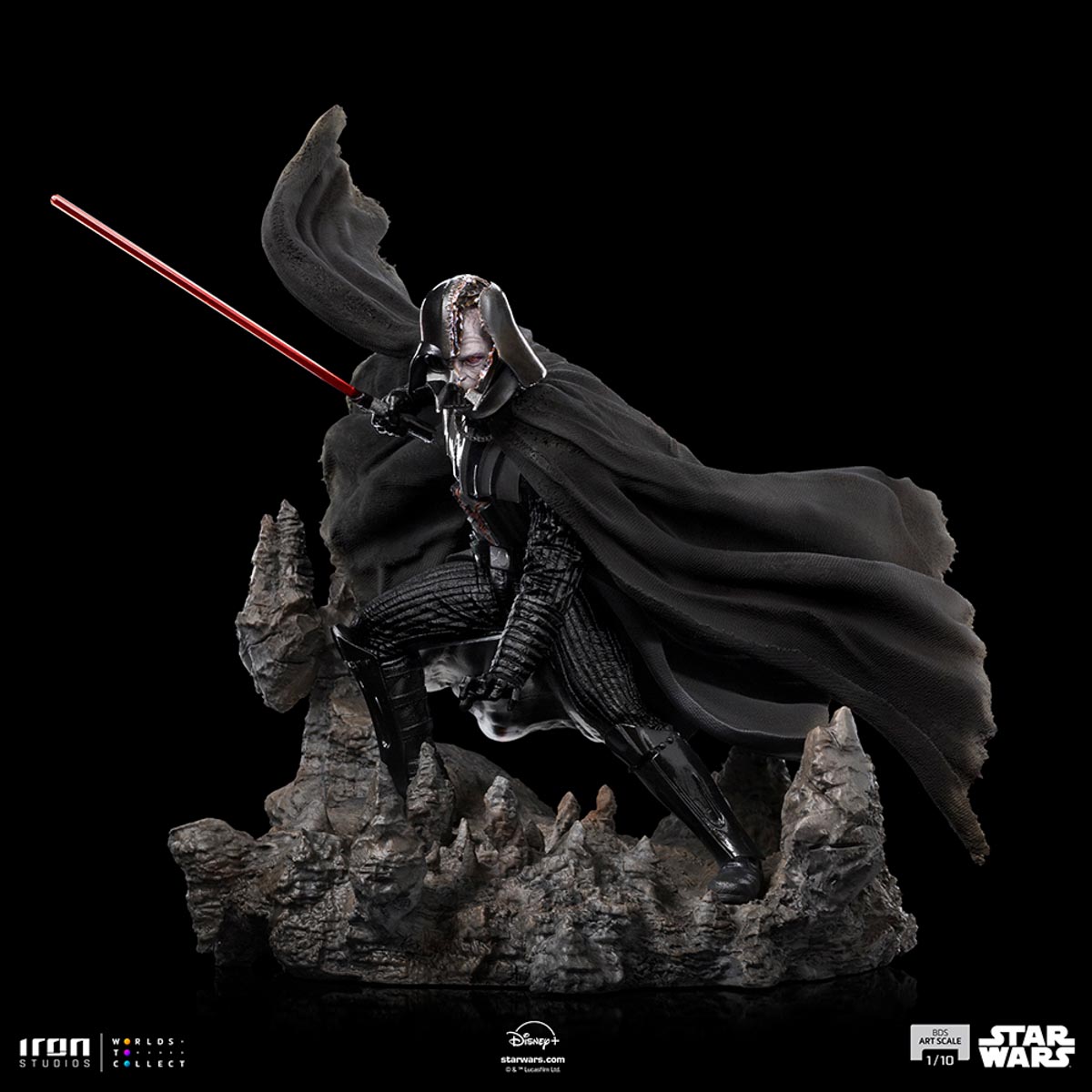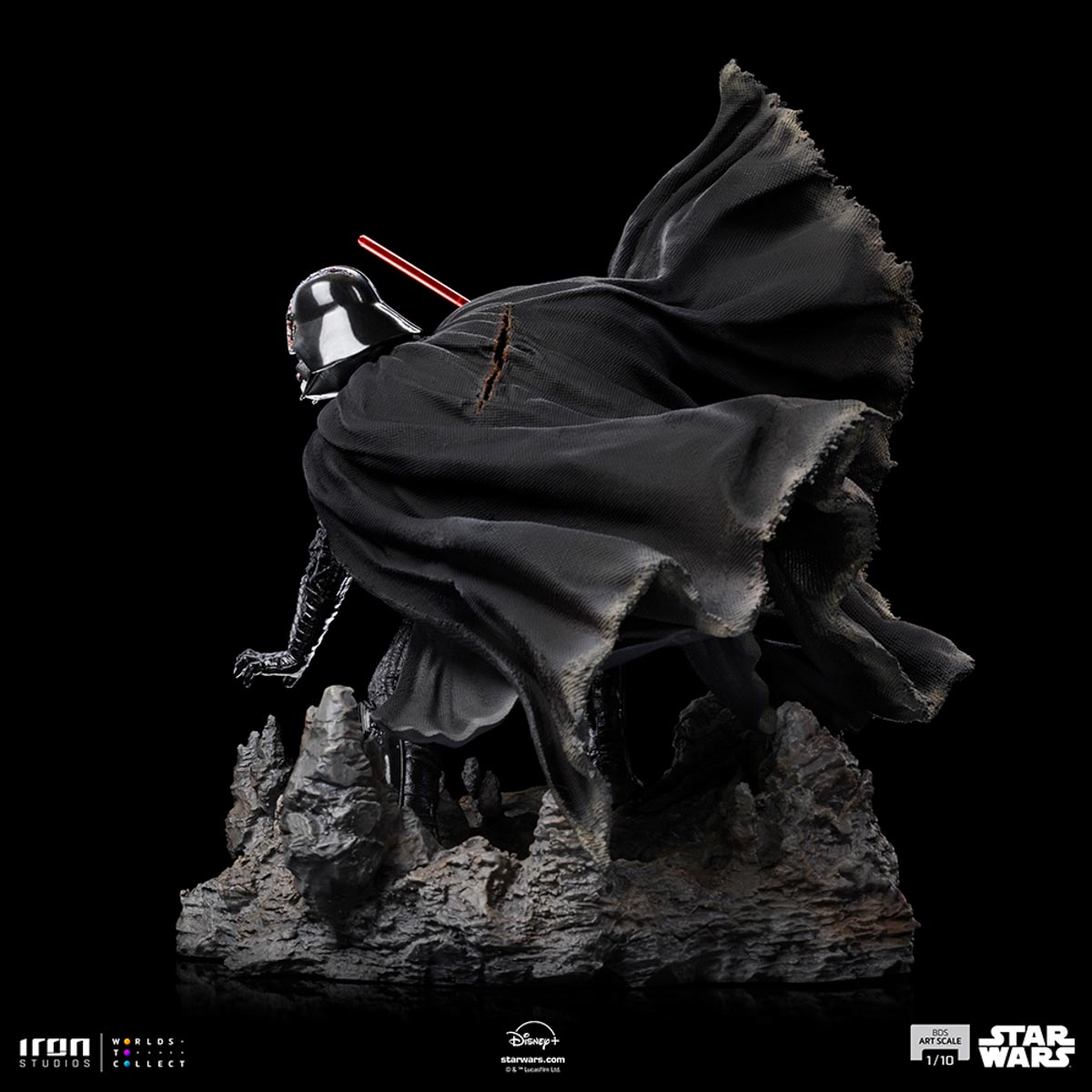 Features:
- Limited edition
- Based on original references
- Made in polystone - *(may contain parts in resin, polystone, PVC, metal and fabric)
- Hand painted
- Product dimensions: 9.6" Height X 9" Width X 7.6" Dept
- Product Weight: 2.2 Lbs
- MSRP: USD 159.99 (American US Dollars)
- Release schedule: Second quarter of 2024
Chasing his old master above the dry lands of a rocky moon with no name, the most powerful and fearsome dark knight of the Empire commands his crew to prepare his ship, and leaves, vowing his adversary him alone. In a fierce lightsaber battle in a labyrinth of rock pinnacles, facing a drained but still determined Obi-Wan Kenobi, that, while focusing on the memories of the young Luke and Leia, motivated to protect them, manages to strike a blow damaging Vader's helmet and partially revealing a bit of what remained of his human face. Wielding his red lightsaber in his right hand, even though he is hurt in the back, fueled by the Dark Side of the Force, the Sith Lord raises pointed pieces of rocks, ready to throw them at his opponent. Inspired by the sixth and last episode of the first season of the
Obi-Wan Kenobi
show from the streaming service Disney +, Iron Studios proudly present the statue "
Darth Vader - Obi-Wan Kenobi - BDS Art Scale 1/10
", celebrating May the 4th, the Star Wars Day, in a very special way!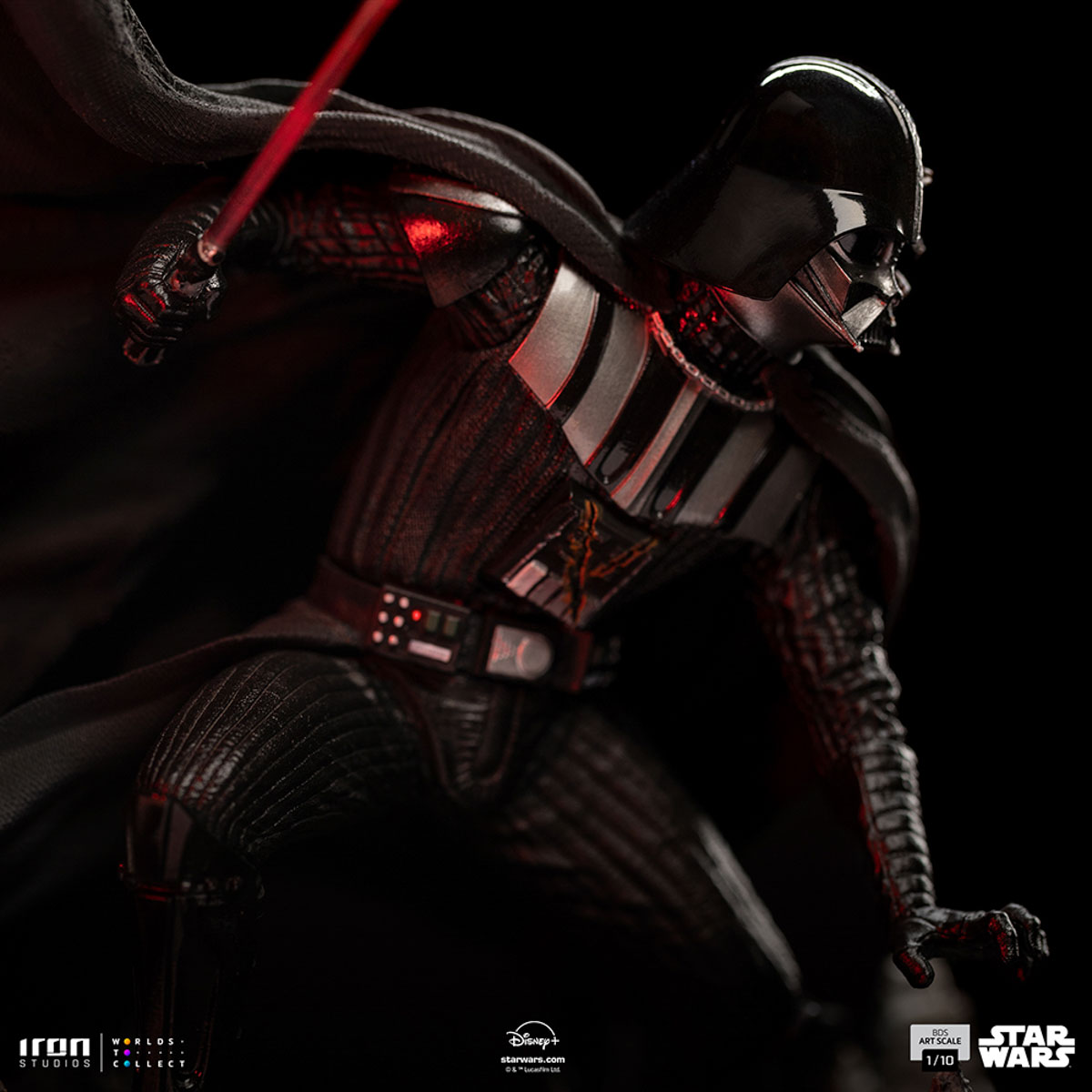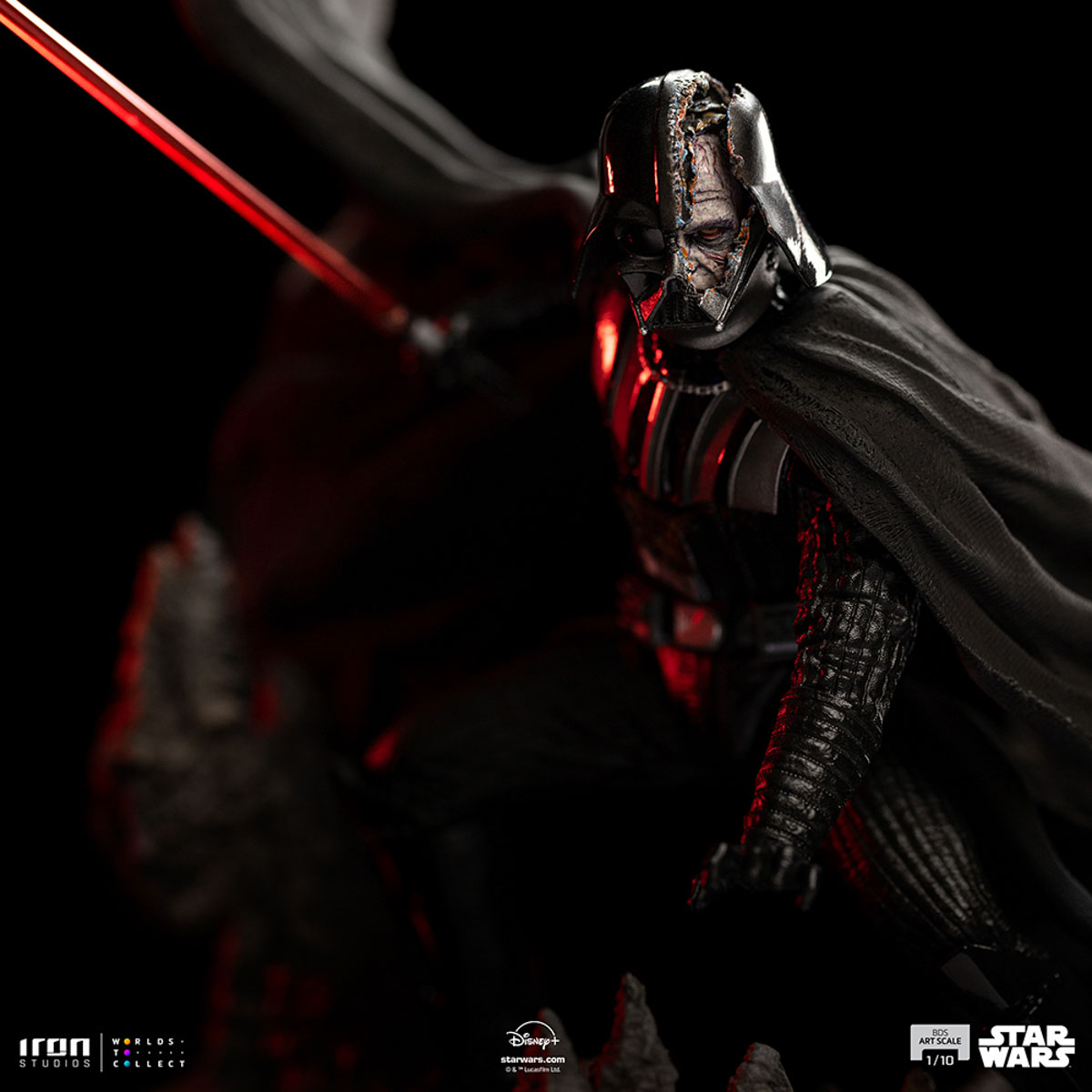 Considered the greatest villain in the history of cinema, Darth Vader is the main character in the
Star Wars
saga by George Lucas. Present in the movies of the original trilogy, in
Episode III: Revenge of the Sith
, in the second prequel trilogy, and the anthological
Rogue One: A Star Wars Story
, besides the animated series, comic books, and video games, Vader has his dark helmet, armor, and cape, and his noisy mechanical breathing as his outstanding features. Born as Anakin Skywalker, he was a slave until he was 9 years old on planet Tatooine. Rescued by the Jedi called Obi-Wan Kenobi from which he became an apprentice, a deep anger fed by personal tragedies took the then Jedi Knight to the Dark Side of the Force, becoming the apprentice of the evil Darth Sidious. Anakin becomes known as Darth Vader, the iconic villain of the franchise. From then on, he would be responsible for the order of the entire galaxy. Despite everything, there was still some kindness in Darth Vader. The actor Hayden Christensen, who played the role of Anakin in the prequel trilogy, returned as Darth Vader, with and without the armor in the
Obi-Wan Kenobi
series, while James Earl Jones returned to voice the iconic character.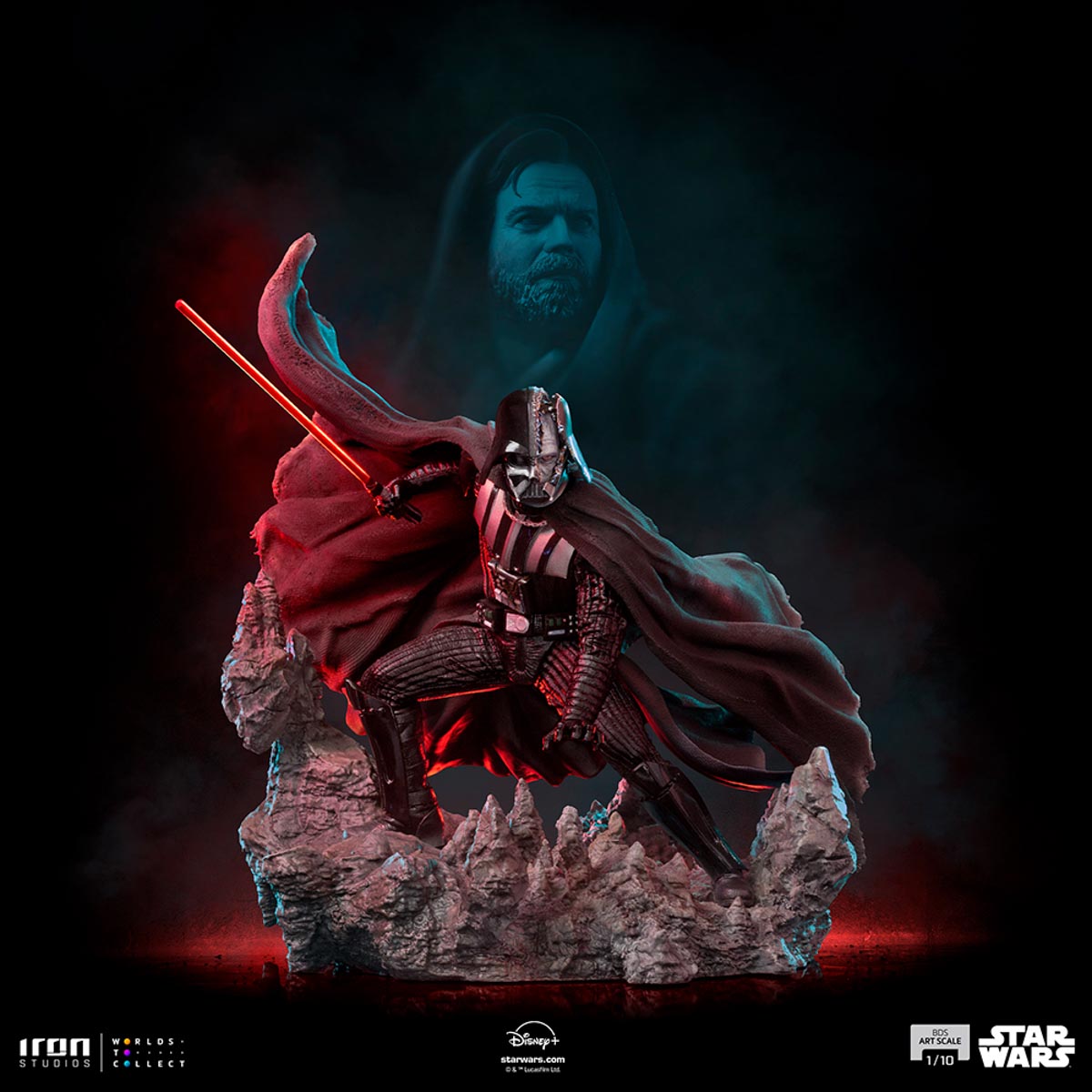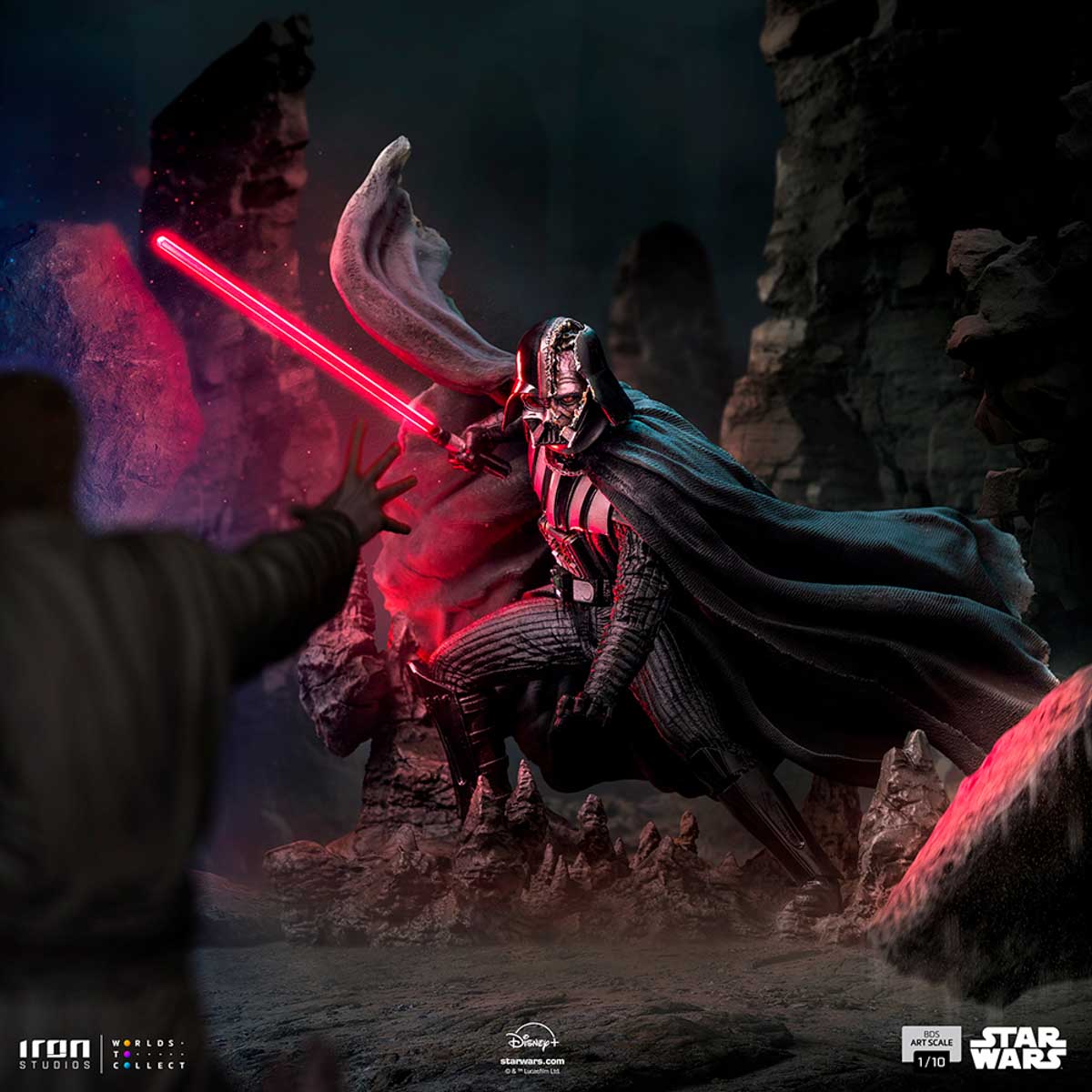 A long time ago, in a galaxy far, far away...or more precisely, in May of 1977, movie theaters presented the world phenomenon
Star Wars
, one of the most successful franchises of all time. To celebrate this date, May 4th became Star Wars Day, due to a pun in English with the iconic phrase "May the Force be with you", with which fans quoted "May the Fourth be with you", referring to the release date of the first film. Already available for Pre-Order, check out more
Star Wars
releases soon and much more from Iron Studios on their social media and monthly show
Inside Iron Studios Day on YouTube
.
What do you think
Rebelscum
? Is this a statue worthy of your collection space? What other Iron Studio pieces do you have on display? Show us your collection below!
Check out Rebelscum.com merch!
https://www.RebelscumShop.com
Upgrade your collector's toolkit with our app that's designed with collectors in mind!
https://www.CollectorsOracle.com
For news and updates about all your other fan obsessions, visit:
https://www.CoolToyReview.com
Did you know Rebelscum readers get 10% off in-stock orders at Entertainment Earth, plus free shipping on orders over $39?
Just follow our link (discount appears at checkout):
EE.toys/Rebelscum