IndyCast Special: The Magic of John Williams #47
is here!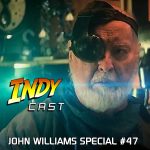 Happy New Year IndyCast listeners! To begin 2020, Ron and Laird return to a long time ago in that far away galaxy. They dissect John Williams' final score of the Skywalker Saga, Episode IX: The Rise of Skywalker. Loaded with audio from the Original Soundtrack release, the Academy For Your Consideration tracks, and clips from the film itself, The Magic of John Williams Special 47 digs into the new themes, the old themes and how they all blend together as music, underscore and the rousing conclusion to 42 years of unprecedented (and never to be equaled) music-making. [In Stereo]
You can listen to the episode
here
!