IndyCast Special: The Magic of John Williams #45 is here!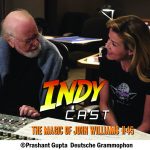 Violinist extraordinaire Ms. Anne-Sophie Mutter joins Ron and Laird in Club Obi Wan to discuss her new collaboration album with John Williams 'Across the Stars'. Ms. Mutter discusses her John Williams fandom and how this amazing album came into existence. [In Stereo] Photo Credit © Prashant Gupta Deutsche Grammophon

You can listen to the episode here!