IndyCast Special: The Magic of John Williams #44 - Summer Fun
is here!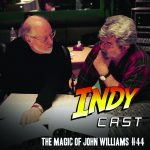 Ron and Laird go back to a Galaxy Far Far Away looking at the 20th Anniversary of Maestro's John Williams score to The Phantom Menace. Safely escaping the clutches of Darth Maul and Jar Jar, Laird recounts his adventures much closer to home but still a bit far away in the Berkshires where he witnessed the Maestro Live with amazing violinist Anne-Sophie Mutter. [In Stereo]
You can listen to the episode
here
!