IndyCast: Episode 286
is here!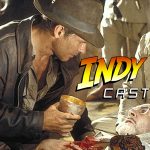 This episode we hear of rumors of changes at the top of Lucasfilm, artist Adam McDaniel joins official IndyCast correspondent Mitch Hallock on his world-famous Kingdom of the Crystal Skull tour, Ron Phelps chats with Alex Levitsky from Raiders Radio, Ron has some more great Indy trivia, Chris A heads to Venice with IJ in the UK Indiana Mic reviews Smuggler's Run and we have lots more!

You can listen to the episode here!