IndyCast: Episode 280
is here!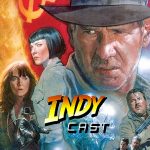 This week our hearts skipped a beat as we thought Indy might be filming next week, Joe catches up with Bring 'Em Back Alive star Bruce Boxleitner, Ron has some more great Indy trivia, Joe and Keith speak with artist Hugh Fleming, Ron Phelps has another Lost Delta update, Chris A has a contest update in IJ in the UK and more of your great emails!

You can listen to the episode here!