IndyCast: Episode 279
is here!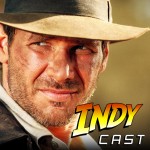 This week we hear the return of old Indy, Indy 5's release date holds steady, Harrison thinks he's the only one for Indy, Ron has some more Indy trivia, Joe and Keith return with a new Further Adventures segment, Morgan and Rich visit the Interior World, Indiana Mic talks with hat-maker John Penman and lots more!

You can listen to the episode here!