IndyCast: Episode 263
is here!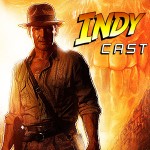 This week we catch up on news of Steven Spielberg reportedly saying that Indy is about to change genders and that it will be Harrison's last, Spielberg also looks set to enter the world of DC superheroes and the 10 billion dollar club, Official IndyCast Correspondent Mitch Hallock is back with another Raiders Rant, Ron has another bite-sized Indy fun fact, Ron Phelps has a quick Indy update, Indiana Mick returns with a look at Indy's gear and we have more of your great emails.
You can listen to the episode
here
!