IndyCast: Episode 261
is here!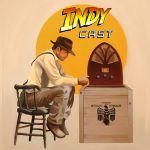 In this episode, find out where you can see Harrison Ford live, Official IndyCast Correspondent Mitch Hallock talks Indy podcasts, discover about a rare Last Crusade autograph signing, Chris A returns with another episode of IJ in the UK and is joined by Indiana Mic, Ron has another bite-sized Indy fun fact and we have more of your great emails!
You can listen to the episode
here
!