IndyCast: Episode 260
is here!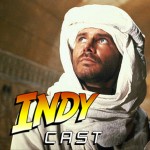 This episode, Indy is Spielberg's next film, we get news of a mini IndyCast meet-up in Disneyland, IndyCast Correspondent Mitch Hallock is back with the connection between Black Panther and Indiana Jones, Chris A returns with IJ in the UK and is joined by Indiana Mic, Ron has another bite-sized Indy fun fact and we have more of your great emails!
You can listen to the episode
here
!