IndyCast: Episode 253
is here!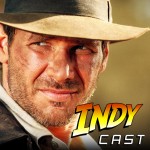 This week Official IndyCast Correspondent Mitch Hallock talks about Spielberg's least favourite Indy film, Ron returns with another bite-sized Indy fun fact, Double T's has another Grail Chronicles review, Ron Phelps reviews his recent Raiders in Concert experience, Chris Allan is back with a new instalment of IJ in the UK, Morgan and Rich return with another look at the Expanded Archives and we have more of your great emails!
You can listen to the episode
here
!