Joined

Mar 25, 2002
Messages

13,729
Reaction score

0
This is a set that is very near and dear to me, unfortunately I am in need of the cash, and it has to go.
Here is what is for sale: This is a LEGO Clone Building Event set from the WalMart Jedi Training Academy event held in May of 2002 to celebrate Attack of the Clones.
You get:
150 complete LEGO Clonetrooper minifigs (this comprises one complete kit, which is very hard to come by)
150 LEGO blasters for Clonetroopers (each is made of one black loudhailer and one 1x1 transparent light blue plate, the same as the blasters with the AT-TE set)
1 "LEGO Clone Building Event" event box. This box is what held the pieces, and has a clonetrooper helmet shaped cutout in the top. You were supposed to reach down and grab pieces, and see how many clones you could assemble in 60 seconds. This is what makes a complet set hard to come by. Even though they weren't supposed to, many stores gave away Clonetrooper minifigs as prizes if kids played the game.
Here is an older picture, please note that the green baseplate is not included, but a larger grey baseplate, greate for displaying all of the figures, is included. The box is in either very good near mint condition or mint condition, Im no grader. Also note, while they are not pictured, the blasters are included: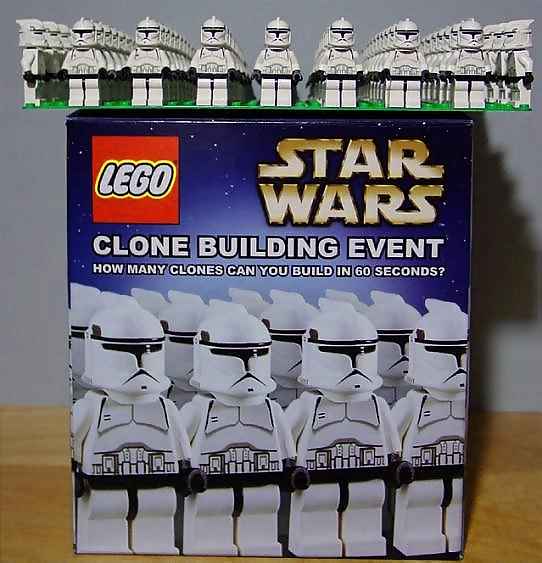 I am selling this entire kit for $750.00, which basically comes to $5.00 per figure. I realize the price is high, but it is less than what I had to pay to complete it, and it is still reasonable for a very rare complete set from this event.
Please email me at
adamclowe@earthlink.net
if you're interested.