Hey there,
Rebelscum
readers! This week on the site we're exploring the
Star Wars Infinities
comic book storylines that developed non-canon "what if" versions of the original trilogy. Today, our "Expand Your Mind" feature will delve into the history of the series, what makes it unique, its impact on the saga, and some of the coolest related merchandise. Later on in the week, our "Force Casting" feature will look at how the series could be adapted as a future Lucasfilm series or film, our "Timeline Breakdown" piece will explore connections to other Legends material, and our "Character Spotlight" article will highlight a standout character's history. Make sure to subscribe to our
YouTube page
to get Bobby's expertise in video form throughout the week.
Infinities
is a non-canon alternate history storyline told across three separate four-part comic series, each focused on one of the original three films. As they each change a key decision or moment in the individual film, the three story arcs don't have any shared continuity to each other, or any other canon material for that matter. Although other Legends material has been deemed "non-canon" later on by Disney,
Infinities
is unique in that it was marketed as non-canon from the beginning.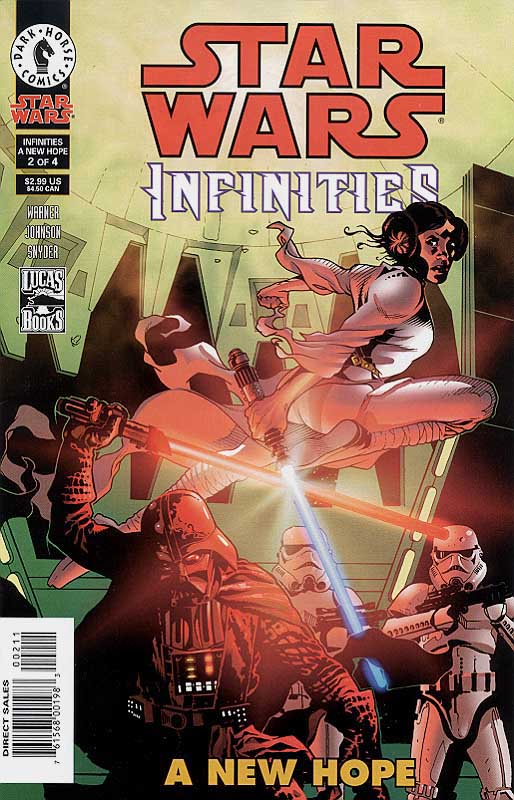 Infinities: A New Hope
picks up during the climactic final trench run. Luke Skywalker is saved by Han Solo's valiant rescue and guided by Obi-Wan Kenobi's Force spirit, and with all the motivation in the galaxy fires the blasts into the Death Star reactor…. and misses. Although Princess Leia and the Rebel Alliance leadership are able to escape Yavin IV, they're captured by Grand Moff Tarkin. The series picks up five years later with a dystopian galaxy with a prominent Death Star. Luke now possesses the training of Yoda and must reform the alliance and combat the combined power of Darth Vader and his new apprentice: Leia.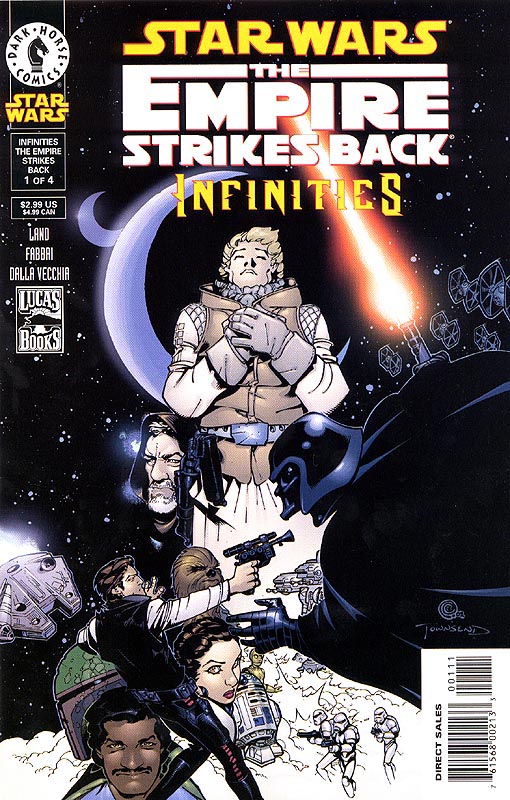 Infinities: The Empire Strikes Back
opens in similar fashion to the actual classic, but when Han's tauntaun dies while searching through the snowy plains of Hoth for Luke Skywalker…. he's too late to save his friend. Luke is dead, but passes on Yoda's location on Dagobah to Han, who mistakenly believes he is destined to receive Jedi training. It's only upon meeting the veteran Jedi that he discovers that it's Leia who is now destined to save the galaxy. Han then manages to pay off his debts to Jabba, but a rival bounty hunter steals the Millenium Falcon.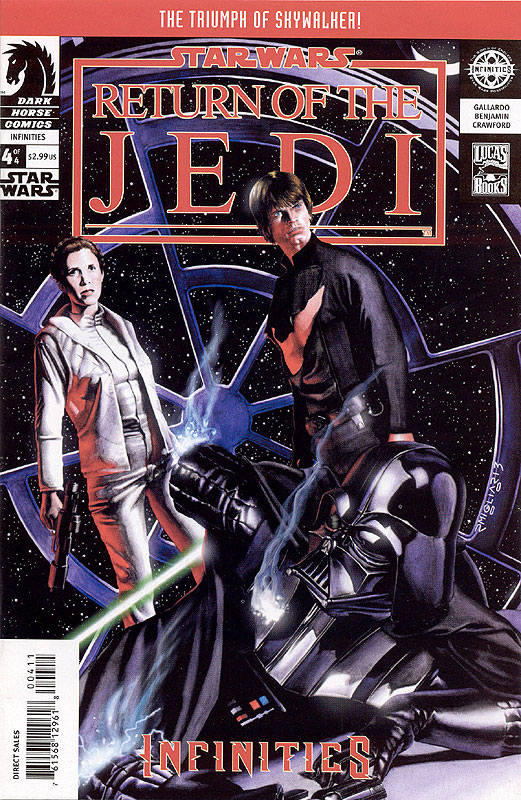 Infinities: Return of the Jedi
begins with the film's iconic opening sequence…. but things don't go according to plan. The rescue operation fails, C-3PO is destroyed, and while Jabba is killed, Boba Fett escapes with Han frozen in carbonite. During their rebels' pursuit, Luke is captured and taken hostage by Vader and brought before Emperor Palptaine earlier. The Battle of Endor proceeds with different results. While Palpatine escapes to reamass Imperial forces, Vader also survives, now clad in white iron armor to fight alongside his children.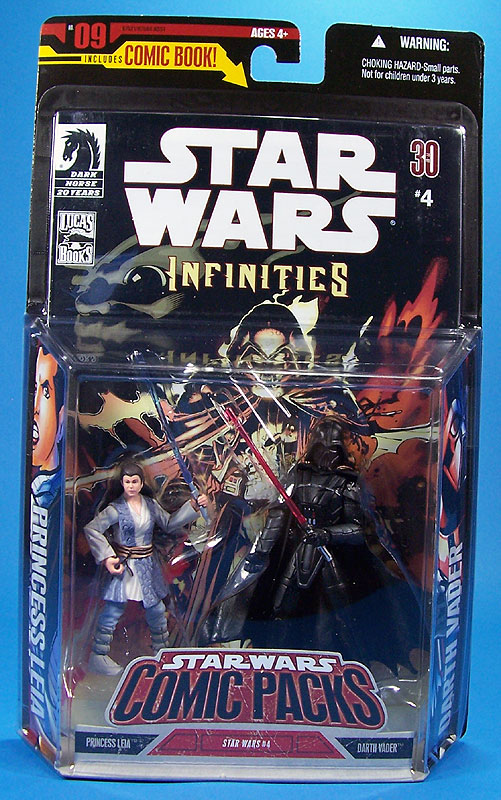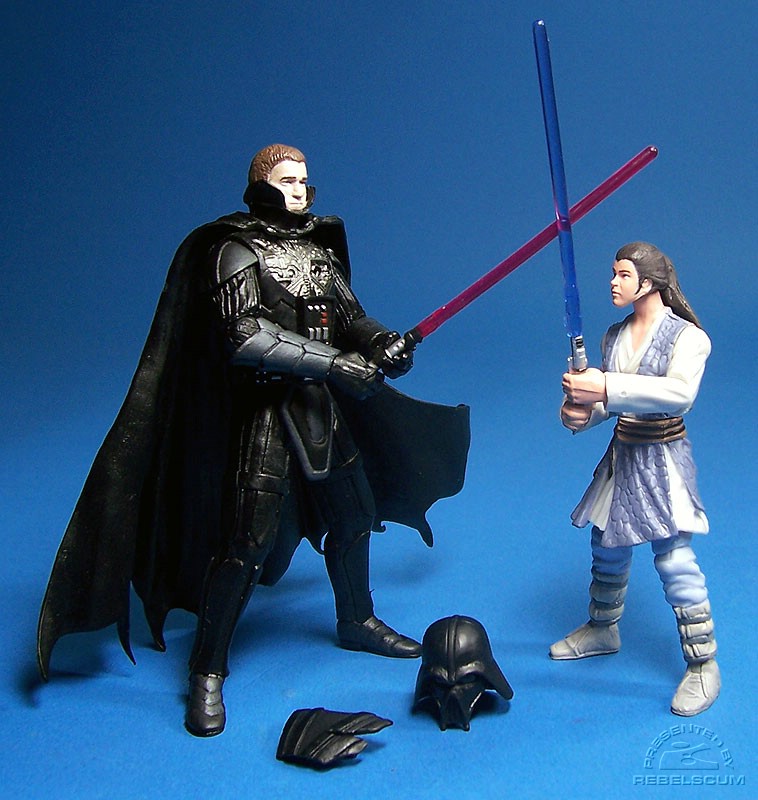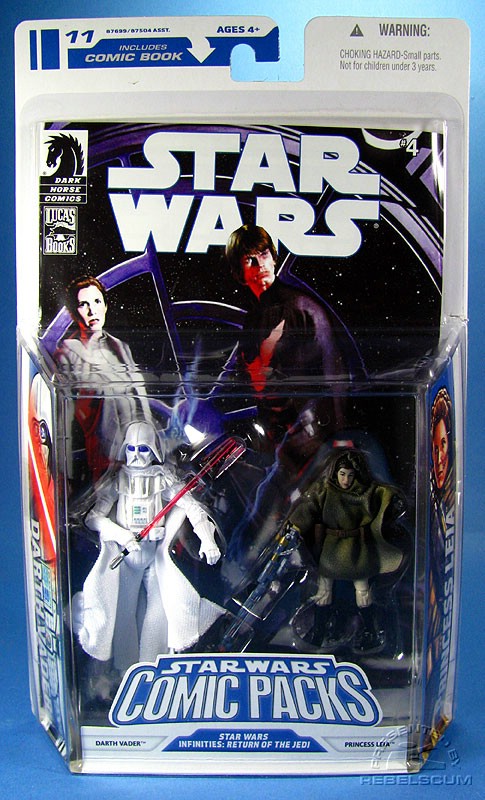 Infinities
merchandise is highly sought after by collectors, as the rare figures have only exclusively been made available in comic book packs and their depictions of the alternate characters don't appear anywhere else. There are two offerings available, both featuring versions of Leia and Darth Vader. A comic book pack of
Infinities: The Empire Strikes Back
includes Leia in training robes with a version of Vader in alternate armor. One of the goldmines of the comic book pack line is the
Infinities: Return of the Jedi
pack that includes Leia in an alternate poncho outfit and the super cool white armor Anakin Skywalker.
Infinities
is a fascinating new take on the
Star Wars
galaxy that does more than just provide shocks. Each version tells a complete story that culminates in a satisfying conclusion in its own right, and fans of Dark Horse's rich storytelling will definitely want to check out this intriguing new spin on classic events.
What do you all think? Which of the
Infinities
storylines do you enjoy the most? What do you think of the white armor Anakin? What other figures would you like to see from
Infinities
? Let us know below, and as always, may the Force be with you!