Joined

Aug 11, 2003
Messages

1,576
Reaction score

52
Location
Han solo Statue, Correct Maul w/ Bloodfin and more ...
Rememember this when trading or selling:
If you succeed in cheating someone,
don't think that person is a fool.
Realize that person trusted you
much more than you deserved.
***********************************************************
Warning:
I reserve the right to refuse to sell to anyone with zero feedback, zero posts and/or just signed up to send PMs about wanting to buy an item. I apologize if this hurts honest buyers, but it has come to my attention there are a few less than welcoming people having too much time on their hands who like to play hide and seek games. Furthermore, retracting from a deal at the last minute, after agreeing to purchase an item, and asking to have it packed and taken to the post office for shipping fees, will result in negative feedback left in the Bad Traders thread. If trading an item for an item and you have zero feedback, you get to ship your item first. With all this in mind, let's play nice and enjoy a hassle-free transaction. Thank you for your understanding.
*

F.Y. I

(CONDITION)

: All items are as described. Not responsible for how the carrier handles the boxes. I pack well so there shouldn't be an issue. Insurance could be added if you request it and pay for it. All items include original presentation box, inner trays and Certificate of Authenticity (c.o.a.)
*

F.Y.I (

SHIPPING FEE): Prices do not include shipping, unless noted. Shipping charge will the exact. This will be determined according to size and weight of the parcel by either the Post Office or UPS store, depending on the carrier you select. I will not offer approximates on shipping. Shipping fees and/or free shipping a
pplies only to addresses within continental U. S. A. If you are outside the country, exact shipping, determined by the Post Office will be charged.
*

F. Y. I (ACCEPTED PAYMENTS):

Personal check, Money Order and Paypal. If using Paypal, please notice their fee will be added to the grand total to be paid .
* Note: Some prices might not be updated as I don't revise the thread too often. Please get in touch with me to confirm. Thank you.
***********************************************************
BUYING/TRADING FOR THESE:
* Princess Leia as Salave statue
***********************************************************
STATUES:
-
Stormtrooper with multiple arms, heads, weapons
(bought used, displayed briefly, great condition with COA and box)
$250.00 shipped
$200.00 SHIPPED!
- Han Solo as Stormtrooper Deluxe Statue (Perfect Condition. Box, Inner packaging and COAincluded) $220.00 SHIPPED!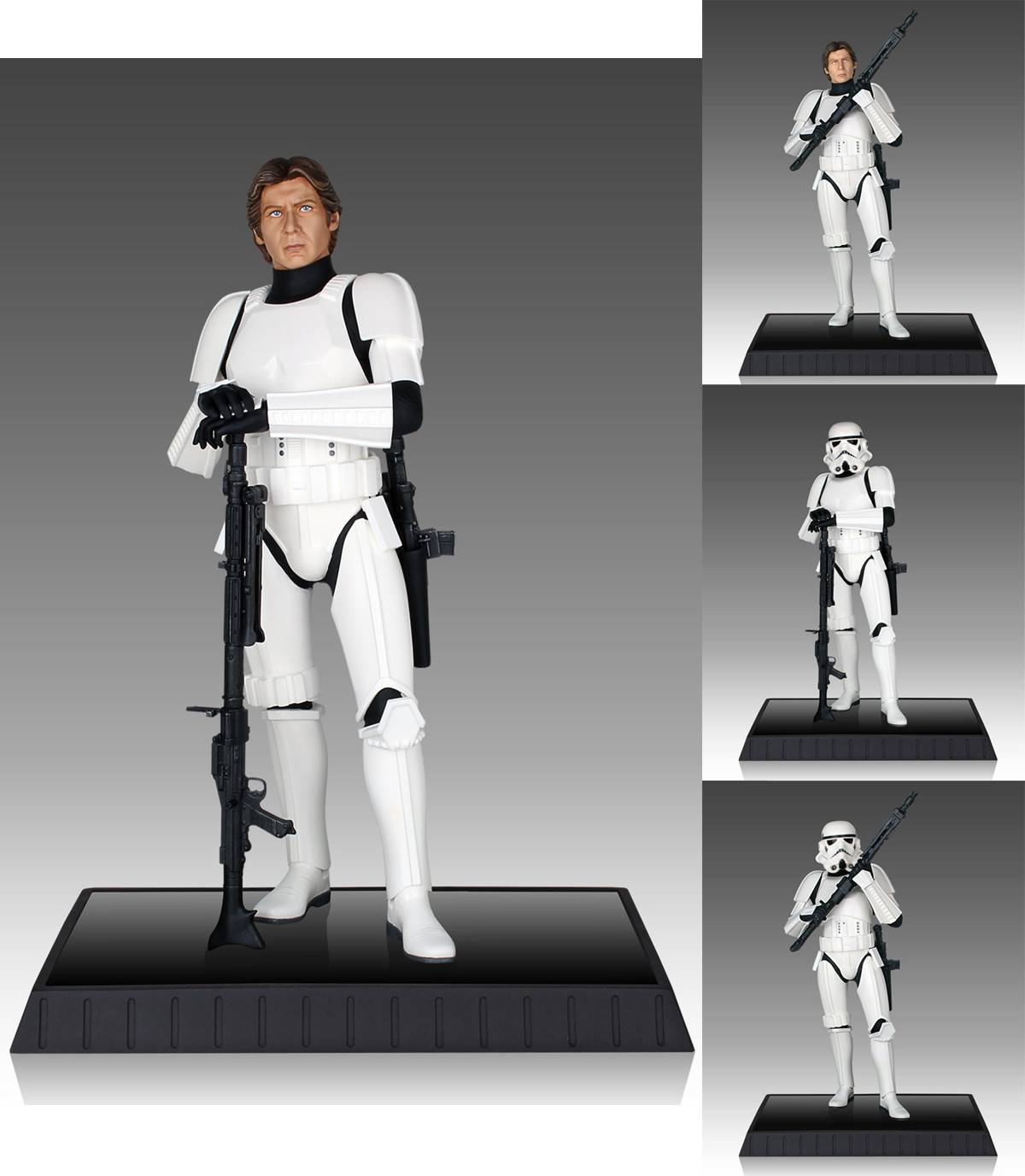 - Darth Maul with Bloodfin speeder
(Perfect condition. Box, inner packaging and COA included)
$300.00 shipped
$240.00 SHIPPED!


*This is the corrected version of Darth Maul that securely supports the Bloodfin speeder without it touching the base
. Very few of these were offered by Gentle Giant to correct the defective ones originally produced)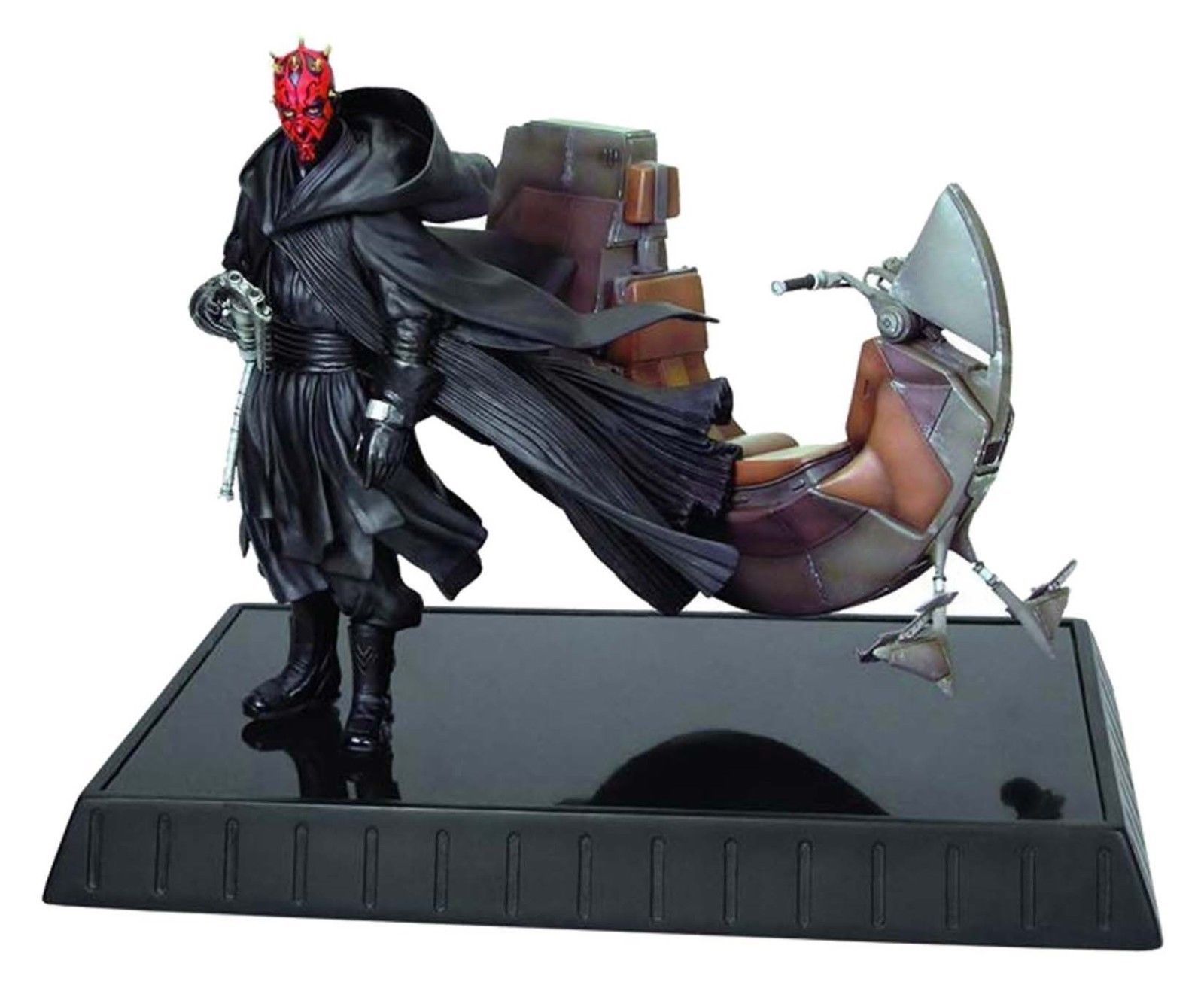 BUSTS:
A
) Coruscant Trooper with interchangeable heads ( An AFX exclusive. Perfect box and bust) $70.00 shipped
******************************************************************

For a large collection of Expanded Universe Mini Busts for sale, please CLICK HERE.

******************************************************************



BUST- UP
SILVER - 100Th Edition Bust-Up Boba Fett - $25.00 shipped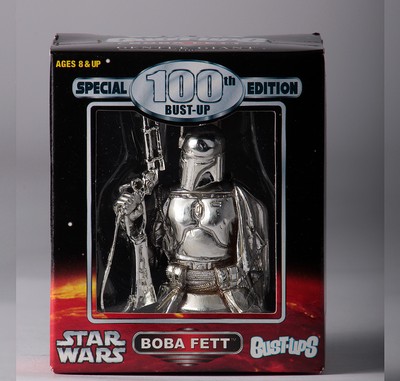 BLACK SERIES FORCE FX
Luke Skywalker's Lightsaber

- Brand new in unopened condition, never pulled out from the foam tray. All plastic wrapping, papers and base are included. This was part of a local trade and was included with other items. The trader has just gotten rid of the box, so there is no box for it, however, it will be placed in a Master Replicas lightsaber box for another FX lightsaber which is exactly the same size as the one it comes with, and then placed inside a brown mailer box perfectly fitted, to protect it during shipping.
$120.00 shipped.
KOTOBUKIYA
1) Clone Trooper 1/7 scale (Displayed inside cabinet. great condition w/ box)
$70.00
$55.00 SHIPPED!
**********************************************************
NON STAR WARS STATUE/ BUST
Terminator 2: T-800 EndoskulL 1/2 scale: (Perfect condition)
#2000 o

ut of 2000

(Removable CPU brain chip, light-up red eyes, illuminated blue nameplate, triple chrome plated with acrylic display case) Comes packed in its original box
- Beautiful!
$220.00 (shipped)
$200.00 SHIPPED!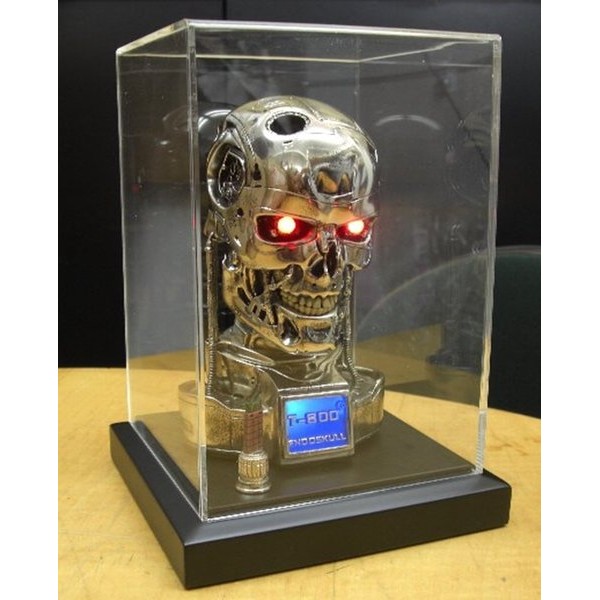 @@===@@===@@===@@===@@===@@===@@===@@
SOLD ITEMS
Blackhole Stormtrooper ( Perfect condition box and maquette )

$80.00

$75.00 (SOLD)
[STRIKER]Yoda on Kybuck ( Perfect. Not a single flaw) $60.00 SHIPPED
(SOLD)
[/STRIKE]
Ponda Baba ( Brand new, except it came missing fin holding glass and GG couldn't replace IT ) $140.00 ( SOLD )
Greedo ( Perfect condition box and statue) $190.00 ( SOLD )
Blue Snaggletooth ( Perfect condition box and statue) $120.00 ( SOLD )
Boba Fett with Han in Carbonite ( Perfect condition box, not maquette ) $200.00 ( SOLD )
Boba Fett w/ Han Solo in Carbonite ( Perfect condition box and maquette ) $255.00
( SOLD )
Asohka Tano ( Perfect condition box/maquette ) $70.00 ( SOLD )
Count Dooku ( Perfect condition box/maquette ) $60.00
( SOLD )
Mace Windu ( Perfect. Not a single flaw) $115.00
( SOLD )
Obi-Wan Kenobi ( Perfect. Not a single flaw) $115.00
( SOLD )
Snowbunny Padme ( Perfect. Not a single flaw) $475.00
( SOLD )
Asajj Ventress ( Perfect. Not a single flaw) $120.00
( SOLD )
Lego Stormtrooper (Perfect condition box and maquette ) $190.00

( SOLD )
Lego Vader (Broken cape around the magnet on his neck, re- glued and cannot be noticed) $100.00 ( SOLD )
Master Replicas ESB Luke Lightsaber LE $550.00
( SOLD )
Sideshow Collectibles Deluxe R2-D2 (Regular version) $112.00
(SOLD )
MR Darth Vader ESB Lightsaber hilt LE (Excellent aesthetic condition. No COA. Includes case, dust cover, numbered LE plaque, clear acrylic plaque stand, hinged presentation box and separate boxes for the saber and the case) $350.00 (SOLD)
Kit Fisto ( Perfect condition box and maquette ) $60.00 (

SOLD

)
Barriss Offee and Luminara Unduli
( Perfect. Not a single flaw on maquette. Box has minor flaw on one corner) $70.00 (

SOLD)
Bossk( Perfect condition box and maquette ) $75.00

(SOLD)
Ben Obi Wan Kenobi 1/7 scale (still in box as it came from Ebay seller) $120.00 (TRADED)
Arc Trooper Captain ( Perfect .Not a single flaw) $110.00

(TRADED)
MR Force FX Luke Lightsaber ANH released in 2007 ( Perfect working and aesthetic condition. Bought it from TRU store years ago inside a Darth Vader box. I thought I was buying Vader's, and when I got home and opened the box, it was Luke's. Someone must have switched the sabers. Box shows some wear ) $180.00 (SOLD)
General Grievous Maquette( Perfect. Not a single flaw) $65.00 (SOLD)
COMMANDO SET PGM EXCLUSIVE(All matching numbers. Raffle exclusive/200 made) perfect condition, all boxes and COA All four exclusive busts - $480.00 SOLD
SALACIOUS B. CRUMB Creature Pack ( Perfect Condition figures and box. Includes Salacious B. Crumb with swivel-jointed shoulders and cushion, Ghoel - Wol Caba***** with bendy tongue and magnetic body, Worrt and Sand Skitter) $ 75.00 SOLD
Kotobukiya Darth Maul 1/7 scale (Loose, displayed inside glass cabinet, great condition) $70.00 SOLD
PROMO: Jes Gistang PGM EXCLUSIVE Female Stormtrooper - $250.00 Shipped

SOLD
Tie Fighter Pilot (Box shows some wear. Statue and COA are in perfect condition) - $260.00 SOLD
McQuarrie Snowtrooper ( Perfect box and bust ) $65.00 SOLD
Captain Rex ( Perfect condition box and maquette ) $150.00

SOLD
Kneeling Darth Vader statue in 1/6 scale with light up base
$330.00 shipped
SOLD
@@===@@===@@===@@===@@===@@===@@===@@
@@===@@===@@===@@===@@===@@===@@===@@
Last edited: