Joined

Feb 1, 2006
Messages

1,714
Reaction score

0
TWO MONTHS AFTER THE FORMATION OF THE GALACTIC EMPIRE, TENSIONS ARE ONCE AGAIN BREWING...
...ON THE REMOTE PLANET OF NABOO-QUEEN APAILANA HAS GRANTED SHELTER TO SEVERAL FUGITIVE JEDI-WANTED FOR TREASON. NABOO-UNDER THE GUIDANCE OF MOFF FILLEM, HAS NEVER FULLY FOLLOWED THE EMPEROR'S WILL COMPLETELY. SUCH AN INCIDENT WOULD PROVE USEFUL IN BRINGING THE REBELLIOUS PLANET UNDER SEIGE-BRING IT IN LINE...
LORD DARTH VADER HAS PERSONALLY DECICDED TO OVERSEE THE CAMPAIGN AGAINST THE QUEEN OF NABOO-AND HAS REQUESTED USAGE OF THE ILLUSTRIOUS DURING THE CAMPAIGN-MUCH TO THE DISLIKE OF COMMODORE WOLVERTON.
LORD VADER BROUGHT WITH HIM, HIS PERSONAL UNIT OF TROOPERS, THE MEMBERS OF THE 501ST LEGION.
Darth Vader:
Captain, take me at once to the operations room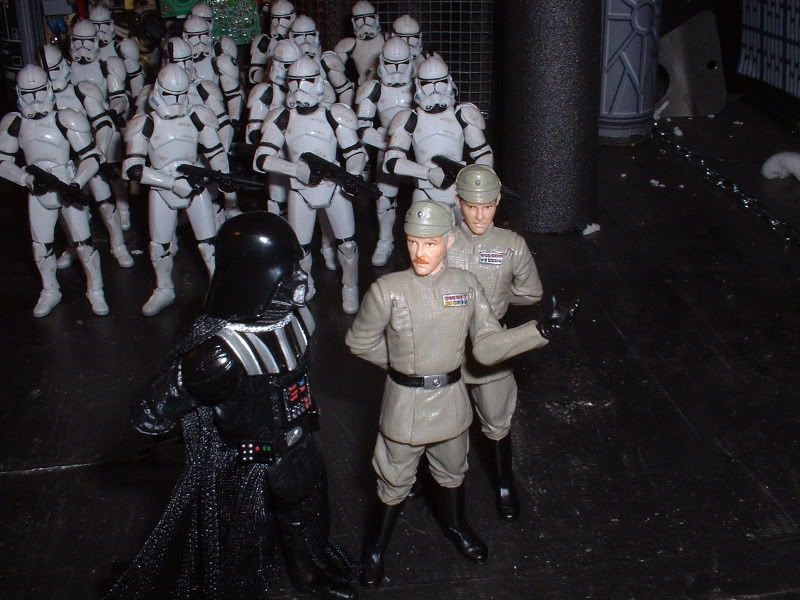 Captain Trazzen:
This way my lord.
DOWN ON THE PLANET OF NABOO-QUEEN APAILANA WAS DEEP IN THOUGHT.
Chief of Security Staff Hankiel:
Your highness. Moff Fillem to see you.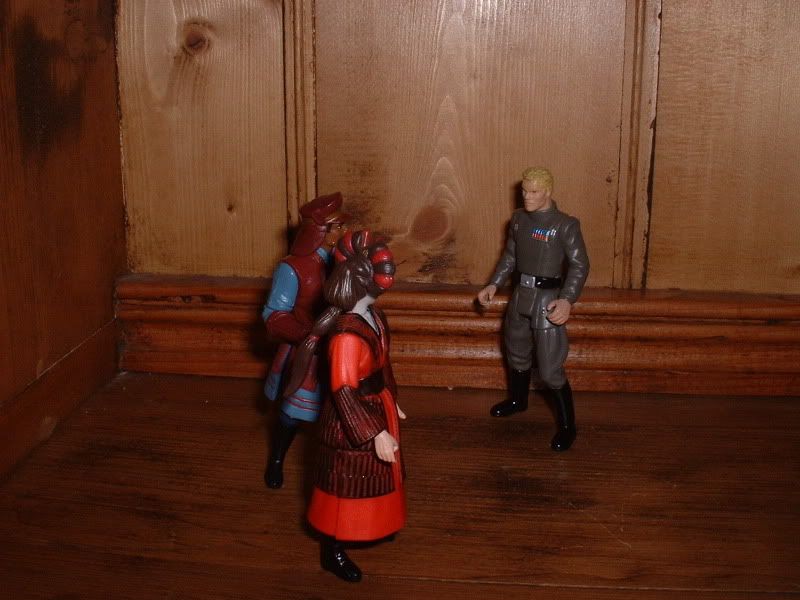 Moff Fillem:
Queen Apialana, your actions have been reported to the Imperial Government. I have assurances that they shall act on this. Hiding fugitives is an offence under security act 5670. You do realise that don't you.
Queen Apailana:
I can hardly call helping refugees fleeing torture and murder a crime? Can you Governor?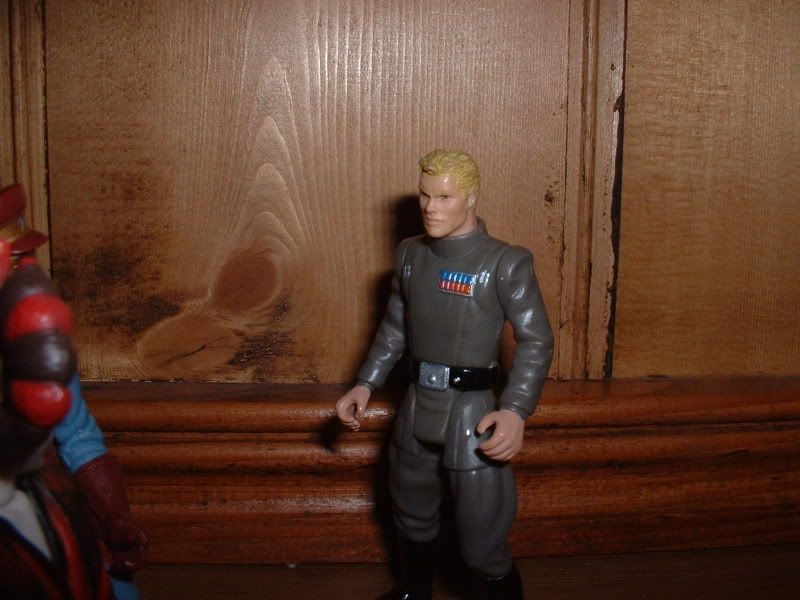 Moff Fillem:
It is not for me to decide your highness. The Emperor has been most unhappy about this little incident. He has sent Lord Vader to carry out an investigation into the matter. He shall be arriving at my headquarters soon enough-I shall see what I can do when the opportunity arises.
BACK ON BOARD THE ILLUSTRIOUS: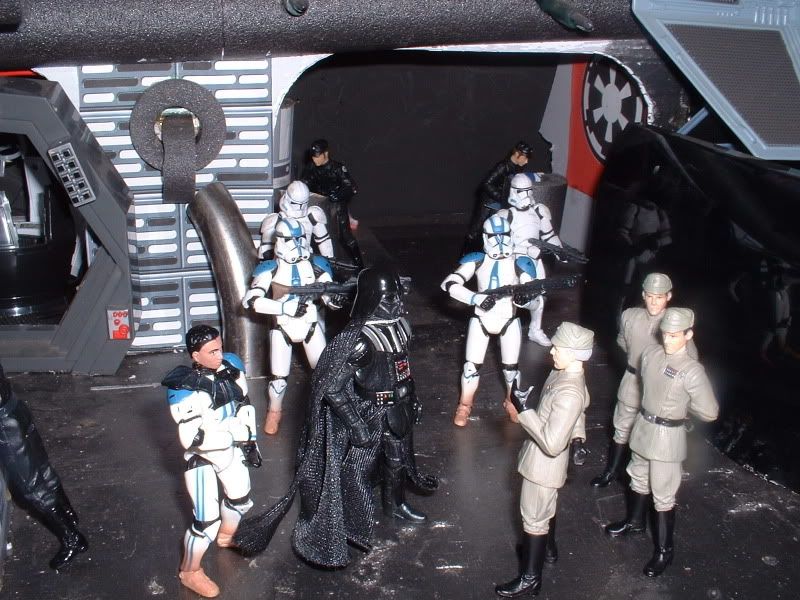 Lord Vader:
Captain, you shall deploy ARC 170 fighters to stop any fleeing light ships from leaving the sector.
Captain Trazzen:
Yes my lord.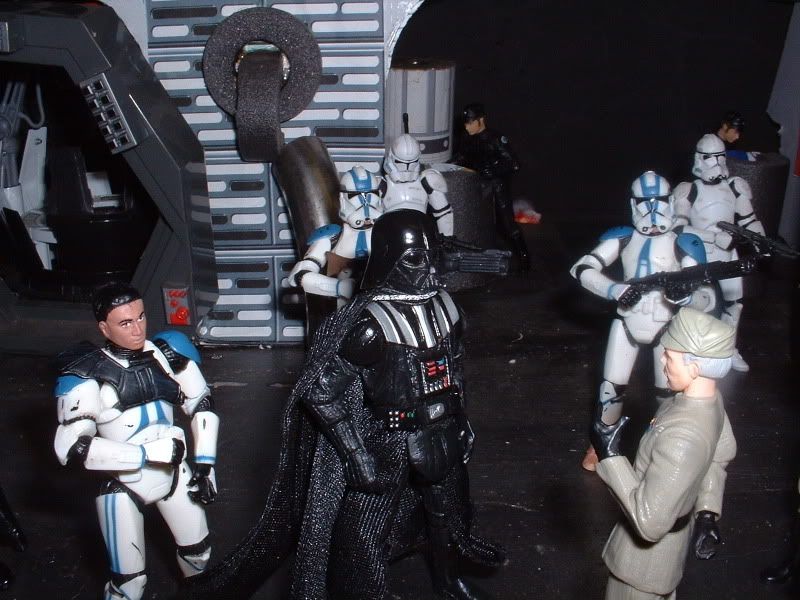 Darth Vader:
What about larger vessels my lord?
Darth Vader:
Isn't that blindly obvious Captain, have this vessel orbiting that planet at all times. Commodore Wolverton shall be accompanying me down to the planet should any large vessels make a bid to escape-we shall contact you.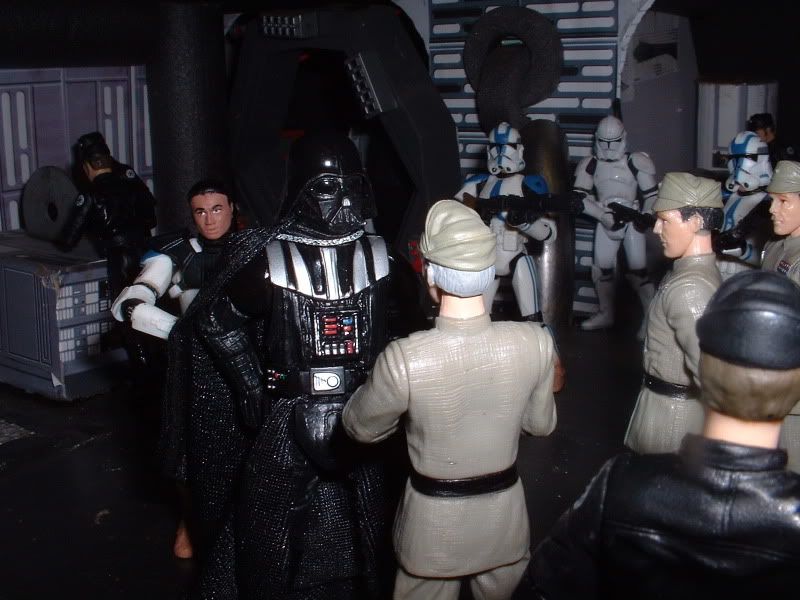 Darth Vader:
I shall lead the attack on the capital. Once we have arrested the Queen-and dealt with Moff Fillem-we shall then deal with the Jedi.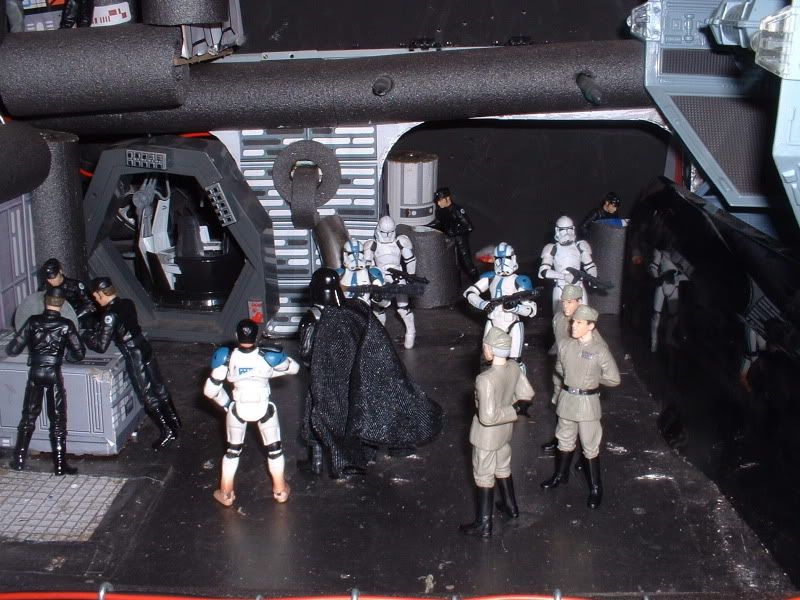 Darth Vader:
Commander, prepare the men.
Commander Appo:
Yes Lord Vader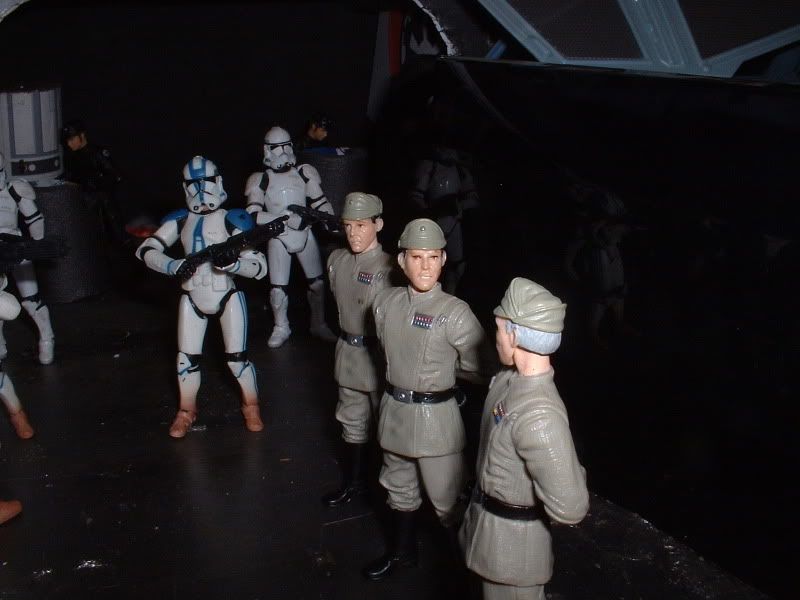 Trazzen and Frigit glanced at each other-both unsure of what to make of their new Commander in Chief
TWO DAYS LATER-THE ILLUSTRIOUS HAD DEPLOYED IT'S MAIN FORCES TO SURROUND THE PLANET-LORD VADER AND THE 501ST WERE DISPATCHED TO THE PLANET-WHERE THEY FIRSTLY ARRIVED AT THE IMPERIAL BASE TO BRIEF MOFF FILLEM ON THE PROCEDINGS.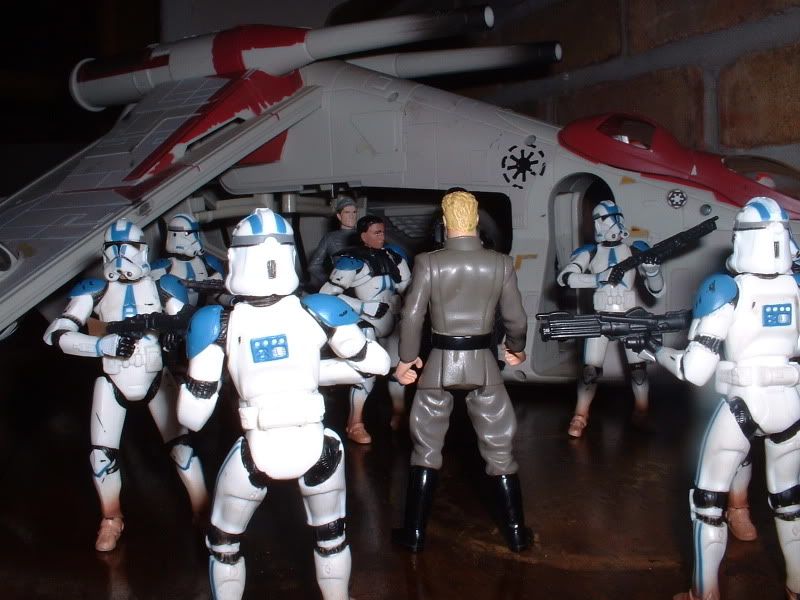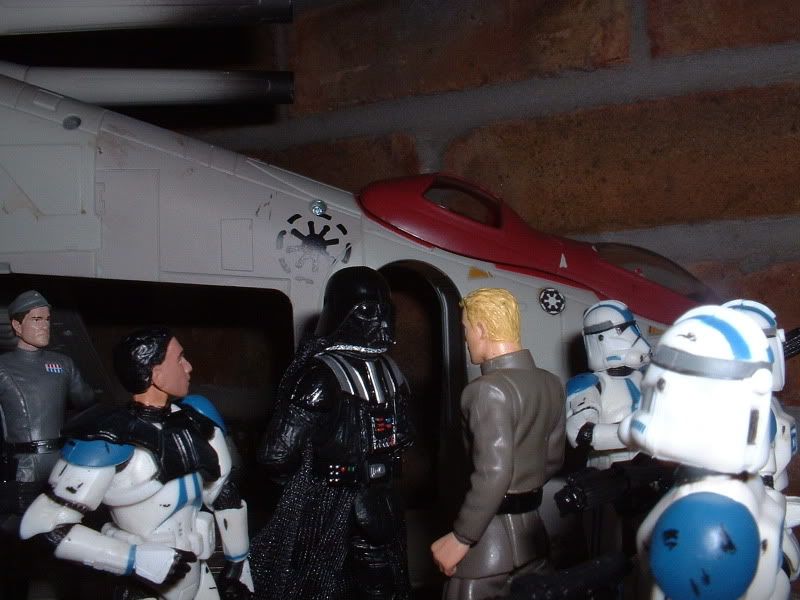 Darth Vader:
Governor?
Moff Fillem:
Ah, Lord Vader-I presume-welcome to Naboo-as you can see I have been successful in routing out this treachary and-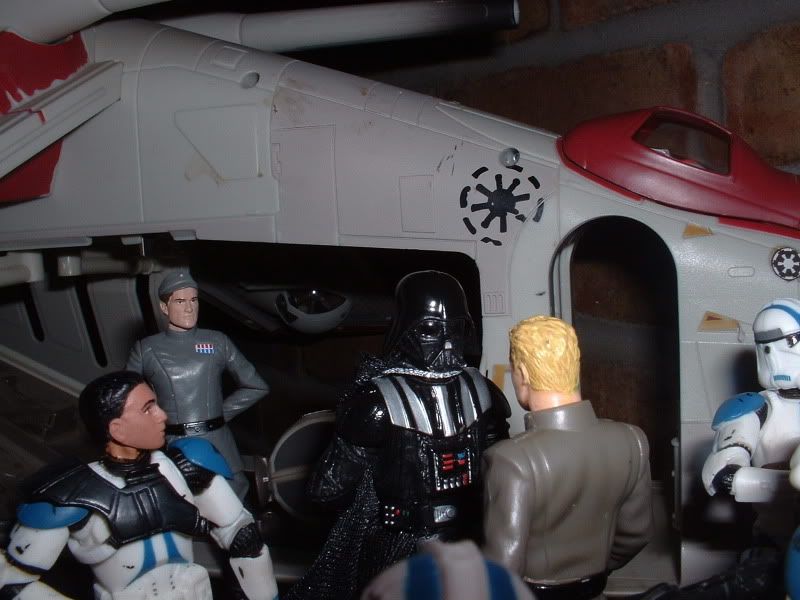 Darth Vader:
The Queen-where is she to be located?
Moff Fillem:
Ah-a tricky question Lord Vader-but luckily one that a man of such talents, like myself, I can answer. My expertise in such-
Darth Vader:
Where is the Queen?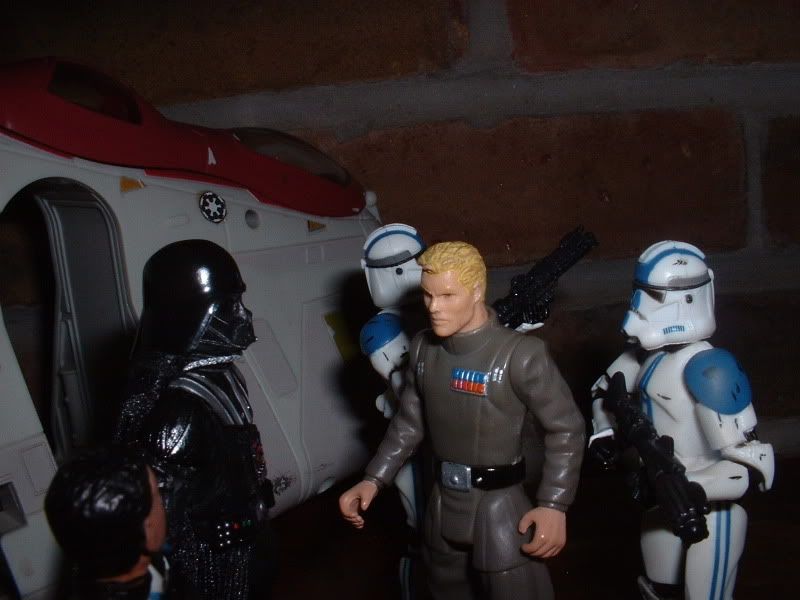 Moff Fillem:
Eh-she will be in the confines of her Palace-my guess would be at the aft. She is aware of your presense and is likely to make a bid for freedom. Her starship has been prepared and ready to go.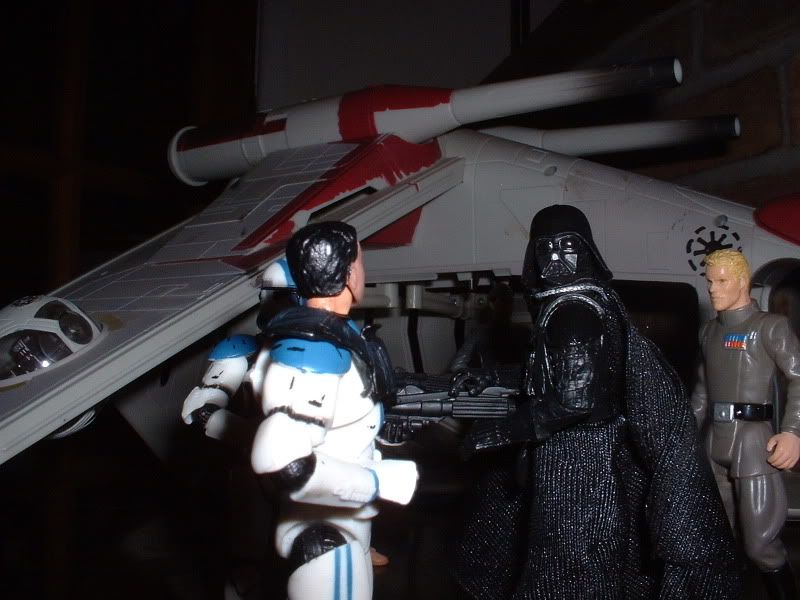 Darth Vader:
Then we must hurry. Commander Appo, prepare the men for an immediate assault on the Palace grounds.
Commander Appo:
Right away sir.
WITHIN THE PALACE GROUNDS-THE FUGITIVE JEDI WERE BEING WARNED ABOUT THE IMPERIAL ATTACK-BY APAILANA HERSELF.
Jedi Aakie Roun:
Thank you for the warning your highness.
Apailana:
It is the least I can do. My government and my people will never betray the Jedi Order or the Republic. Anything I or my people can do to promote freedom and democracy-we do without hesitating.
Aakie:
You have been most kind-the shelter you granted us here on Naboo will help us restore justice to the galaxy. I promise-your heart is of gold your highness and on behalf of the force itself-I thank you.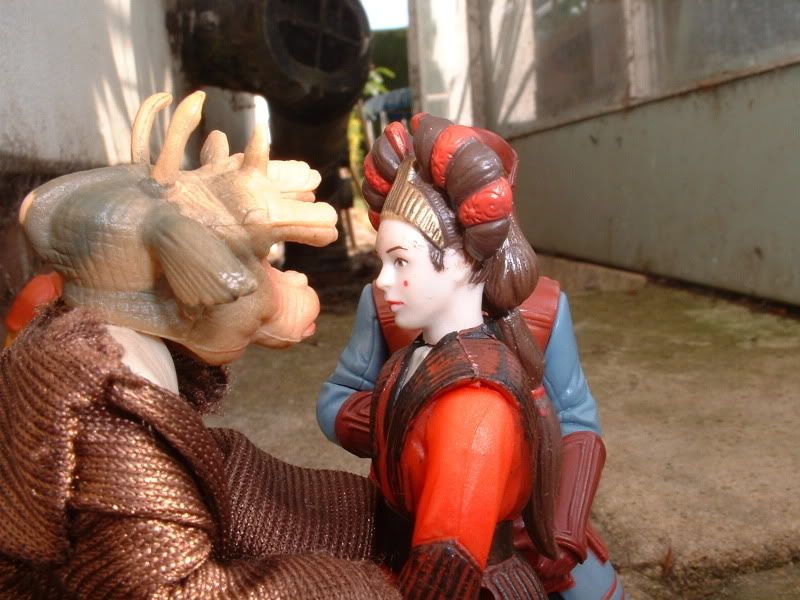 Apailana:
Thank you Master Jedi. It has been an honour serving the force-and the Jedi Order.
IMPERIAL HIGH COMMAND MET FOR A BRIEF PRE-BATTLE MEETINGS
Darth Vader:
Commander Appo and the 501st shall concentrate on the main fighters-and target the Queen-I shall go for the Jedi.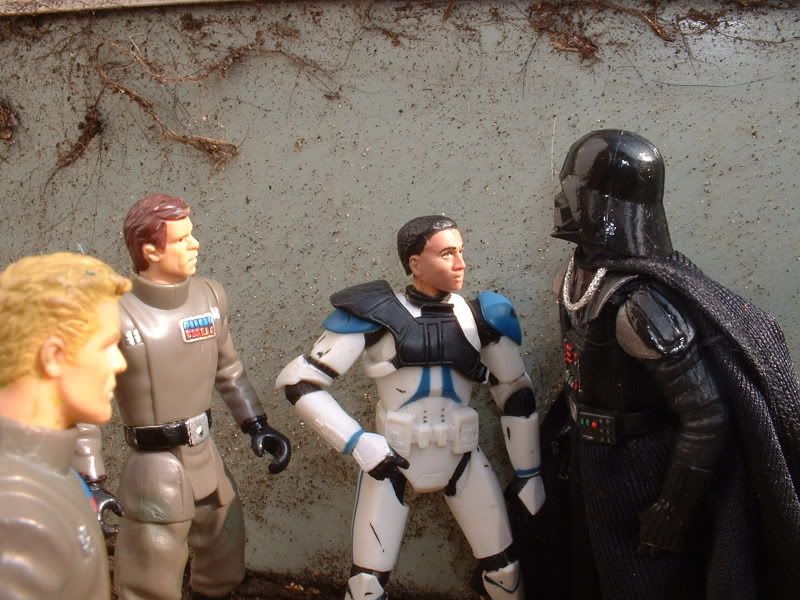 Commodore Wolverton:
Surely, a better idea would be to create a pincer movement-thus resulting in less loss of life-causing a surrender.
Darth Vader:
When your opinion is needed on this matter Commodore, I shall ask for it. But for now, your job is to coordinate the battle between the ground and the ILLUSTRIOUS.
Moff Fillem:
Lord Vader-do I get a say in such matters. After all-it was due to my insight and tactical genius that the traitors were discovered anyway-I mean-really?
Darth Vader:
It was your incompetence and stupidty that allowed them here in the first place Governor!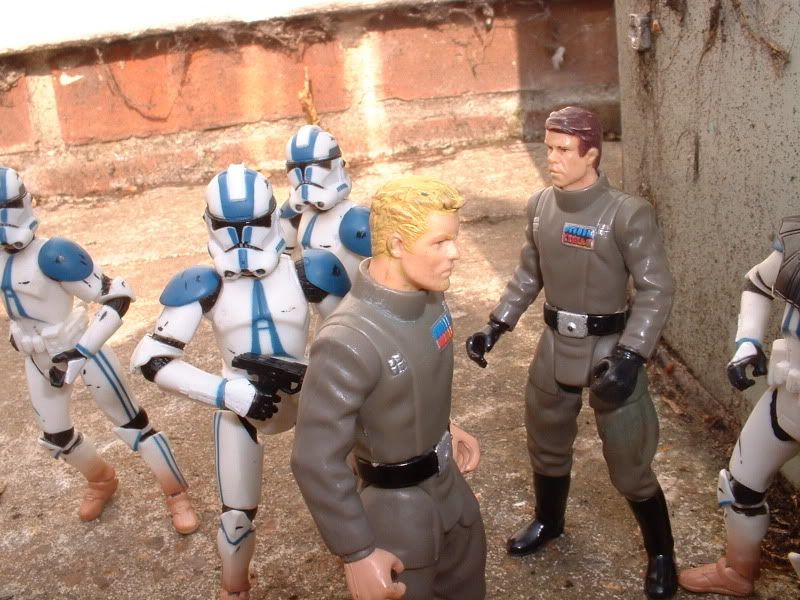 Moff Fillem:
Ah-Lord Vader-you have no right to speak to an appointed governor of an Imperial sector in such tone!
Darth Vader:
Would you move over there Governor?
Moff Fillem:
I mean-if it had not been for me-you would not have had the chance to hunt these traitors!
Something told Wolverton that the Moff had stepped over the line with that remark...
...That was proven when Lord Vader ignited his lightsabre!
Moff Fillem:
Lord Vader-!
Darth Vader:
This is the price for incompetence!
Darth Vader:
Commander Appo-commence attack!
MORE TO COME IN THIS CHAPTER LATER-PLEASE KEEP WATCHING....AL PHOTOS ARE IN-I'M JUST OFF TO THE PUB FOR A DRINK NOW!