Greetings,
Rebelscum
! Our friends at Denuo Novo wanted us to pass along that the weathered version of their phase II clone trooper helmet is in stock and ready to ship.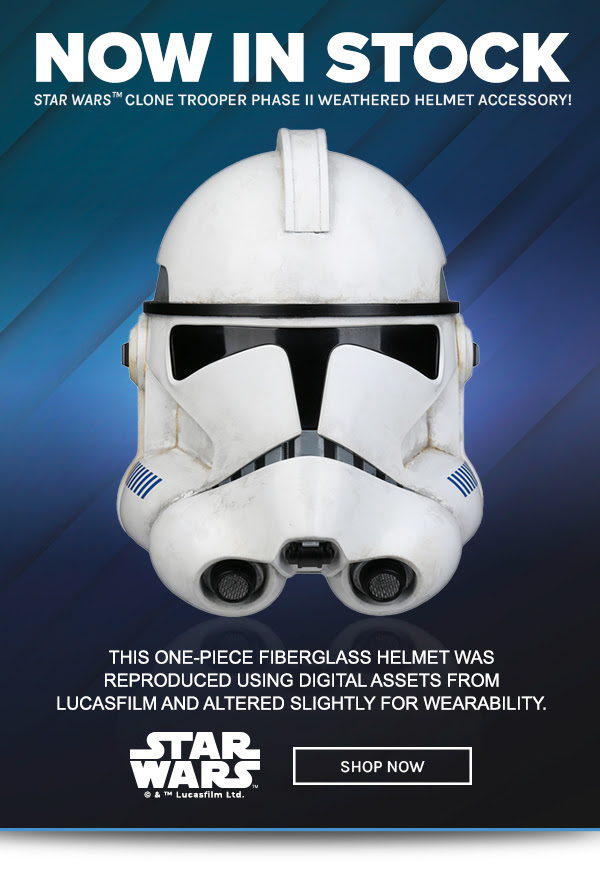 From Denuo Novo:
IN STOCK NOW - STAR WARS™ Clone Trooper Phase II Weathered Helmet

DENUO NOVO is proud to offer the STAR WARS™ Clone Trooper Phase II Weathered Helmet Accessory for Pre-Order.

At the time of their introduction, the Republic clone troopers represented the future of galactic warfare. Far superior to battle droids, the clone troopers formed the backbone of the Republic's new military that waged war against the forces of the Confederacy of Independent Systems. So symbolic were they of the times, the galaxy-wide conflict that saw their debut took its name from their ranks: the Clone Wars.

After multiple engineering iterations and field testing, this helmet has been optimized as a one piece construction that will meet both demanding expectations of costuming and long-term durability.

Original digital assets were referenced in the creation of this product, which has been altered slightly to fit a human head.

-The outer shell is made of fiberglass and features weathering deco.

-Helmet interior is fully lined for a finished appearance.

-Helmet size adjustment system ensures a comfortable and secure fit.

-Helmet fits up to a size 8 US hat size.

-DENUO NOVO offers a clean (non-weathered) version of the STAR WARS™ Clone Trooper Phase II Helmet Accessory

HERE

.
Denuo Novo also wanted to let you know that September is a big month for product arrivals:
- All 3 TIE Fighter helmets (Inferno Squad Commander, TIE Victor 2 and the traditional TIE Fighter Pilot) are in stock and shipping.
- The First Order Stormtrooper Kit is in stock and shipping.
- The other two Clone Trooper helmets (Clean and 501st Trooper) are coming in the next two weeks.
If you have any of these items on back-order, please contact
customerservice@denuonovo.com
.
Follow @DenuoNovo on Facebook, Twitter and Instagram for all the latest news from Denuo Novo.
In case you missed it, we caught up with Mark Von Ohlen at the Denuo Novo booth during
Star Wars Celebration
2022. You can check out our interview here:
Have you ordered any other helmets from Denuo Novo? Let us know your experience below!
Check out Rebelscum.com merch!
https://www.RebelscumShop.com