Though not fully and officially revealed (this post will get replaced when it does), an online retailer has listed the set on their website.
http://www.rebelscum.com/story/front/LEGO_75230_Porg_Confirmed_181127.asp
The first confirmed "sighting" of this new set comes via a reliable on-line LEGO retailer -
Brickshop.nl
- in The Netherlands.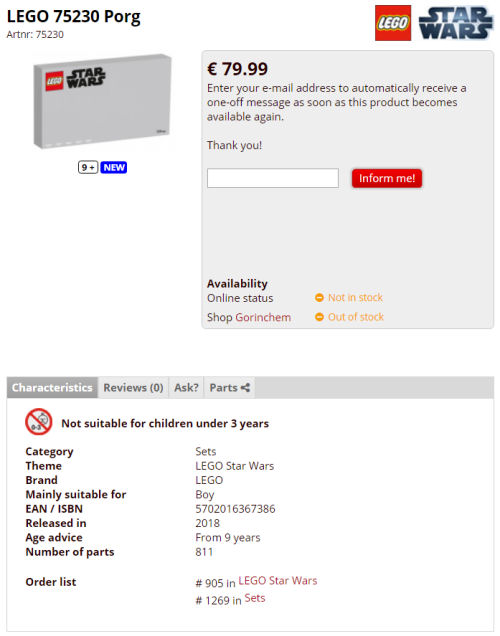 Previous reveals have shown that the set is a large scale, brick-built version of the Ahch-To sea bird and is along the lines of the 10225 R2-D2 and
75187 BB-8
sets.
This latest info tells us that the set will have 811 pieces and a €79.99 (approximately US$95) price tag. This keeps it in range of the standard price per brick that the previous two brick-built display sets exhibited and leads us to conclude that the completed build will be around 10 to 12 cm tall.
This set is believed to be coming out this October and will be available at general retail, as well as the
LEGO shop@home
on-line portal.
With thanks to
StarWarsCollector.de
for sharing the news.