From the beginning and into the future this week take a trip down memory lane as we look back at the ANH costumed Han Solo from the past, present and even the future!!!
How can anyone not call Han Solo their favourite smuggler? We've gone through the good and the
bad
times but one things for sure Han always seems to top notch mostly.
Han Solo - Vintage
Well to think it started with this vintage Han Solo figure, there were 2 versions of Han Solo released both a big head and small head version(I like the big head version). Truly time does fly when the first version is compared to the OTC version. The figure was reissued when each new movie was released and came with his handy blaster.

Han Solo - POTF Original
Well the figure didn't get off to the best start but wasn't as bad as some other earlier figures. Han comes with a his Hand blaster and a rifle type gun which would be nice for army builders. Released in 1995 started the line off with abit of buff. Holster wasn't able to hold his gun yet.

Han Solo - Smuggler's Flight Pack
Released as a deluxe figure in 96 saw Han going to extra lengths to smuggle in goods. The pose is pretty similar to the 95 version with a few new additions including the chest. This is one Han fans try to forget.

Han Solo - Jabba The Hutt 2pack (SE)
Released in 1997 to celebrate the new ANH scene we saw a pack-in Han Solo. While similar to the 95 version the new Han was slightly thiner with a whole new arms and chest as well as the 4 can type shapes on his back which wasn't present on the 95 version. Hasbro was moving in the right direction!

Han Solo - Gunner Station
One of 2 Han Solo in pilot gear released in the year 1998, pretty basic sculpt with no added points of articulation at all. Han came with part of the gunner station which is able to connect to Lukes for double the fun!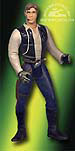 Han Solo - Millennium Falcon CD-Rom Game
The 2nd Han Solo figure is abit different to the Gunner Station version. This version came with the Millennium Falcon CD-Rom Game back in 1998 and the only difference is that the figure now has a knee joint on both legs which the gunner station version doesn't have. Otherwise the figure appears to be roughly the same, this is also the last time Hasbro made a Pilot Han figure.

Han Solo - Cantina
The figure that changed it all! This version became the best standard han made - articulated legs for sitting, elbow joint as well as the first Han figure to have a working holster (maybe even the first to have a working holster!) Han was released back in 1999 as part of the Commtech Line and has become a fan favourite, so good was the figure that it would be reissued later on 3 more times! [
More
]

Han Solo - Death Star Escape
The 2001 toy line POTJ saw a new Han Solo figure made without his famous blaster, Death Star Escape Han features an Imperial Blaster and a stormtrooper belt. Han was made so that he could fire the weapon over his should as he runs down the corridor away from the stormtroopers as well as holding the blaster in a more normal pose, the figure features elbow joints but no wrist articulation which is the only downside to the figure. [
More
]

[ 03-10-2004, 01:47 AM: Message edited by: Bounty Hunter GNT ]